Erdogan Both Most, Least Liked in Time's Person-of-Year Vote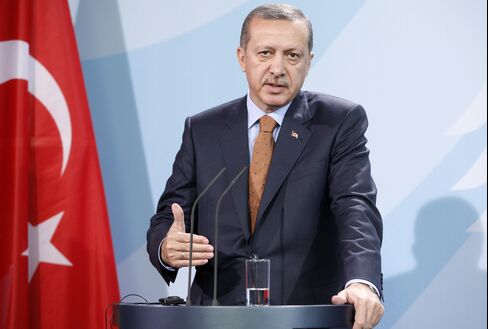 Turkish Prime Minister Recep Tayyip Erdogan was the most- and least-popular candidate for Time magazine's "person of the year" 2011 award, earning more praise than soccer's Lionel Messi and more "no" votes than the rich 1 percent of Americans targeted by Occupy Wall Street.
Erdogan, 57, got the approval of 122,934 readers, a 26 percent share of the vote, ahead of Messi and "the 99 Percent," as the Occupy activists call themselves, according to results published on Time's website today. Almost 470,000 people voted in that category, it said.
"The three-term prime minister blew away every competitor," Time said in a summary of the result on its website. "Though it's not all rosy for Erdogan, a majority of voters indeed voted ''no.'' A viral campaign circulating on Turkish websites and via email kept the worldwide audiences voting."
More than 180,000 readers cast negative votes for the premier out of a total of 599,039 "no" ballots, or 30 percent of the total. Erdogan and "the 1 percent" were followed in the category of least popular by Casey Anthony and reality-television star Kim Kardashian. Anthony was acquitted in July by a court in Orlando, Florida, of murdering her 2-year-old daughter.
Controversy
Erdogan, who became premier in 2003, and his party won almost 50 percent of the vote at parliamentary elections in June, the biggest share in almost half a century, after a record period of economic growth and democratic steps to win European Union membership. While winning praise from Arabs and western allies for his support of democracy in Turkey and the Middle East, he has also drawn controversy for alleged attempts to make Turkey more Islamic and for downgrading diplomatic relations with Israel. Erdogan says he stands by Turkey's secular principles.
Time's editors will choose the "person of the year" for its Dec. 26 issue, on sale on Dec. 16, the company said.
House Democrat Gabrielle Giffords was the 10th most-popular person, ranking her the top U.S. politician with 11,544 votes. President Barack Obama got the backing of 11,165 people, placing him 11th, though 15,462 voted against him, ranking him as the 10th least-popular person. Warren Buffett, the world's third-richest man, ranked 12th with 8,854 votes.
German Chancellor Angela Merkel was the highest-ranking European Union politician in 17th place with 4,910 votes, though 11,309 people voted against her.
House member Michele Bachmann, a Republican presidential contender, was the least-liked U.S. politician with 22,478 votes against her.
Former Italian Prime Minister Silvio Berlusconi was the eighth most-disliked person globally with 16,844 votes, ranking him first in that category in the EU. French President Nicolas Sarkozy ranked 19th least-popular person, one place ahead of Merkel. Only 1,634 people said they liked him.
(Updates with comment by Time in third paragraph.)
Before it's here, it's on the Bloomberg Terminal.
LEARN MORE