Egypt Salafis Shun Extremist Tag as Vote Enters Second Round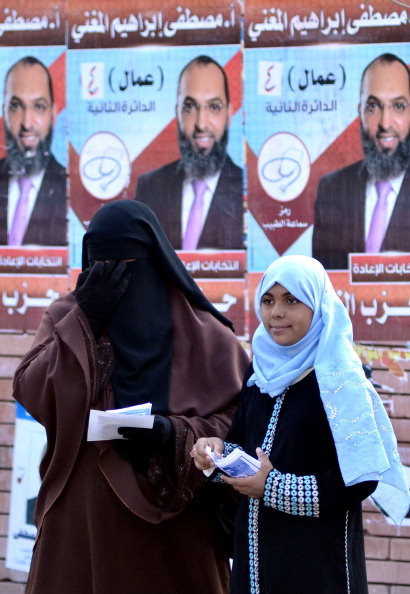 Dec. 14 (Bloomberg) -- Campaigning in the towns and villages of Menoufiya in Egypt's Nile Delta, Salafi preacher Salah Abdel Maboud says he regularly confronts voter fears about Islamization of the country, answering questions such as: Will your party force women to cover their faces, or stay at home?
These concerns were spurred by the success of Abdel Maboud's bloc in the first phase of parliamentary elections, as well as comments by some prominent Salafis. One accused the novels of Egypt's Nobel laureate Naguib Mahfouz of encouraging vice, and said Pharaonic statues should be covered with wax because they are un-Islamic. The Nour party of the Salafis still won about a quarter of votes, to place second behind the more moderate Muslim Brotherhood as the contest entered its next round in Menoufiya and eight other provinces today.
Abdel Maboud blames local media for spreading the idea that "Salafis in parliament will impose all sort of things, from veils for women to beards for men, so the people are afraid." He says he replies by telling voters: "We cannot impose religion by force. We have to direct people to what's right through persuasion."
The success of Islamists in the first round of voting may have given the country's military rulers a new reason to justify their political role in the face of mounting pressure to hand over power. After the initial ballot, a member of the army council said the parliament may not be representative enough to be entrusted alone with overseeing the writing of a new constitution, a view promptly disavowed by another top general.
Bond Yields
Lack of clarity and wrangling over the details of the handover to civilians have helped push bond yields to record highs and the currency to a seven-year low.
The generals "want to maintain power, at least behind the scenes," said Shadi Hamid, director of research at the Brookings Doha Center in Qatar. "They're trying to scare liberals and minorities into siding with the military over the Islamists." He said the military also aims to ease U.S. pressure for a reduced role by "saying: 'Look, the more pressure you put on us, the more likely the Islamists will play a powerful role. Do you want that?'"
As the army council, which said it will stay at the helm until a president is elected next year, and politicians compete for control, the economy is growing at the slowest pace in a decade and faces risks including currency devaluation and surging debt costs.
Austerity Measures
The pound has slid almost 4 percent this year, to 6.03 per dollar, even as the central bank spent almost half its foreign exchange reserves. The government pays more than 15 percent to borrow in pounds over nine months, while yields on dollar bonds due in 2020 jumped above 7.6 percent yesterday. Tourism and foreign investment have slumped since the uprising that ousted Hosni Mubarak in February.
Army-appointed Prime Minister Kamal el-Ganzouri said on Dec. 11 that austerity measures may be needed for an economy that's "far worse than anyone can imagine."
Nour party officials have said they're sensitive to any sudden changes that may hurt the economy. The party has said it will support types of tourism that don't involve the sale of alcohol, which is banned under Islamic law. Other policies it has advocated include the gradual removal of non-Islamic banks, in favor of an expansion in Shariah-compliant lending, and an eventual end to foreign borrowing.
Deter Tourists
Critics of Nour politicians say their priorities are misplaced and their views may deter tourists and fuel unemployment. The party has also evoked fears of a curtailment of women's rights. While other parties used photos of female candidates on their election banners, most Nour publicity instead featured flowers or the group's electoral symbol of a lantern.
Islamists may extend their first-round gains in this week's balloting, especially in largely conservative rural areas such as those in Menoufiya, at the expense of many of the young and secular-leaning activists who led the anti-Mubarak revolt.
"The Brotherhood and the Salafis have more influence in the Delta provinces," said Emad Gad, a political analyst and a candidate for the main secular alliance, the Egyptian Bloc, which came third in the first-round vote. "Any use of religion in Egypt ensures a victory."
That wasn't the case for Salafi candidate Abdel Monem el-Shahat, who lost in runoffs in Alexandria this month after attacking novelist Mahfouz and calling for the covering of statues.
'Stifling Freedoms'
At a voting station in the working-class district of Imbaba in Giza province, near Cairo, Faten Mohamed, a 25-year-old teacher, said the gains by Islamists have spurred her to vote for liberals.
"We want diversity in parliament," she said. "We don't want one group to dominate. We've already suffered from that in the past. Statements by some Salafis like el-Shahat are shocking. We had a revolution to demand freedom and he talks about stifling freedoms. We don't want anyone to control us," she said.
Political analyst and candidate Amr el-Choubaki said "civic groups" in the race have made more of an effort to coordinate between themselves in this round, which he said he hopes will give them a boost.
Waiting in line outside a Giza polling station, accountant Mohammed Abdel Aziz said he will choose the Brotherhood's party "because they're well organized and knowledgeable about both politics and religion."
The Brotherhood's Freedom and Justice Party gave an early indication that it's ready to challenge the army after winning a mandate from voters.
Brotherhood Challenge
After General Mouktar el-Moula questioned the parliament's representative status in a briefing to foreign journalists, the Brotherhood's party refused to take part in an army-appointed civilian advisory body. Mamdouh Shahine, another general, said later that the military would respect the election results and have "no opinion" regarding the members of the committee to draft a new constitution, whom parliament is supposed to choose.
Nour expects the parliament to have "full powers to choose the committee" in line with Shahine's comments, said Nader Bakar, a party spokesman.
Salafis follow a strict interpretation of Islam, often emulating what they consider to be the practices of the earliest Muslims. Unlike the Brotherhood, Salafis largely stayed away from politics under Mubarak. Instead, they spread their ideology through preaching in mosques, and later via satellite channels.
Alliance 'Unlikely'
An alliance in parliament between the two groups is "unlikely," said Gad, who works for the Al-Ahram Center for Political and Strategic Studies.
In Menoufiya, pharmacist Amal Abdel Raouf said she's considering voting for Nour because local candidates like Abdel Maboud enjoy a reputation for honesty.
When police melted away in the early days of the anti-Mubarak revolt, Abdel Maboud organized youths in the neighborhood to guard homes and stores, she said.
Last month, Abdel Maboud lost a vote for leadership of the local engineers' syndicate to the Brotherhood's candidate.
"This was the first electoral experience and we learned a lot already from it," he said. "Egypt has tried liberalism, secularism, communism and capitalism and we saw no good results. It's our right now to apply the Islamic paradigm."
To contact the reporter on this story: Mariam Fam in Cairo at mfam1@bloomberg.net.
To contact the editor responsible for this story: Andrew J. Barden at barden@bloomberg.net.