Biggest Borrowers Sending Deals to Four-Year Low: India Credit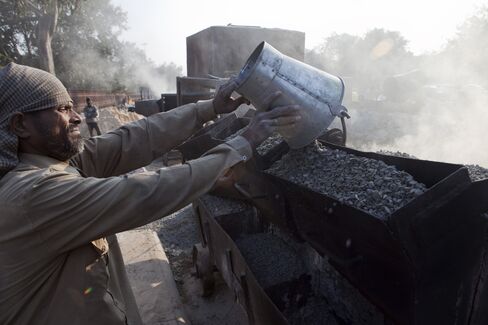 Indian corporate bond sales fell to the lowest level for December since 2007 as company treasurers delayed new offerings until the central bank confirms it's finished raising interest rates.
Power Finance Corp Ltd. and Rural Electrification Corp. said they won't offer bonds until after the Reserve Bank of India, which meets on Dec. 16, signals that the record 13 increases in the repurchase rate to 8.5 percent are over. Corporate bond issuance dropped to 50 billion rupees ($934 million) this month through yesterday, the lowest amount in any December since 2007, according to data compiled by Bloomberg.
A drop in borrowing costs would make it cheaper for companies to raise funds for the $1 trillion of road and power projects needed to support the expansion of Asia's third-largest economy. The extra yield investors seek to hold top-rated Indian company notes over government debt declined from a seven-week high reached on Dec. 8, while the comparable spread in China widened.
"We will approach the bond market in the last week of December, or early January as we have sufficient liquidity now, and interest rates may ease 10 to 15 basis points by then," Hari Das Khunteta, finance director at Rural Electrification, said in an interview from New Delhi on Dec. 9. "Chances of a rate increase are very dim."
New Delhi-based Rural Electrification was India's third-largest borrower in the past five years, after Power Finance and Housing Development Finance Corp., according to data compiled by Bloomberg.
Spreads Narrow
The extra yield demanded to hold Indian corporate five-year bonds rated AAA by Standard & Poor's Indian unit Crisil Ltd. narrowed 3 basis points, or 0.03 percentage point, to 82 basis points, from 85 on Dec. 8, according to data compiled by Bloomberg. The spread for Chinese securities widened to 189 yesterday, from 185 at the start of the month, according to data from Chinabond, the nation's biggest debt clearing house.
Power Finance, a New Delhi-based state-owned lender, will probably start selling 40 billion rupees of tax-exempt 10- and 15-year securities by the end of the month, R. Nagarajan, the finance director, said in a phone interview from the capital yesterday.
The company, which funds power projects including Maharashtra State Power Generation Co. and MP Power Generating Corp., has $13.9 billion bonds outstanding, and has sold 618 billion rupees of debt since Jan. 1, 2007, according to data compiled by Bloomberg.
'Signal to the Market'
"We're definitely not doing a bond issue before the 16th," said Nagarajan, who expects Reserve Bank Governor Duvvuri Subbarao to flag a reduction in rates as early as this week, lowering corporate debt costs by 10 basis points or more. "The RBI has to reduce by at least 25 basis points to give a signal to the market that high inflation has eased," he said.
All 13 economists surveyed by Bloomberg expect the Reserve Bank to keep the key rate unchanged. Growth slowed to a more than two-year low of 6.9 percent last quarter after policy makers made the fastest round of benchmark rate increases since the monetary authority was established in 1935.
Power Finance's 25.9 billion rupees of 9.36 percent securities maturing in August 2021 yielded 91 basis points more than equivalent-maturity government bonds, according to prices from the Fixed Income Money Market and Derivatives Association of India. The spread has shrunk from 105 basis points on Dec. 5, the widest in almost eight weeks.
'Rates Steady'
Indian Oil Corp., the nation's largest refiner, plans to raise at least 5 billion rupees selling five-year bonds tomorrow, a person with direct knowledge of the matter said yesterday. Mumbai-based Indian Oil will sell the bonds to yield between 9.2 percent and 9.45 percent, said the person, who asked not to be identified as the matter is private.
The central bank signaled on Oct. 25 that it's nearing the end of its monetary tightening policies, provided inflation decelerates.
India's inflation slowed to the lowest level in a year, as the wholesale-price index rose 9.11 percent in November from a year earlier, the commerce ministry said in a statement in New Delhi today, compared with a 9.73 percent jump in October. The median estimate of 26 economists in a Bloomberg News survey was for a 9.02 percent gain.
The key measure of inflation has exceeded 9 percent for a 12th straight month. The South Asian nation's price growth is more than twice the rate in China and faster than in Brazil and Russia.
"The market is expecting the RBI to keep rates steady more than reducing interest rates," V. Srinivasa Rangan, Mumbai-based executive director at Housing Development Finance, said in a phone interview from Mumbai on Dec. 12. The Mumbai-based company, which has sold 570 billion rupees of debt in the past five years, has to raise money for its financing needs regardless of the movement in benchmark rates, Rangan said.
Credit Protection
Five-year insurance in the case of a default in the dollar-denominated debt of State Bank of India, viewed as a proxy for the sovereign, rose seven basis points to 375 basis points yesterday, from 161 at the end of last year, according to data provider CMA, which is owned by CME Group Inc. and compiles prices quoted by dealers in the privately negotiated market.
The contracts pay the buyer face value in exchange for the underlying securities or the cash equivalent should a borrower fail to adhere to its debt agreements.
Yields on 10-year government bonds gained about 51 basis points this year as the central bank's repurchase rate was boosted 225 basis points. The yield on India's 8.79 percent note due in November 2021 rose seven basis points to 8.49 percent in Mumbai as of 12:55 p.m. in Mumbai, according to the Reserve Bank's trading system.
Bond Returns
India's bonds returned 5.3 percent this year, the fourth-worst performance among 10 Asia local-currency markets monitored by HSBC Holdings Plc. The difference in yields between the nation's 10-year sovereign debt and similar-maturity U.S. Treasuries was 645 basis points, after widening 182 basis points in 2011.
Overseas investors' combined ownership of government and corporate debt increased 39 percent this year to a record $24.6 billion as of Dec. 12, according to exchange data. The government caps their investments at $60 billion. Within that limit, global funds are allowed to buy $45 billion in corporate securities, including $25 billion in infrastructure financing.
Companies' borrowing costs may rise because of a 16.7 percent drop in the rupee this year, Asia's worst performing currency. A weakening currency increases refinancing costs on the $14.7 billion of overseas debt maturing next year, according to data compiled by Bloomberg. The rupee declined 0.8 percent to 53.6450 per dollar in Mumbai.
'Positive For Issuers'
Nuclear Power Corp. of India Ltd., the state-owned monopoly which hasn't sold debt since November 2009, said on Dec. 8 that it had deferred a 15 billion-rupee bond sale until the financial year starting April 1 because of increasing interest costs.
Indian companies sold 1.5 trillion rupees of bonds this year, down from 1.95 trillion rupees in 2010. Offerings in the fourth quarter declined to 257 billion rupees, the lowest level since the three months to June 30, 2008.
"Issuance will be higher in the next quarter than this one," Parthasarathi Mukherjee, president of treasury and international banking at Axis Bank Ltd., the biggest rupee-denominated debt arranger in 2011, said in a phone interview from Mumbai on Dec. 12. "Expectations that RBI will keep rates unchanged is positive for issuers and the bond market."
Before it's here, it's on the Bloomberg Terminal.
LEARN MORE