Best Buy Sinks Most Since 2002 After Discounts Hurt Profit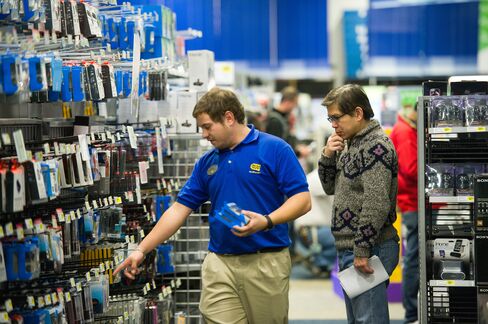 Best Buy Co. tumbled the most in more than nine years after the world's largest consumer-electronics retailer's third-quarter profit declined more than analysts estimated, hurt by Black Friday discounts.
Best Buy fell 15 percent to $23.73 at the close in New York, the biggest drop since Aug. 8, 2002. The shares have slumped 31 percent this year.
Net income fell 29 percent to $154 million, or 42 cents a share, in the quarter ended Nov. 26, from $217 million, or 54 cents, a year earlier, the Richfield, Minnesota-based company said today in a statement. Excluding restructuring costs, profit totaled 47 cents, trailing the 51-cent average of 23 estimates in a Bloomberg survey.
Chief Executive Officer Brian Dunn opened stores at midnight Thanksgiving night, five hours earlier than last year, and increased discounts on flat-panel televisions, mobile devices and movies to spur sales. Gross margin narrowed to 24.2 percent in the quarter from 25.1 percent a year earlier. Analysts projected 25 percent.
"That's the challenge that Best Buy faces in this extremely competitive segment: to gain back share, they have to become increasingly promotional," John Tomlinson, an analyst at ITG Investment Research in New York, said today in a telephone interview. "Unless increased sales roll to the bottom line, investors aren't going to be pleased."
Full-Year Forecast
Sales by stores open at least 14 months rose 0.3 percent compared to analysts' prediction for a decline of 0.9 percent. Total third-quarter sales increased 1.8 percent to $12.1 billion.
Black Friday, the day after Thanksgiving and the start of the holiday shopping season, is so named because many retailers are said to become profitable that day. Total Black Friday sales increased 6.6 percent to $11.4 billion this year, ShopperTrak said last month.
Best Buy reaffirmed its full-year forecast for adjusted earnings per share of $3.35 to $3.65. Analysts projected $3.44.
In the U.S., online sales climbed 20 percent from a year earlier, while same-stores sales advanced in tablet computers, appliances, e-readers, movies and mobile phones, which rose 9 percent. Televisions posted a comparable-store sales decline.