Avon Surges After Saying Andrea Jung Will Step Down as CEO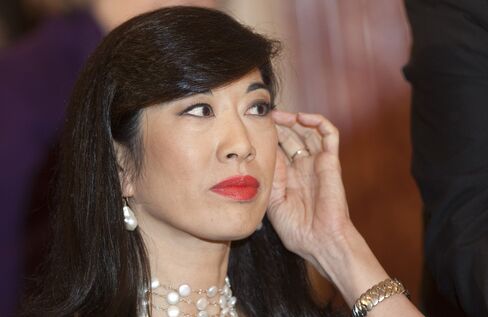 Avon Products Inc., the world's biggest door-to-door cosmetics seller, surged the most in more than three years after saying it will search for a new chief executive officer next year to replace Andrea Jung.
Avon climbed 8.7 percent to $17.54 at 10:30 a.m. in New York. The shares earlier soared as much as 11 percent, the biggest intraday gain since October 2008.
Jung, 53, who has run Avon since 1999, will remain chairman and work with the board to recruit a replacement, the 125-year-old, New York-based company said yesterday in a statement.
"While we expect the market to welcome this news, we think yesterday's announcement marks just the first step on what will likely be a very long and bumpy road," Lauren Lieberman, an analyst at Barclays Capital Inc., said in a note to clients today. The New York-based analyst rates the shares "equal weight."
Avon is shaking up the executive suite amid slowing sales and profit growth as consumers cope with unemployment and an economic expansion that has trailed forecasts. With its door-to-door sales model, Avon also vies with larger rivals such as Procter & Gamble Co. and Estee Lauder Cos. that can spend more on research and marketing and have a strong retail presence in fast-growing emerging markets such as China.
Not a Surprise
"The outcome may not have been a surprise, but the alacrity of the decision is," Ali Dibadj, an analyst at Sanford C. Bernstein & Co. in New York, said in an interview. "We were expecting something after the holidays. The company has been under a lot of pressure, and so has she. It's not an easy fix."
Jung said in October that she would update investors on the company's growth plans in the first quarter of 2012. Net income in the third quarter fell to $164.2 million, or 38 cents a share, from $166.7 million, or 38 cents, a year earlier. Analysts projected 46 cents a share, on average. The results marked the fourth time in five quarters that profit trailed analysts' projections.
Total sales, excluding fluctuations in currency prices, rose 1 percent in the quarter. Avon said it no longer expects to meet its forecast for sales growth this year.
Jung recommended splitting the CEO and chairman roles "to better address the company's scale and opportunities," Jennifer Vargas, an Avon spokeswoman, said in an interview.
Potential Violations
Jung is stepping aside as Avon investigates potential violations of the Foreign Corrupt Practices Act, which led to the firing of four executives over bribes to officials in China. Avon said in an Oct. 27 regulatory filing that the U.S. Securities and Exchange Commission had begun to look into the cosmetics company's actions as well.
Avon generates more than 80 percent of its revenue from outside the U.S.
"When a company is under scrutiny like this, it helps to have separation of roles," said Jeffrey Sonnenfeld, senior associate dean at the Yale University School of Management in New Haven, Connecticut, and founder of a nonprofit educational and research institute focused on CEO leadership and corporate governance. "She will be able to provide continuity and work on the transition."
Jung was born in Toronto and raised in Wellesley, Massachusetts, in a conventional Asian household with an emphasis on discipline, a strong work ethic and humility, she said in a 2004 interview with Bloomberg Markets. After earning a bachelor's degree, magna cum laude, in English literature from Princeton University in 1979, Jung joined Cincinnati-based Federated Department Stores Inc.'s executive training program for retailer Bloomingdale's in New York.
No Retail
She left Bloomingdale's in August 1985 and then served as senior vice president and general merchandise manager at J.W. Robinson's in Los Angeles. In June 1993, Avon hired Jung as a consultant, asking her to research a possible expansion into selling through stores. Jung recommended against the move, saying the company wasn't ready yet for a push into retail. Her decisive approach impressed CEO James Preston, who hired her in January 1994 as president of product marketing.
In 1996, Avon put Jung in charge of global marketing. She set about creating a younger, more affluent image for the company, which had entered 15 countries since 1990 and was looking to expand into four more by 1998.
Revamped Products
One of Jung's first steps was to revamp Avon's product line, discontinuing 15 percent and introducing cosmetics that might appeal to a more upscale audience. She dropped gift items and some fragrances, added products such as Anew skin-firming cream with retinol, and expanded into swimwear and spa products such as bath gels.
Jung got rid of the "Ding Dong, Avon Calling" advertisements dating from the 1950s; new ads challenged women to "Dare to Try Avon." She became CEO in 1999, becoming the first woman to run Avon. She was the longest-tenured female CEO of a Fortune 500 company.
In addition to her challenges at Avon, Jung sits on the boards of Apple Inc. and General Electric Co.
"Both of those companies have issues and are extraordinarily complex," Charles Elson, director of the John L. Weinberg Center for Corporate Governance at the University of Delaware in Newark, said in an October interview. "One may wonder whether she's spread too thin."
"Andrea's a great board member," Jeffrey Immelt, CEO of General Electric, said yesterday in New York, where GE held an investor meeting.
Before it's here, it's on the Bloomberg Terminal.
LEARN MORE