Postal Service Seeks to Slow U.S. Mail Delivery to Cut Costs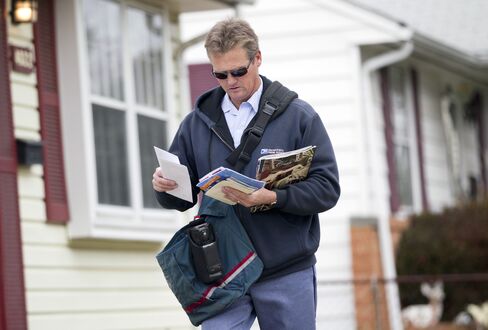 The U.S. Postal Service, which is trying to cut $20 billion in operating costs by 2015, is seeking to slow delivery of letters and bills to help save $2.1 billion a year.
The agency is asking the Postal Regulatory Commission to let it relax delivery standards for first-class mail in the continental U.S. to two to three days, from one to three days, so it can reduce the number of mail-processing plants, David Williams, vice president of network operations, said today at a news conference in Washington.
The processing plants sort mail overnight for next-day delivery, meaning that "most of the time, those machines are sitting idle," Williams said. "Our network is simply too big to handle the revenues coming in today and, more importantly, way too big for what we project in the future."
The Postal Service said in September it may close 252, or more than half, of its mail-processing plants. The agency said last month it predicts a $14.1 billion loss in 2012 as mail volume continues to drop.
The service, which is seeking permission from Congress to fire workers, close post offices more easily and end Saturday mail delivery, has closed 26 processing plants since September and now has 461, Williams said.
That's a 32 percent decrease from 2006. First-class mail volume dropped 27 percent during that time.
'Draconian Decision'
Businesses that depend on mailing bills and receiving payments will be the most hurt by the change, said Max Heath, postal chairman of the National Newspaper Association, a trade group based in Falls Church, Virginia, and Columbia, Missouri.
"Business mailers are the ones that exist on float," Heath, based in Shelbyville, Kentucky, said in a phone interview. "This is a draconian decision. They say it's necessary. It's very unfortunate."
While the number of paper bills fell 14 percent from 2008 to 2010, the Postal Service still delivered more than 16 billion paper bills in 2010.
New Investment
"Cuts have to go along with some investment in new activity or new products or positive presentation," Commission Chairman Ruth Goldway, whose board will issue a non-binding advisory opinion, said today in a telephone interview. "I think the Postal Service has been cash-strapped because of the retiree health benefit payment, so it has had virtually no money to do that sort of investing as they do the cutting."
The Postal Service has asked Congress to relieve it of a requirement to pay about $5.5 billion a year into an account for health-benefits costs for future retirees. Both the House and Senate are considering bills that would allow postal changes including changing the schedule for funding that obligation.
The regulator may hire consultants to develop a plan for handling peak mail-handling volume, Goldway said.
"Our goal is to provide the Postal Service and the public an objective analysis of the costs and benefits of their proposal and recommendations of what we might do to serve the public better," she said.
Before it's here, it's on the Bloomberg Terminal.
LEARN MORE