Velazquez, Goya Works Star in London Old Masters Auctions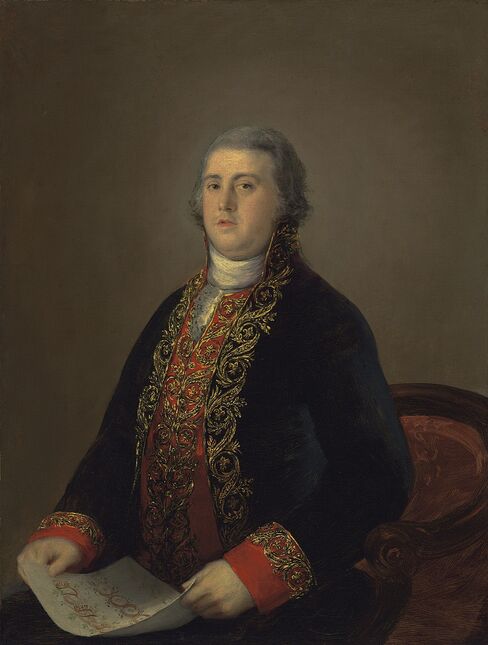 Portraits by Velazquez and Goya are the main attractions in a 55.6-million-pound ($86.5 million) series of Old Master auctions in London next month that have struggled to lure big-ticket works by major artists.
The upper estimate for these biannual Part 1 sales at Christie's International, Sotheby's and Bonhams is 22 percent lower than last year, reflecting owners' reluctance to sell in the current economic climate.
The auction market for historic paintings is heavily reliant on discerning collectors from Europe, where confidence has been knocked by sovereign debt concerns. New international buyers, meanwhile, have been more attracted to modern and contemporary works.
"People are nervous about selling at the moment," said Andrew McKenzie, an Old Master specialist at Bonhams. "They don't think the economy is very good and are worried their works won't fetch high prices. I'm confident the good pictures will still do well."
Bonhams's most valuable lot is a discovery, rather than a discretionary sale. The company is offering a newly identified Velazquez, valued at 2 million pounds to 3 million pounds, in its Dec. 7 auction. The head-and-shoulders portrait of an unknown middle-aged man was found among a group of paintings entered for sale at the company's Oxford branch in August 2010. It had formerly been owned by the obscure 19th-century U.K. artist Matthew Shepperson.
Rare Find
The well-preserved canvas was identified as a Velazquez by the Dublin-based scholar Dr. Peter Cherry. It is thought to date from about 1630.
"I'd be surprised if it doesn't sell for at least 10 million pounds," said the London-based dealer Charles Beddington. "A collector who is really serious about art should want to own a Velazquez and there won't be another one coming along anytime soon."
Goya's portrait of Don Juan Lopez de Robredo, the splendidly waistcoated embroiderer to King Carlos IV of Spain, is valued by Christie's at 4 million pounds to 6 million pounds in its Dec. 6 sale. Offered by a Spanish collector, it last appeared at auction in 1992 when it failed to sell.
Quality oils by Velazquez and Goya rarely appear on the market and no work by either artist has sold for more than 10 million pounds at auction.
Shrinking Sales
Christie's slimline 36-lot evening sale contains 31 percent fewer works than last year. The contraction of the Dec. 7 day auction is even more drastic, with just 100 lots on offer compared with 246 in 2010. A selling rate of 48 percent on that occasion has helped push down the valuations of lower-range Old Masters, further contributing to owners' reluctance to sell, said dealers.
Works bought within the past 10 years now routinely reappear at auction with low estimates pitched beneath their original purchase prices.
Sotheby's Dec. 7 auction features a 16th-century Lucas Cranach the Younger three-quarter-length portrait of an aristocratic lady. This was bought by London dealer Colnaghi for a record 1.8 million pounds in July 2007. It was sold on to a collector, who has re-entered the painting with an estimate of 800,000 pounds to 1.2 million pounds.
A pair of Johann Zoffany portraits of the 18th-century actor David Garrick is the most valuable lot at Sotheby's, estimated at 6 million pounds to 8 million pounds. Entered by Edward Lambton, the son of the late Conservative politician Antony Lambton, these 1762 paintings show the actor and his wife relaxing in the grounds of his house at Hampton on the banks of the Thames. They had hung on loan at Tate Britain since 2007.
Changing Tastes
"There are still serious collectors interested in Old Masters valued at more than $2 million," said Philip Hoffman, chief executive officer of the London-based Fine Art Fund. "There are Russians and Americans buying at the top end. The classic European collector is staying away at the moment. Works priced at under $200,000 are difficult to shift. Tastes have changed."
Confirming this analysis, Sotheby's has incurred a writedown of $5.7 million on the stock of its wholly owned subsidiary Noortman Master Paintings, the New York-based auction house said in its third-quarter statement on Nov. 7.
"NMP will greatly reduce its inventory of lower-valued Old Master paintings and shift its focus to a select group of high-valued works of art. Accordingly, NMP will offer a large collection of lower-valued works at various auction houses in the fourth quarter of 2011," said Sotheby's in its accompanying SEC 10-Q filing.
(Scott Reyburn writes about the art market for Muse, the arts and leisure section of Bloomberg News. Opinions expressed are his own.)
Before it's here, it's on the Bloomberg Terminal.
LEARN MORE