Huntsman Offers Plan to Thwart Bank Bailouts While Cutting Rules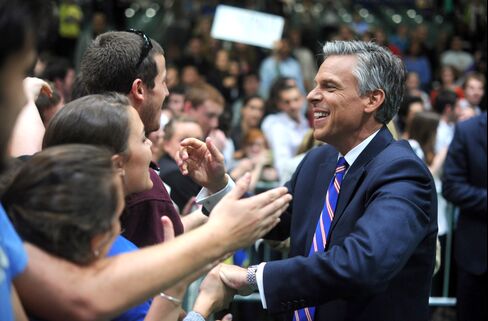 Nov. 29 (Bloomberg) -- Republican presidential candidate Jon Huntsman Jr. released a plan yesterday to block future bank bailouts, in part by capping their size, and to eliminate "burdensome" financial regulations.
Huntsman's proposals include ending "too big to fail" by setting a "hard cap" on bank size based on assets as a percentage of gross domestic product. He also would repeal the Dodd-Frank overhaul of financial regulations and maximize derivatives transparency, his campaign said in a statement.
"Capitalism without failure is not capitalism," Huntsman, a former governor of Utah, said in a statement. "Real financial reform requires breaking the cozy relationship between Wall Street and Washington that helped fuel the housing bubble, drove a series of bailouts, and prevented meaningful reform in the aftermath of the financial crisis."
Huntsman vows to dismantle Fannie Mae and Freddie Mac, the government-backed mortgage finance companies operating under U.S. conservatorship after being seized during the credit crisis.
His plan also would eliminate a tax deduction for interest payments that gives a preference to debt over equity, in an effort to end what he sees as subsidies for excess leverage.
Huntsman, who served as President Barack Obama's ambassador to China, scores in the low single-digits in national polls of the Republican race. He has been concentrating his campaign on New Hampshire, where he is counting on a strong showing in the state's first-in-the-nation primary on Jan. 10 to propel his candidacy.
Huntsman previewed his plan to limit banks' size in a Nov. 9 Republican presidential debate, saying: "We have six banks in this country that combined have assets worth 66 percent of our nation's GDP, $9.4 trillion."
These institutions have an "implied bailout" by U.S. taxpayers, he said. "That means that we are setting ourselves up for disaster again."
To contact the reporter on this story: Catherine Dodge in Washington at cdodge1@bloomberg.net
To contact the editor responsible for this story: Mark Silva at msilva34@bloomberg.net