Australia Keeps Budget Surplus Pledge as EU Crisis Mounts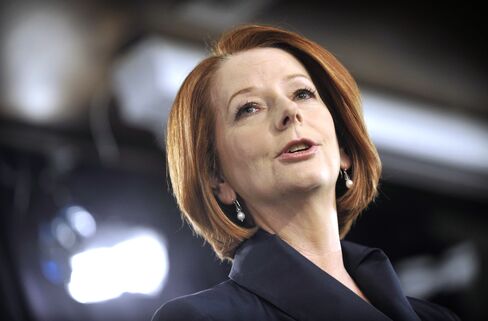 Nov. 29 (Bloomberg) -- Australia's government will cut A$6.8 billion ($6.7 billion) in spending to meet Prime Minister Julia Gillard's pledge to deliver a budget surplus as Europe's debt crisis crimps revenue by slowing global growth.
The surplus forecast for the fiscal year starting July 1, 2012, was cut to A$1.5 billion from a target of A$3.5 billion in the May budget, the Treasury's midyear review released in Canberra today showed. Even as the deficit this year swells to A$37.1 billion from a prior A$22.6 billion estimate, Australia for the first time holds the top grade at all three main credit assessors after Fitch Ratings earlier boosted the nation to AAA.
"We are showcasing to the world the strong economic fundamentals of the Australian economy," Treasurer Wayne Swan told reporters in Canberra today.
Gillard, 50, is trying to balance the books in a nation forecast to have the fastest-growing economy in the Organization for Economic Cooperation and Development next year. The task is made tougher as Europe's sovereign-debt crisis intensifies, increasing the threat to growth in Asian countries that buy Australia's iron ore, coal and energy.
'Miraculous'
"It's quite miraculous that they've retained the forecast surplus for 2012-13 given how bad 2011-12 looks," said Brian Redican, a senior economist at Macquarie Group Ltd. in Sydney. "The fact the forecast surplus remains razor thin suggests a downside risk."
The heightened global risk is reflected in a decline in commodity prices this quarter and a 6.3 percent drop in the Australian dollar this month. The so-called Aussie, the world's fifth-most traded currency, fell to as low as 98.63 U.S. cents after the review was released, from 99.05 cents yesterday in New York.
"Global economic and financial conditions have deteriorated markedly in recent months, and the risks to global stability from the European sovereign debt crisis have intensified," Swan said in a statement. "Global growth prospects have been downgraded markedly in 2012."
The government lowered its forecast for Australia's annual economic growth to 3.25 percent through June 30, from 4 percent in the May budget. It cut the projection to 3.25 percent through June 30, 2013, from 3.75 percent, the report showed.
Monetary Stimulus
The government's pledge to reduce spending as global growth slows leaves central bank stimulus as the main policy tool for spurring the economy.
The Reserve Bank on Nov. 1 lowered its benchmark interest rate by a quarter percentage point to 4.5 percent from a developed-world high to help boost domestic demand, its first reduction in 31 months. Swaps traders wager policy makers will need to cut again next month on the way to reducing borrowing costs by at least 1.5 percentage points over the next year, a Credit Suisse Group AG Index shows.
In the press conference, Swan noted Australia's inflation rate has eased to within the central bank's target range of 2 percent to 3 percent on average. He also said growth in China, Australia's biggest trading partner, is "coming off a bit."
The gap between yields on Australian five-year inflation-linked debt and benchmark notes of similar maturity was 2.20 percentage points today, after reaching 2.18 percentage points yesterday, the lowest since at least December 2009. The spread indicates investor expectations for consumer-price gains over the lifetime of the debt. The so-called breakeven rate has dropped from this year's high of 3.14 percentage points reached in May, Bloomberg data show.
Surplus 'Fetish'
To fend off criticism from an opposition coalition about her fiscal management, Gillard is sticking with a commitment to return to surplus by fiscal 2012-13 even after floods and cyclones in the nation's northeast earlier this year slowed the domestic economy. Former RBA board member Warwick McKibbin earlier this year called that pledge a political "fetish" for avoiding deficits.
The A$6.8 billion in cost reductions will come from a combination of spending cuts, deferrals of commitments and tightening of the tax system, the government said today.
The fiscal tightening includes a one-time increase in an "efficiency dividend" of 2.5 percent from the civil service that is projected to save A$1.5 billion. It involves steps such as reduced use of consultants and contractors, teleconferencing instead of travel and limiting media and advertising spending.
The government will also crack down on living away from home tax concessions that it says are "being rorted" by foreign workers and high-paid executives, bringing savings of A$683 million, Assistant Treasurer Bill Shorten said in a statement. It will also reduce payment to parents for new-born babies to A$5,000 from A$5,400.
Ratings Upgrade
Fitch Ratings upgraded Australia's long-term foreign-currency issuer default grade to AAA from AA+, in a statement released before the budget review.
One of Australia's strengths is its debt-to-GDP ratio of 26.3 percent, compared with its peer group median of 55.7 percent, Fitch said. "This provides Australia with the fiscal space to weather adverse shocks," the ratings company said.
The urbanization of hundreds of millions of people in China and India has also intensified demand for Australia's mineral wealth, produced by companies including BHP Billiton Ltd. and Rio Tinto Group.
Mining Boom
The surge in commodity extraction has also spurred hiring and Australia's jobless rate, at 5.2 percent in October, was almost half the euro zone's 10.2 percent in September.
The government forecast Australian unemployment will increase to 5.5 percent in June 2012, today's report showed. Swan he expects 300,000 new jobs to be created in Australia, a nation of 22.8 million people, in the next few years, he said today.
The OECD said this week that mounting concern Europe's monetary union may not survive has caused global growth to stall and represents the main risk to the world economy.
The 34 OECD economies will expand 1.9 percent this year and 1.6 percent next, down from 2.3 percent and 2.8 percent predicted in May, the Paris-based organization said in its twice-annual global outlook released late yesterday.
Australia's gross domestic product will increase 4 percent next year, tied with Chile as the best-projected performer among OECD members.
To contact the reporter on this story: Michael Heath in Sydney at mheath1@bloomberg.net
To contact the editor responsible for this story: Stephanie Phang at sphang@bloomberg.net