Euro-Area Finance Chiefs to Meet After Obama Steps Up Pressure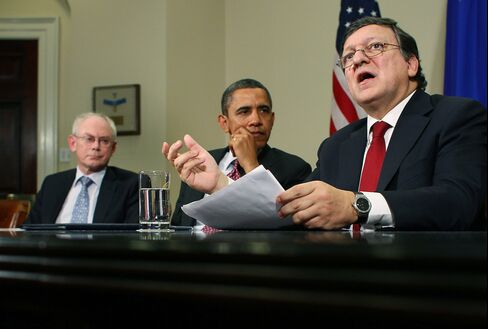 President Barack Obama renewed pressure on European leaders to prevent a dismantling of the single currency before euro-area finance ministers meet today to seek a resolution to the two-year-old crisis.
Agreeing on a sufficient response to Europe's problems is of "huge importance" to the U.S., Obama told reporters after meeting yesterday with European Union President Herman Van Rompuy and European Commission President José Barroso.
"We've got a stake in their success, and we will continue to work in a constructive way to try to resolve this issue in the near future," Obama said at the White House after the annual U.S.-European Union summit. Barroso said that "no one in Europe" is discussing a breakup and that "everybody is speaking" of further integration among European states.
European government heads scrambled once again to deliver a convincing response to the euro crisis last week as concern about the euro's viability crept to AAA-rated Germany, Europe's largest economy. Moody's Investors Service said the "rapid escalation" of the crisis threatens the entire region.
Leaders are working toward a Dec. 9 summit meeting to regain investor confidence. Finance ministers from the 17-member monetary union meet in Brussels today to thrash out details on how the European Financial Stability Facility will boost its muscle by insuring sovereign debt with guarantees.
Obama said that a European economy in turmoil means that U.S. job growth is threatened. The U.S. Labor Department will issue a report this week on the nation's unemployment rate for November. The rate for October was 9 percent.
'Absolutely Serious'
"We are absolutely serious about the magnitude of the challenge -- we understand the challenge," Barroso said after the meeting with Obama. "But the U.S. understands that sometimes some decisions take time."
News of a possible framework for a rescue plan helped push global stocks higher for the first time in 11 days. The MSCI All-Country World Index added 3 percent at 4 p.m. in New York, snapping its longest slump since 2008. The Standard & Poor's 500 Index rallied 2.9 percent in New York.
The euro strengthened 0.6 percent to $1.3320 yesterday. The yield on the 10-year German bund advanced four basis points, with the similar-maturity Treasury yield little changed.
About $4.6 trillion was wiped from the value of global equities this month as banks and ratings companies begin issuing their most direct warnings yet that the euro area could fall apart unless its leaders increase their efforts.
Merkel's Efforts
Chancellor Angela Merkel's government stepped up its effort to win fast-track changes in European Union treaties that toughen fiscal rules rather than agree to jointly issued European bonds. German Finance Minister Wolfgang Schaeuble told reporters yesterday that "first we have to get the stability union, then we'll see how that works."
Finance ministers will discuss how Europe's bailout fund, the EFSF, could insure sovereign bonds of indebted states between 20 percent and 30 percent of each issue. The insurance would be in the form of tradable partial protection certificates, to be issued by an independent Luxemburg-based special purpose vehicle, according to guidelines of the plan.
The proposal to attach such guarantees to future EFSF bond issuances' worth may create a threefold expansion of the 440 billion-euro ($586 billion) fund, the guidelines show.
Markets were jolted last week when the German government failed to draw bids for 35 percent of a 10-year bund auction and the yield on the country's 30-year securities had the biggest weekly gain in 14 months.