Cameron Biting EU Hand Feeding Britain in Debt Crisis Over Euro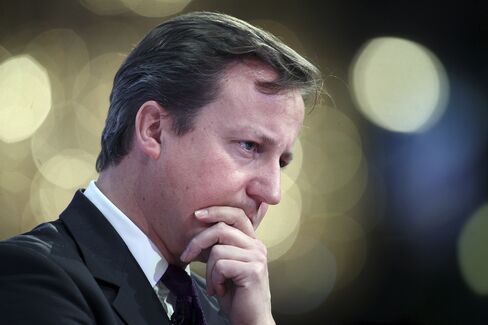 U.K. Prime Minister David Cameron is angering supporters at home and allies in Europe as the euro-area debt crisis risks diminishing his influence in protecting British interests.
Cameron's unheeded calls for euro-area counterparts to step up efforts to calm markets have only underscored his lack of clout as the 17 nations that share the currency work more closely together. At the same time, the premier, who travels to Paris this week, is fighting demands from his Conservative Party lawmakers for a vote to withdraw from the 27-nation bloc.
"Britain is finding herself isolated like she was when the EU was first created," Dominique Moisi, senior adviser at the Paris-based French Institute for International Relations, said in a telephone interview. "You have the most euro-skeptic government for a long, long time, but out of pure realism they don't want the euro to fail or the EU to collapse."
Britain remained aloof from early European integration in the 1950s, and French President Charles de Gaulle vetoed U.K. membership a decade later. Britain's place in Europe divided the Tories in the 1980s and 1990s and helped lead to the downfall of Prime Minister Margaret Thatcher in 1990. Like her successor, John Major, Cameron is boxed in by having to deal in Brussels without upsetting a party traditionally hostile to the EU.
Having its own currency may be helping Britain weather the financial storms. Germany's 10-year bond yields last week rose above the U.K.'s for the first time since March 2009. Moody's Investors Service said yesterday the "rapid escalation" of the crisis threatens all of the euro region's sovereign ratings.
Referendum Demand
With amendments to European treaties on the agenda of a Dec. 9 summit in Brussels, Cameron is under growing pressure to gain concessions after more than a quarter of Conservative lawmakers defied him to back a demand for a referendum on British EU membership in a House of Commons vote last month.
Tory activists rail against European rules such as those limiting working hours and would like to be able to opt out. The danger is that if Cameron asks for too much in return for changes to European treaties, he runs the risk that Germany will back a French plan to create separate institutions and rules for the 17-nation currency area, deepening Britain's isolation.
"We have increasingly become run by Europe," Tory lawmaker David Nuttall told the Commons Oct. 24 as he opened the debate on holding an EU referendum. "I and millions of others in this country want to be in Britain, and run by Britain."
Cameron, who will hold talks with French President Nicolas Sarkozy Dec. 2, went to Berlin to meet German Chancellor Angela Merkel Nov. 18 after European leaders carped that he was lecturing from the sidelines while offering no assistance. Frustration boiled over at a summit on Oct. 24 when Sarkozy confronted Cameron.
'Caused Irritation'
"Merkel didn't react like Sarkozy -- he nearly exploded -- but his criticism is shared by her," Professor Gerhard Dannemann of the Centre for British Studies at Berlin's Humboldt University said in a telephone interview. "Britain wants to stay out of the euro but on the other hand wants to give good advice on what to do about it, and this has caused irritation."
Cameron, who describes himself as a "euro-skeptic," says staying at the table is crucial to British interests.
"European countries account for 50 percent of our trade and much of our inward investment; leaving the EU is not in our national interest," Cameron said in a speech in London on Nov. 14. "Outside, we would end up like Norway, subject to every rule for the single market made in Brussels but unable to shape those rules; and believe me, if we weren't in there helping write the rules they would be written without us -- the biggest supporter of open markets and free trade -- and we wouldn't like the outcome."
Assessing Germany
The premier, who has pledged to return powers to the U.K. in return for changes to Europe's governing treaties, used his trip to Berlin to assess the scope of German demands for a overhaul of the rulebook so he can calibrate how much to ask for in response, according to British and EU officials who declined to be identified because the discussions are private.
The argument with Sarkozy was sparked by Cameron demanding that the 10 EU member states not in the single currency should be present at a meeting on Oct. 26 to discuss the euro region. Cameron, who is concerned that the 17 will make decisions that then build up an unstoppable momentum, had earlier called to check that Polish Prime Minister Donald Tusk and his Swedish counterpart, Fredrik Reinfeldt, would back him, officials said.
The U.K.'s shortage of allies in Europe has been compounded by Cameron's decision before he came to power last year to pull the Conservatives out of the European People's Party to which Merkel's Christian Democrats and Sarkozy's power base belong.
'Nutters'
The Tories instead joined a group of mainly Eastern European parties described as "nutters and anti-semites" in April 2010 by the Liberal Democrat leader, Nick Clegg, who is now deputy prime minister in Cameron's coalition government.
While Merkel, Sarkozy and their EPP allies meet to discuss strategy in Brussels before EU summits, Cameron remains in London and only arrives before the main talks begin.
Accusations that Cameron's Labour predecessor, Gordon Brown, who led the Group of 20 response to the 2008 financial crisis, would have been more effective in fighting Britain's corner had a big effect on Cameron's office, according to officials. So did taunts from Ed Miliband, now the leader of Labour in opposition, that the U.K. was standing on the sidelines.
'Sitting on the Sidelines'
"It is hard to imagine either Blair or Brown sitting on the sidelines in this most profound of European economic crises," Kirsty Hughes, of Oxford University's Centre for International Studies, wrote on the Open Democracy website Nov. 24. "Sweden and Poland -- also not in the euro -- have done what they can to ensure they still have a voice, including making token payments towards the EU's bailout fund. Such an obvious strategic move on the part of the U.K. would create a major outcry, beginning in the Conservative Party."
The growing rift between Cameron and his partners in Europe is underlined by his opposition to the imposition of an EU-wide tax on financial transactions. The premier argues that 80 percent of the money raised would come from the U.K. "I am sometimes tempted to ask the French whether they would like a cheese tax," he told lawmakers on Nov. 7.
"Given Franco-German resolve to implement the financial-transaction tax on a euro-zone basis if the U.K. vetoes an EU scheme, the U.K.'s refusal to accept it is likely to propel it to the outer reaches of an EU destined to retain little more than historical significance," Stephen Lewis, chief economist at London-based Monument Securities Ltd., said in an interview. "The German press was questioning why the U.K. should stay in the EU. There appears, indeed, to be no positive future in the association."
ECB Role
Cameron has also contradicted Germany in expressing a desire for "all the institutions" of the euro to support the single currency, a diplomatic way of asking Berlin to soften its resistance to the European Central Bank stepping up its crisis-fighting effort.
Other areas of tension include disputes over implementation of Basel III banking rules and a legal challenge to the ECB over its location policy for clearing houses. Cameron said Oct. 28 that London's position as Europe's leading financial center is under "constant attack" from Brussels.
"France and Germany have suddenly woken up and realized they must stick together, that they must move to change the constitution and make sure they are respected by the markets," Moisi said. "Britain is trying to look for alliances but they don't know where to turn."