U.S. Says Goal of $30 Billion in Climate Aid Within Reach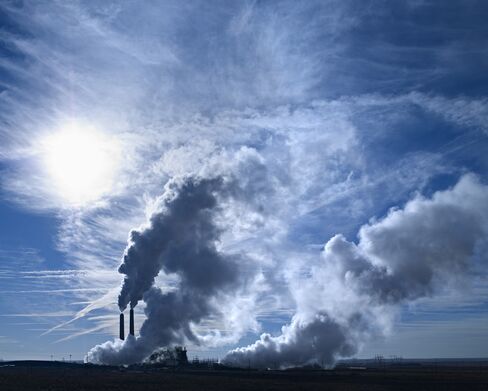 Rich countries are set to deliver $30 billion in short-term climate change-financing and remain committed to find $100 billion a year by 2020, a U.S. State Department official said.
The U.S.'s "fast-start" funds for fiscal 2011 totaled $3.1 billion, up from $2 billion a year earlier, Jonathan Pershing, deputy special envoy for climate change, told reporters today at United Nations-led climate negotiations in Durban, South Africa.
The U.S., the largest historical greenhouse-gas emitter, has promised to pay its "fair share" of $30 billion from 2010 to 2012. The money helps boost U.S. credibility on environmental issues at a time when many nations are skeptical about its commitment to fight global warming, said Keya Chatterjee, director of climate negotiations for WWF.
"It's really a good thing that the U.S. government was able to put some money aside for poor and vulnerable countries," Chatterjee, whose Washington-based organization is an environmental lobby group, said in an interview in Durban.
Of the $3.1 billion, $1.8 billion was appropriated by Congress and $1.3 billion is allocated by development finance and export credit agencies.
Copenhagen Pledge
Developed nations three years ago in Copenhagen pledged the $100 billion in climate aid by 2020. They also pledged the $30 billion for 2010 and 2012. Pershing said nations are "working actively on ways to ramp up to more than $100 billion through both public funds and more effective leveraging of private capital."
He didn't comment on U.S. funding goals for fiscal 2012, part of which must be approved by Congress as lawmakers debate how to close the budget deficit.
Todd Stern, President Barack Obama's lead climate negotiator, said last week that he can't guarantee the U.S. will meet its pledge of spending $1 billion for forest protection.
"We are working very hard to provide the maximum amount that we can," Stern said.
Advocates for stronger action to combat global warming say they are worried climate aid from developed nations may dry up after the short-term funding period ends next year, making it difficult to reach a target of providing $100 billion annually by 2020.
"It's going to be critical at Durban that countries indicate that they aren't going to over the cliff, that the funds won't simply disappear," David Waskow, senior adviser on climate finance for the development charity Oxfam International, said in a telephone interview.
Australian Funds
Australia said it will have paid out A$380 million ($378 million) in fast-start finance by June 30. That's about two-thirds of its pledge of A$599 million, which will be delivered in full by the end of the 2012-2013 financial year, according to a report this month from the government.
"It's all new and additional," Australian Ambassador for Climate Change Louise Hand said today in an interview in Durban. "It's all grant, it goes to the most vulnerable countries and it has moved very swiftly out the door."
The 27-nation European Union has paid out 4.68 billion euros ($6.3 billion) of its promise to deliver 7.2 billion euros over the three-year period, said Artur Runge-Metzger, the European Commission's lead negotiator.
"We're now at two-thirds of the period, and we have delivered two-thirds of the amount of money," Runge-Metzger told reporters in Durban. "Part of the money comes as loans with concessional terms, as they're a way of leveraging private finance."
As of March, Japan had disbursed $9.7 billion of its $15 billion pledge, according to the UN's online finance portal. Norway has paid out $710 million and Switzerland disbursed $162 million.
Before it's here, it's on the Bloomberg Terminal.
LEARN MORE