Fed Says Household Debt Declines by 0.6% in Third Quarter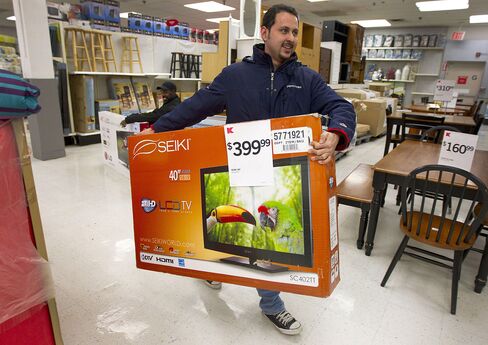 Household debt in the U.S. declined by 0.6 percent in the third quarter as mortgage balances shrank, according to a survey by the Federal Reserve Bank of New York.
Consumer indebtedness fell by $60 billion from the end of June to $11.66 trillion on Sept. 30, according to a quarterly report on household debt and credit released today by the district bank. Mortgage balances declined by about $114 billion, or 1.3 percent.
"Households continue to try and deleverage in the wake of a challenging economic environment and large declines in home values," Andrew Haughwout, vice president in the Research and Statistics Group at the New York Fed, said in a statement. "However, our findings also provide evidence that consumer credit demand continues to increase, a positive sign for consumer sentiment."
Retail sales during Thanksgiving weekend climbed 16 percent, and shoppers spent $398.62 on average, up from $365.34 a year earlier, the National Retail Federation said yesterday, citing a survey from BIGresearch. Web sales on Black Friday surged 26 percent to $816 million and 18 percent to $479 million on Thanksgiving Day, said ComScore, a Reston, Virginia-based research firm.
Consumer Spending
Consumer spending, which accounts for about 70 percent of the economy, grew at a 2.3 percent annual rate in the third quarter, the fastest pace of 2011, the Commerce Department said Nov. 22. The nation's savings rate fell, suggesting some consumers used their nest eggs to keep spending. In October, consumer spending rose less than forecast as Americans used the largest gain in incomes in seven months to rebuild savings.
Borrowings on home equity lines of credit increased by $14 billion, or 2.3 percent, the New York Fed survey showed. Consumer indebtedness excluding mortgages and home-equity lines rose 1.3 percent to $2.62 trillion.
U.S. stocks rose, snapping a seven-day decline in the Standard & Poor's 500 Index, on Thanksgiving retail sales and after euro-area leaders were said to boost efforts to end the debt crisis. The S&P 500 advanced 3 percent to 1,193.86 at 11:26 a.m. in New York.
Fed Chairman Ben S. Bernanke said Nov. 2 unemployment is still "far too high" and the Fed may take further steps to boost growth, such as buying mortgage bonds or changing the way it communicates its policy goals to the public. He spoke after policy makers said the economy picked up in the third quarter and repeated its statement from September that there are "significant downside risks" to the outlook.
New Foreclosures
Delinquency rates rose, with 10 percent of outstanding debt "in some stage of delinquency" at the end of September, compared with 9.8 percent on June 30, the New York Fed survey showed. About 264,000 consumers showed new foreclosures on their credit reports, 7 percent less than in the second quarter, the report said. The amount of new bankruptcies fell 18.8 percent from the third quarter in 2010 to 423,000.
Consumer sentiment in the U.S. stagnated in the week ended Nov. 20 at levels previously reached only at the depths of recessions as a record share of households said it is a bad time to spend, the Bloomberg Consumer Comfort Index showed last week.
The New York Fed report is based on data compiled by the district bank's Consumer Credit Panel, a "nationally representative random sample" from Equifax Inc. credit-report data, the statement said.
The New York Fed revised its consumer indebtedness figures up for the second quarter to "reflect improvements" in its measurements of student loan borrowings, which it had "previously undercounted," according to the statement.
Student loan accounts that had been omitted are now being included, causing the estimate of total consumer indebtedness at the end of the second quarter to climb by $290 billion, or 2.5 percent, the statement said. The district bank said it's currently revising earlier data.
Before it's here, it's on the Bloomberg Terminal.
LEARN MORE