Tepco Sells $2.4 Billion KDDI Stake for Compensation Funds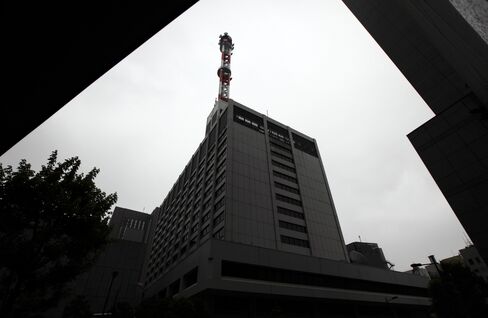 Tokyo Electric Power Co. raised 186.3 billion yen ($2.4 billion) selling its stake in KDDI Corp., its biggest disposal since saying it plans to offload assets to pay compensation for the Fukushima disaster.
The utility known as Tepco, which owned about 8 percent of KDDI, plans to book a 35.1 billion-yen loss on the transaction, it said in a statement. Tepco sold the stock back to KDDI today on the Tokyo Stock Exchange Trading Network System at 521,000 yen a share, the same as yesterday's close, Hiroki Kawamata, a spokesman for the utility, said by phone.
Tepco has been selling holdings since the March 11 earthquake and tsunami crippled its Fukushima Dai-Ichi nuclear station, leading to the worst atomic disaster since Chernobyl 25 years ago. Compensation may total 4.5 trillion yen in the first two years after the disaster, according to a report from a government panel that went through the company's finances.
KDDI, Japan's second-largest mobile-phone operator, plans to raise as much as 201 billion yen from a sale of convertible bonds to buy back the shares held by Tepco.
The zero-coupon notes may be exchanged for KDDI stock if shares rise above the conversion price set at 5 percent to 15 percent more than yesterday's close, according to a person with direct knowledge of the matter. The terms will be set today, said the person, asking not to be identified as the information is private.
KDDI completed the buyback of 424,126 shares, paying about 221 billion yen, it said in a statement.
Kanto Gas Sale
Tepco will sell all of its shares in Kanto Natural Gas Development Co. to Air Water Inc. and Keiyo Gas Co., raising about 5.7 billion yen, it said in another statement to the TSE yesterday. Tepco owns about 13 million shares of the company, it said.
Tepco spokesman Naoyuki Matsumoto declined to identify advisers on the sales or comment on fees.
Tepco can raise 707.4 billion yen through asset sales within three years to generate funds for compensation payments, the government panel said.
Tepco's fuel costs will rise by 830 billion yen to about 2.31 trillion yen in the year ending March 2012 as the utility must use more thermal power generation to fill in for its 17 nuclear reactors, either shut or damaged by the disaster or offline for regular maintenance, the company has said. Two of the 17 reactors are running.
The utility pledged to sell shares in other listed companies worth about 300 billion yen by the end of March 2012. The company sold 112.5 billion yen of stock by the end of September.
Tepco plans to sell properties worth 247.2 billion yen within three years, while raising 130.1 billion yen from affiliated companies.
Before it's here, it's on the Bloomberg Terminal.
LEARN MORE