ST-Ericsson Names Lamouche New Chief on Smartphone Plan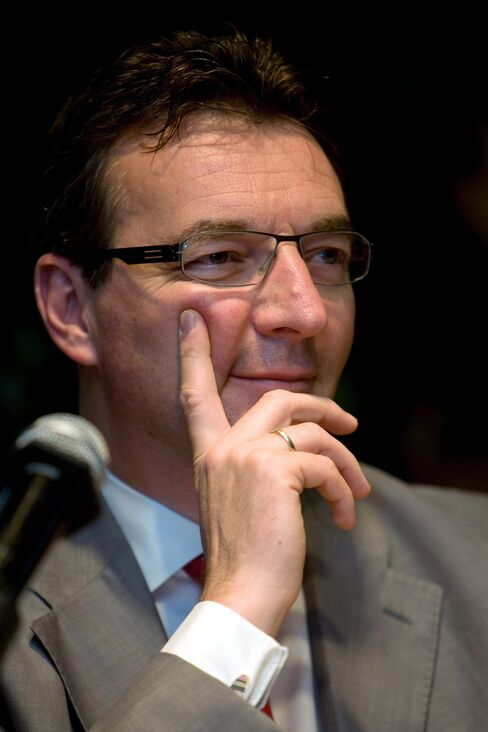 ST-Ericsson, the chipmaking joint venture of STMicroelectronics NV and Ericsson AB, named Didier Lamouche as its third chief executive officer since 2009 to help it gain share in the growing market for smartphone chips.
Lamouche, 52, will replace Gilles Delfassy as CEO and president on Dec. 1, the company said today. Delfassy will advise Lamouche, who joined the venture's board in April, during a transition period, it said.
"Lamouche has been brought on board to try and turn around the company, which has missed on execution and breakeven target," Adnaan Ahmad, a London-based analyst at Berenberg Bank, said by phone.
The company, formed in 2009, has switched its focus to Internet-capable devices and wants to add customers and cut costs. In June, it scrapped a target to reach break-even from the second quarter of 2012. ST-Ericsson is suffering as sales of older chip lines decline, while its newer smartphone and tablet chips are just getting started. The Geneva-based chipmaker has to attract clients and boost volumes to offset the fall in so-called legacy products.
ST-Ericsson, whose third-quarter loss widened to $211 million from $121 million euros a year earlier as sales slumped 27 percent, this month won a contract to supply chipsets for future devices made by Nokia Oyj, using the Windows Phone system.
Sony Ericsson Sale
Ericsson last month agreed to sell to Sony Corp. its 50 percent stake in their 10-year-old mobile-phone venture Sony Ericsson Mobile Communications AB. Berenberg Bank's Ahmad said Ericsson may also "ultimately" seek to dispose of its holding in ST-Ericsson.
"They're not going to find a buyer, not even STMicroelectronics, until the venture becomes profitable," said Ahmad, who has a "sell" recommendation on STMicroelectronics shares and a "hold" rating on Ericsson, according to Bloomberg data. "Their hands are tied now."
Lamouche, who joined STMicroelectronics a year ago, headed Bull SA, a French computer-services company, between 2005 and 2010. He has worked as vice president of International Business Machines Corp.'s semiconductor operations and overseen the creation of Altis Semiconductor, a venture between IBM and Infineon Technologies AG.
"Didier Lamouche's background and extensive industry experience will bring important additions to ST-Ericsson during this crucial phase in the company's evolution," said Hans Vestberg, ST-Ericsson's chairman and CEO of Ericsson.
Focus Full Time
Lamouche, who will remain chief operating officer at STMicroelectronics, will "focus full time" on leading ST-Ericsson, it said. His predecessor at ST-Ericsson, Delfassy, took over from Alain Dutheil in September 2009.
STMicroelectronics rose 5.2 percent to 4.5 euros as of 2:53 p.m. in Milan, giving it a market value of 4.1 billion euros. Ericsson gained 3.9 percent to 67.45 kronor in Stockholm.
STMicroelectronics CEO Carlo Bozotti said Nov. 17 that ST-Ericsson, currently managed as an independent venture, could be run closer to either of its parent companies. STMicroelectronics and Ericsson are "very much aligned and there is absolutely no divergence of view," he said then. The parent companies are committed to their 50-50 venture and will continue to support its bid to create a "sustainable financial return," according to today's statement.
Before it's here, it's on the Bloomberg Terminal.
LEARN MORE