Skype 'Impatient' With Operators Pushes for U.K. Access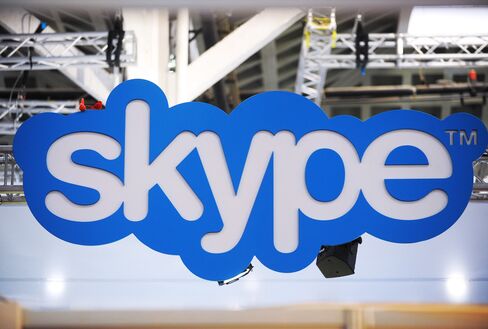 Microsoft Corp.'s Skype Technologies SA unit will step up negotiations with British mobile-phone operators that keep Internet-based calls off their networks after the country's regulator indicated it may intervene.
Ofcom said last week restrictions on Skype's services stifle innovation and it may take action if the blocking persists. Luxembourg-based Skype, the world's most popular Web-calling service, complained to the government agency last year, saying its services are regularly impeded by mobile operators.
"You would expect us to be more impatient than Ofcom," Jean-Jacques Sahel, head of European regulatory affairs at Skype, said in a telephone interview. "In Europe, there's still a huge amount of restrictions."
Major mobile-phone operators in the U.S. do not block Skype. Verizon Wireless, the largest carrier, has offered the software on some handsets since 2010. In contrast, Vodafone Group Plc restricts access to Web-based calls on lower-priced subscriptions unless customers pay an extra 15 pounds ($23) a month. France Telecom SA and Deutsche Telekom AG's U.K. venture bans access to external services.
The number of European consumers making calls using voice over Internet protocol technology, or VoIP, will rise to 150 million by 2016, generating about $2.9 billion in annual sales, according to Juniper Research.
Data Surge
Deutsche Telekom rose 2.4 percent to 9.04 euros in Frankfurt trading as of 1:26 p.m. while France Telecom gained 2.6 percent to 12.02 euros in Paris and Vodafone climbed 1.1 percent to 168.25 pence in London.
Even as revenue from data traffic surges along with the use of Apple Inc.'s iPhone and handsets running Google Inc.'s Android software, the biggest European operators restrict Internet phone services to protect profits and counter declining sales from traditional voice calls and messaging.
Vodafone offers Internet calling if customers sign up for the appropriate data plan, said Ben Padovan, a spokesman for the Newbury, England-based company. A spokesman for Everything Everywhere, the venture between France Telecom and Deutsche Telekom, didn't return calls seeking comment.
Neither Telefonica SA's O2 nor Hutchison Whampoa Ltd.'s 3 ban the service in the U.K., according to Ofcom.
Microsoft, which completed the takeover of Skype for $8.5 billion last month, plans to incorporate the service in its Windows Phone products as it competes with Apple and Google.
While it will refrain from imposing minimum service-quality levels, the regulator will monitor how operators manage traffic, Ofcom said in a report released Nov. 24.
Catching Up
"To have that extra hint from Ofcom is helpful and should allow us to continue the dialog," Sahel said. "We need the few that lag behind to catch up."
Ofcom's position is "very much a call to the market to sort it out," Sahel said. Through meeting with operators within an industry group, Skype is seeking "some sort of commitment" to retain open access to services.
In its submission to Ofcom last year, Skype said its investment and marketing decisions depended on services being accessible by all users. The U.K. is losing investment to countries with more open standards and is "fast becoming a backwater," Skype said.
Before it's here, it's on the Bloomberg Terminal.
LEARN MORE