Los Angeles Police Arrest Occupy Protesters Near City Hall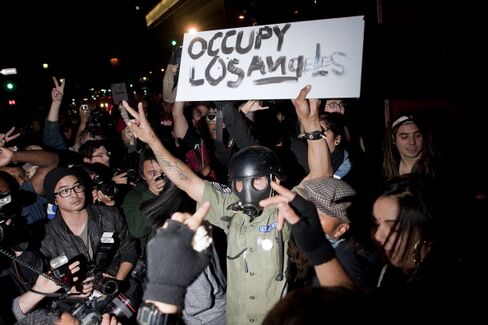 Los Angeles police arrested four people who refused to move as authorities cleared Occupy protesters near City Hall early this morning.
Occupy Wall Street supporters in Philadelphia also prepared to be forced out of their encampment as Mayor Michael Nutter's Sunday deadline to leave passed.
Protesters have camped in the nation's second- and fifth-most-populous cities since almost the beginning of the movement in New York on Sept. 17. The efforts to move them follow confrontations with authorities from Manhattan to Oakland, California, and Portland, Oregon.
Los Angeles Mayor Antonio Villaraigosa asked protesters to withdraw from their City Hall camp by 12:01 a.m. local time today. The protests have cost the city upwards of $160,000, Villaraigosa told KTLA television in an interview today.
"We are gratified that it has been peaceful but it is time to close the park," Villaraigosa said.
As night fell yesterday, as many as 400 tents remained. A band played and the smell of marijuana wafted through the air.
By 2:30 a.m., protesters had moved to nearby streets. At 4:50 a.m., police on loudspeakers declared an unlawful assembly and told protesters to get off the street, said Sarah Faden, a Los Angeles police spokeswoman. Some people threw things at officers, she said in an interview.
'Milling About'
"People were milling about in the streets during the early morning hours, as well as in front of the police headquarters and City Hall," she said. Officers cleared the streets so people could get to work, she said.
Aid workers were sent to the Occupy LA site to counsel homeless demonstrators and 50 beds were made available at nearby shelters, a Villaraigosa spokesman, Peter Sanders, said in a telephone interview yesterday.
While police have made no effort to forcibly remove protesters from the park, some packed up their belongings to prevent them from being confiscated, according to members of the Occupy LA movement.
"The police have been surprisingly cooperative," said Mike Meen, 43, who was occupying a tree on City Hall grounds. Meen took his perch as 9 p.m. Sunday.
"Nobody has said anything to me yet," Meen said.
Have Some Land
Villaraigosa had offered the demonstrators office space and farmland to encourage them to leave the downtown park on Nov. 22. The protesters rejected the offer the following day, according to the website occupylosangeles.org.
The protesters instead listed demands that included a moratorium on home foreclosures, no cuts in wages or pensions for municipal employees, and that the city press the state to help "remove corporate personhood and money from politics at the national level."
Philadelphia's Nutter set a deadline of 5 p.m. local time yesterday for protesters to vacate their encampment. About 50 demonstrators locked arms and refused to move at the entrance to Dilworth Plaza, according to the AP. As the deadline passed, protesters remained and police made no arrests.
'Not Interested'
Mark McDonald, a spokesman for Nutter, declined to say today whether the remaining Occupy Philly participants would be forcibly removed. "The Police Department is not interested in confrontation," he said.
The plaza in front of City Hall that has been the movement's campsite is slated for a $530,000 renovation that will create green space and construction jobs, McDonald said.
"We're expecting construction to begin shortly and folks need to move," said McDonald. It's "very possible" contractors will begin to prepare the site this week, he said.
Before it's here, it's on the Bloomberg Terminal.
LEARN MORE