Merkel Spurns 'Bazooka' in Favor of Fast-Track Treaty Change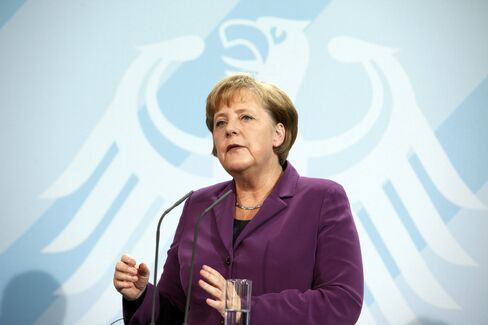 Germany spurned investor calls to maximise financial firepower to calm markets, saying its fast-track proposals for European Union treaty change are key to solving the euro-area debt crisis.
Chancellor Angela Merkel will deliver a speech on the crisis to the lower house of parliament in Berlin on Dec. 2, previewing a Dec. 9 summit of European leaders that is due to discuss proposals for treaty change, Merkel's chief spokesman, Steffen Seibert, told reporters today.
Germany is working with "an ambitious timeline because we believe that Europe can't wait for this forever, but that it should also be possible to put such limited change into effect in what for some is a surprisingly short time," Seibert said in Berlin.
As the largest contributor to euro-area bailouts, Germany is stepping up its demands for treaty change to lock in tighter budget controls for the 17 euro member states as the chief means of tackling the debt crisis and restoring market confidence. Michael Meister, parliamentary finance spokesman for Merkel's party, has said that fiscal integration is a precondition for any German rethink of its opposition to "joint liability."
'Not Now'
"First we have to get the stability union, then we'll see how that works," German Finance Minister Wolfgang Schaeuble told foreign press association members in Berlin today. "These are debates we'll have later, not now." At the moment, "any discussion about euro bonds reduces the likelihood that we can get the required" focus on EU treaty change and enforcing debt and deficit discipline in the euro area, he said.
Stocks and the euro advanced today on speculation that leaders are stepping up their efforts to resolve the crisis after bond spreads soared to records last week. The benchmark Stoxx Europe 600 Index gained 3.3 percent to 228.92 at 5:07 p.m. in Frankfurt, its biggest advance in a month. The euro rose from an eight-week low versus the dollar, advancing 0.78 percent to $1.3344.
Even so, Germany and Europe don't have "unlimited financial strength" to counter the debt crisis, Seibert said. "That is precisely why the German government reacts so skeptically to the many calls for Europe to finally free up the really big, final financial reserves, which the Anglo-Saxon world likes to call showing the bazooka," he said. "We in Europe can't pretend financial strength that we don't have."
Juncker, Katainen
Signs of opposition to Germany's fast-track approach to treaty change emerged in fellow AAA rated euro nations Luxembourg and Finland today on the eve of a meeting of euro-area finance ministers in Brussels tomorrow.
Luxembourg's Jean-Claude Juncker, who leads the group of finance chiefs, said that the EU shouldn't be "artificially divided" into two groups, while Finnish Prime Minister Jyrki Katainen said that "it isn't at all certain" if there is wider support for Germany's stance.
Asked about weekend newspaper reports that Merkel and French President Nicolas Sarkozy are planning a fast-track stability pact to stem the crisis, Katainen told reporters in Helsinki that the model would reduce the automatic nature of sanctions to be levied on rule-breaking countries.
Germany and France would start a coalition of euro-zone members that would commit to greater fiscal discipline without waiting to change EU treaties, German newspaper Welt am Sonntag reported at the weekend. The project, similar in form to the Schengen agreement that regulates passport-free cross-border travel, may be announced this week, the newspaper said, citing unidentified people close to the government.
The deal, which could be implemented by the start of 2012, would also expect the European Central Bank to take a stronger role as the euro-area's crisis-fighter, Welt am Sonntag said.
"Europe is burning," Holger Schmieding, chief economist at Joh. Berenberg Gossler & Co. in London, said in a note to clients. The ECB "must intervene to protect our money and our economy effectively."
Before it's here, it's on the Bloomberg Terminal.
LEARN MORE