Liebreich: Stop the UN Climate Charade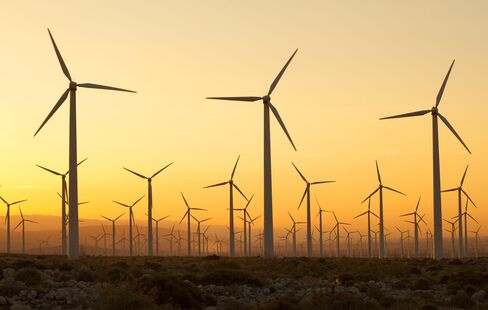 By Eric Roston
The annual UN climate negotiations are among the most ambitious diplomatic ventures ever undertaken. The talks are geared toward getting 200 nations to agree on an equitable ways to reduce global carbon emissions and share the cost burden of climate change adaptation. Finding common ground has proven elusive in the past 16 years of talks.
Frustration has mounted in many quarters. As evidence, we are passing along the views of a guest. Michael Liebreich, chief executive of Bloomberg New Energy Finance, who contributes The Grid's first "My Take" column:
My Take: Stop the Annual Charade of UN Climate Talks
Commentary by Michael Liebreich
The climate change caravan rolls into Durban today for the latest round of UN climate negotiations, officially called the 17th Conference of Parties (COP-17) to the United Nations Framework Convention on Climate Change. As usual, the event has been called crucial, and make-or-break.
Activists are swimming against the tide of the political and economic cycle, trying to drum up support for a failed approach. There is no chance of a breakthrough in Durban to keep the world within two degrees Centigrade of warming, the limit that scientists say is vital to avoid catastrophic consequences. Yet around the world, action on climate change is accelerating. It is time for the UN to change track and support real initiatives that are proven to work.
Nations and businesses are already addressing climate change without help from the UN process. Global investment in clean energy has soared to over $240 billion last year, from around $50 billion in 2004. By the end of last year, 96 countries had some form of target for renewable energy, according to REN21's Global Status Report. Sixty have bioenergy mandates. Korea, Iceland, New Zealand, Norway, the U.K. and many other countries have committed themselves to finding low-carbon growth paths.
There are also dynamic initiatives at sub-national level, in states like South Australia, the Basque Country, Quebec and California. Large cities are self-organizing, making commitments and exchanging best practices with each other. There are bilateral processes, linking the U.S. with China, China with Indonesia, Indonesia with the Netherlands, and so on. International financial institutions have dramatically shifted their funding away from fossil-based projects and into clean energy. Multilateral processes outside the UN talks are creating coalitions of energy ministers and academics, business leaders and entrepreneurs. All of this has sprung up in the last five years or so, and it is resulting in new infrastructure and supply chains, retrofitted buildings, new research programs and technology breakthroughs beyond number.
Progress is both diverse and distributed. Policies vary among regions, as do technologies and market trends. The resulting patchwork is not pretty – it won't ever result in a single global carbon price – but it has proven remarkably effective. And as clean technologies get cheaper, we are already starting to see the market taking over from subsidies as the main driver of change.
Contrast this with the results of 16 years of the COP show. In this year's episode, COP-17, nations will once again debate whether the Kyoto Protocol, the first major international climate treaty, should be extended. The Chinese, Indians, Brazilians and the rest of the G77 insist Kyoto must survive. The Japanese, Russians and Canadians say it must not. The U.S. never ratified it. The Europeans are the only developed-world players who have said they are in favor, and they have no funds to support it. Kyoto took five years to negotiate and eight years to come into force; the world's largest emitter was not bound by it, the world's second-largest emitter did not ratify it, and since its base year of 1990, emissions have risen by 45%.
On the evidence, it's hard to see why anyone would say, as U.K. climate and energy minister Chris Huhne did last week, "a global deal covering all major economies is not a luxury. It is not an optional extra. It is an absolute necessity."
The UN Framework Convention on Climate Change, or UNFCCC, which bore Kyoto, should be broken into three tracks. One would be a forum for the top 20 emitting nations to work on mitigation, or controlling the amount of greenhouse gases they produce. The second would work on helping the poorest nations on Earth deal with adaptation, which should unequivocally be funded by the biggest historical emitters. And the third should deal with eliminating deforestation, which is far too complex to be seen through a climate and carbon lens alone.
Speed is of the essence. The International Energy Agency pointed out in this year's authoritative World Energy Outlook that with current trends, the high-carbon infrastructure built by 2017 will lock in enough emissions to drive the world above a two-degree Centigrade temperature change. The more time, energy and credibility is wasted pushing for a binding, top-down deal on emissions, the less we have to devote to the sort of initiatives we know work.
What is needed in Durban is a modern-day Oliver Cromwell – someone who had no time for drama or light entertainment – who will stand up and say to the assembled negotiators and politicians: You have sat too long for any good you have been doing lately... depart, I say; and let us have done with you. In the name of the planet, go!
It won't be me. I am staying home.
Michael Liebreich is Chief Executive of Bloomberg New Energy Finance. Follow him on Twitter at @MLiebreich.
-0- Nov/28/2011 17:09 GMT
Before it's here, it's on the Bloomberg Terminal.
LEARN MORE