Intervention No Bar as Euro Off Most Since '03 to Yen, Franc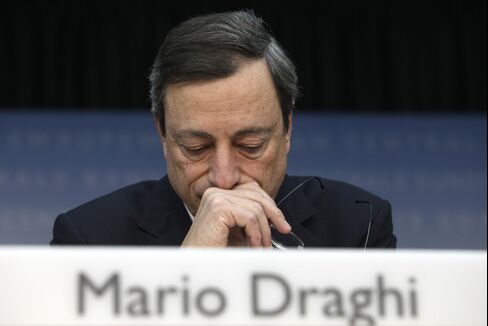 For the first time since at least 2003, investors are fleeing the euro for currencies of countries that don't depend on international capital markets to finance their budget deficits.
The franc rose 7.2 percent and the yen 4.6 percent in the past 12 months, the biggest gains as measured by Bloomberg Correlation-Weighted Indexes, even as the Swiss and Japanese central banks intervened to weaken their currencies. The euro was little changed versus the dollar in the period as the European Central Bank cut interest rates and lenders in the region brought funds home to meet new capital requirements.
Investor concern the euro is at risk is mounting as bond yields in the 17-nation bloc rise to records, costs to insure its members against default jump and ECB President Mario Draghi says providing a more powerful backstop for governments is outside his authority. Traders are favoring currencies of markets that don't need foreign capital such as Norway's krone as banks hoard cash amid the most expensive financing rates in more than three years.
"We've had a preference for the Scandinavian currencies, particularly the krone, because Norway has got the current account surplus, it's soundly managed and it's not an indebted country," Frances Hudson, who helps manage about $232 billion as a global strategist at Standard Life Investments in Edinburgh, said in a telephone interview on Nov. 24. "The ECB is going to be loosening its policy, which should take away some of the support for the euro."
Trade-Weighted Decline
The euro was down 1.5 percent in the 12 months ended Nov. 22 against a trade-weighted basket that includes the dollar, franc, yen and pound, said Bilal Hafeez, Deutsche Bank AG's global head of foreign-exchange strategy in Singapore. The decline was 2.7 percent when the greenback is excluded, he said.
Deutsche Bank recommended on Nov. 21 that investors sell the euro and buy the yen as markets lose confidence in European leaders' efforts to stem the debt crisis. The euro may weaken to $1.30 by the end of March, while the yen may appreciate to 72 per dollar by the end of the second quarter, from 77.73 last week, according to Hafeez.
The krone rose 2.9 percent against nine developed-market peers in the past 12 months, according to Bloomberg's Correlation-Weighted indexes. The euro slipped 1.2 percent and the dollar fell 2.3 percent, the gauge shows.
Deficit Nations
The euro climbed 0.7 percent to $1.333 at 1:47 p.m. New York time, after falling 2.1 percent last week, leaving it little changed this year. Against the yen, it strengthened 1.1 percent to 103.96 today. The shared currency rose 0.1 percent to 7.8590 kroner and was little changed at 1.22944 francs after last week falling 0.6 percent.
The U.S. had a current-account deficit of 3.24 percent of gross domestic product last year, compared with a euro-area shortfall of 0.45 percent, according to data compiled by Bloomberg. While Germany's surplus was 5.7 percent of GDP, Greece and Portugal had deficits of almost 10 percent.
Switzerland's current-account surplus is forecast to be about 12 percent of GDP this year, according to the median estimate of eight economists surveyed by Bloomberg. Norway, the world's second-largest natural gas exporter, will have a surplus amounting to almost 15 percent in 2011, a separate survey shows.
The best may already be over for the franc and the yen as the Swiss National Bank and the Bank of Japan limit gains to protect their nations' exports. The SNB capped the franc's rate at 1.20 per euro on Sept. 6 after the currencies almost reached parity in August, crimping economic growth.
Yields Surge
The yen appreciated to a record 75.35 per dollar on Oct. 31, spurring Japan to intervene for the first time since August. Japan's government needs to take action against the strength of the yen to protect jobs, Toyota Motor Corp. President Akio Toyoda said Nov. 7.
Europe's escalating crisis sent borrowing costs outside Germany to records this month. The yield on 10-year Spanish bonds rose to 6.78 percent on Nov. 17, the most since the euro's inception in 1999, while the premium France pays over Germany to borrow for 10 years reached a record 204 basis points, or 2.04 percentage points, the same day.
Investors are growing wary of even the highest-quality euro-zone sovereign debt as contagion from the crisis reaches the region's core members. Germany failed to get bids for 35 percent of the bunds it offered for sale on Nov. 23. The retained amount was the highest proportion of unsold 10-year debt since 1995, according to data compiled by Bloomberg.
ECB Remit
Chancellor Angela Merkel, 57, repeated her opposition last week to calls for common currency-area bonds. Draghi, who took over as president of the central bank this month, said on Nov. 3 that backstopping government borrowing lies outside the ECB's responsibilities.
"What makes you think that becoming the lender of last resort for governments is what you need to keep the euro region together?" Draghi said in Frankfurt after the ECB unexpectedly cut rates by a quarter percentage point to 1.25 percent. "That is not really in the remit of the ECB."
The euro's performance against the dollar this year has been masking the severity of the debt crisis, said Jeffrey Gundlach, who runs DoubleLine Capital LP in Los Angeles. That's why the firm stopped selling the euro and in the summer purchased credit-default swaps on French debt, which profit if the price of the nation's debt falls, said Gundlach. DoubleLine's Multi-Asset Growth Fund has beaten 94 percent of its competitors in 2011.
Weaker Euro
The cost of protecting France's bonds against non-payment for five years with credit-default swaps reached 256 basis points at the end of last week, up from 84 basis points at the start of August, according to CMA, which is owned by CME Group Inc. and compiles prices quoted by dealers in the privately negotiated market.
John Taylor, the founder of currency hedge fund FX Concepts LLC in New York, said the euro area has "an unbelievable group of problems." He said he is betting against the shared currency, in an interview on Bloomberg Television's "In the Loop" with Betty Liu on Oct. 26.
The company's Global Currency Program is down 17.8 percent this year through October, according to the FX Concepts website. Taylor said on Bloomberg Television on Oct. 11 the euro will end the year at $1.20, before falling to parity.
Benefit of Weakness
A weaker euro may help the region's economy by making exports more competitive. European industrial orders fell the most in almost three years in September, led by Germany and France, a European Union report showed on Nov. 23. London-based Markit Economics said the same day a composite index based on a survey of purchasing managers in manufacturing and services industries in the region shrank for a third month in November.
"A weaker euro would actually be a good thing, not a bad thing for the euro zone" because it would support growth, said Michael Darda, chief market strategist in Stamford, Connecticut, at MKM Partners LP. "The periphery needs a dramatically weaker currency, while German probably doesn't."
Japan had a current account surplus of 1.585 trillion yen ($20.4 billion) in September, the Finance Ministry said Nov. 9. The economy grew an annualized 6 percent in the three months ended Sept. 30, the first expansion in four quarters, the Cabinet Office in Tokyo said Nov. 14, as exports recovered from a record earthquake in March.
No Japan Concern
Japan "has the highest public debt to GDP at more than 200 percent but no one is concerned about the debt situation in Japan because they don't rely on foreign financing," Niels Christensen, chief currency strategist at Nordea Bank AB in Copenhagen, said in a telephone interview on Nov. 17.
That may change. Standard & Poor's indicated last week it may be preparing to lower Japan's sovereign grade from AA-, saying Japanese Prime Minister Yoshihiko Noda's administration hasn't made progress in tackling the debt burden.
European banks are repatriating funds to boost "high quality" assets that can serve as a buffer against an escalation of the debt crisis. Policy makers said last month that banks must meet the Basel Committee on Banking Supervision 9 percent capital requirement by mid 2012, meaning banks must find 106 billion euros ($130 billion), according to the European Banking Authority.
European investors brought home 65.9 billion euros in August and 11.6 billion euros in September, according to ECB data compiled by Bloomberg.
Attracted by Surpluses
Investors are also being drawn to countries with surpluses as the ECB lowers borrowing costs to counter sputtering growth.
The gap between euro-zone and Swiss benchmark rates is 1.25 percentage points, compared with an average of 1.56 percentage points from 2002 through 2008. Norway kept its overnight deposit rate at 2.25 percent in October.
Draghi said after this month's ECB decision the region will probably fall into a "mild recession." Governing Council member Luc Coene said an additional rate cut by the ECB is probable if current trends continue, De Tijd reported last week.
Euro-area GDP will grow 0.5 percent 2012, down from 1.6 percent this year, according to the median forecast of analysts surveyed by Bloomberg. Swiss growth will be 1.1 percent in 2012, with Norway at 2.1 percent and Japan at 2.5 percent, separate surveys show. The U.S. expansion will be 2.2 percent.
"Whichever way you look the picture is turning negative for the euro," Deutsche Bank's Hafeez said in a telephone interview on Nov. 24. "We think the crisis will be ongoing. We have the cyclical downturn in Europe. Eventually the ECB is going to have to step up. All of those things will be negative for the currency."
Before it's here, it's on the Bloomberg Terminal.
LEARN MORE