Hurricane Season Spawns 19 Storms in Third-Most Active Year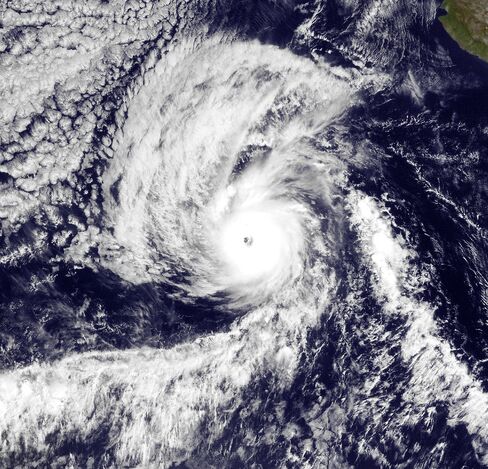 The Atlantic hurricane season spawned 19 storms, including Irene, which struck the East Coast in August leaving destruction from North Carolina to Vermont, a National Oceanic and Atmospheric Administration statement said.
The peak-storm period, which ends Nov. 30, ties 2010, 1995 and 1887 as the third-most-active one since 1851, according the statement. The average season produces 11 storms with winds of at least 39 miles (63 kilometers) per hour.
"This season is a reminder that storms can hit any part of our coast and that all regions need to be prepared each and every season," Jack Hayes, director of NOAA's National Weather Service, said in the statement.
Hurricanes inflicted $153.7 billion in insured U.S. losses from 1991 to 2010, adjusted for inflation, accounting for 44 percent of all catastrophic losses in the period, according to the Insurance Information Institute in New York. Hurricane Irene, which struck in August, caused an estimated $7.2 billion in damage and killed 55 people in the Caribbean and 14 U.S. states, according to Weather Underground Inc.
In the U.S., New Jersey was hit the hardest with $915 million in insured losses, according to the insurance institute.
Irene became the first hurricane to strike the U.S. since Ike came ashore near Galveston, Texas, in 2008, NOAA said.
Hurricane Irene
"Irene broke the 'hurricane amnesia' that can develop when so much time lapses between landfalling storms," Hayes said.
It has been six years since a major hurricane, with winds of at least 111 mph, has struck the U.S., the longest stretch on record. Wilma, in 2005, was the last.
Seven hurricanes with winds of at least 74 mph formed this year and three of them achieved major status.
"Although the 2011 hurricane season has ended, our need to prepare for disasters hasn't," Craig Fugate, administrator of the Federal Emergency Management Agency, said in the statement. "Being prepared for all kinds of hazards, from hurricanes to blizzards to tornadoes, is a year-round activity."
This year's storm total exceeded Colorado State University's pre-season prediction of 16 named storms. It fell short of the institution's forecast that nine of those systems would become hurricanes and five would be major hurricanes.
It also exceeded NOAA's May forecast that called for 12 to 18 storms to form. In August, NOAA upgraded its prediction to 14 to 19 storms, with 10 becoming hurricanes and three to five achieving major status.