Barney Frank Won't Seek Re-Election in 2012, Plans to Retire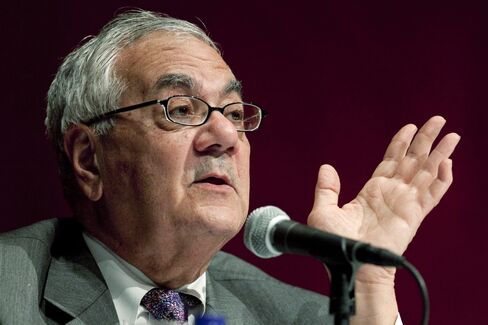 Nov. 28 (Bloomberg) -- U.S. Representative Barney Frank, co-author of the biggest rewrite of Wall Street rules since the Great Depression, will retire instead of seeking another term after Massachusetts re-shapes his congressional district.
Frank, a Democrat serving his 16th term, led the House Financial Services Committee during the 2008 credit crisis and was a top negotiator on the $700 billion banking-industry bailout. In 2009 and 2010, he was the lead House negotiator on what would become the Dodd-Frank Act -- a 2,300 page overhaul of the U.S. financial regulatory system.
"The decision was precipitated by congressional redistricting, though not entirely caused by it," Frank said today at a news conference in Newton, Massachusetts. "I've been ambivalent about running, not because I don't think the job is important, but because there are other things I'd like to do in my life before my career is over."
Frank, 71, said he had "tentatively" decided to retire after this term when he completed the Dodd-Frank Act last year. He said he changed his mind when Republicans took control of the House and he saw their plans for financial regulation.
"At that point it seemed like some of the things I had fought hardest for could have been in jeopardy," Frank said.
Frank said the new congressional map -- one that would substantially change the shape of his district and constituency -- played a role in his decision to step down. He said he plans to write, teach and lecture, and would not be retiring from commenting on public policy.
Openly Gay
One of the first openly gay members of Congress, Frank has served in the House since 1981, representing a district that includes Boston suburbs Newton and Brookline and stretches out to cities including Taunton and Fall River.
A lawmaker who never shied away from attacks, Frank became well-known for his willingness to engage those on the other side of an issue -- on the House floor, in committee hearings or through the media, often using quick wit and humor, according to Michael J. Wilson, national director for Americans for Democratic Action, a self-described "independent liberal political organization."
"Barney Frank is an icon to liberals everywhere and even though conservatives oppose him, they know he is smarter and funnier than they are every day of the week," Wilson said today in a statement.
Yearlong Battle
Frank led the push for the regulatory overhaul that bears his name along with Christopher Dodd, the Connecticut Democrat who retired from the Senate instead of seeking re-election in 2010. They shepherded the measure through a yearlong battle fraught with partisan fights and fueled by millions of dollars from groups lobbying to shape the future of financial oversight.
The legislation, which included creation of the Consumer Financial Protection Bureau, regulatory oversight for the $708 trillion swaps market and new tools to wind down failing firms, was cleared for final passage in the early morning hours of June 25, 2010, after an all-night negotiating session led by Dodd and Frank. President Barack Obama signed the measure into law less than a month later.
Obama said in a statement today Frank "has been a fierce advocate for the people of Massachusetts and Americans everywhere who need a voice."
"It is only thanks to his leadership that we were able to pass the most sweeping financial reform in history designed to protect consumers and prevent the kind of excessive risk-taking that led to the financial crisis from ever happening again," Obama said in the statement.
'Legislative Giant'
Representative Edward Markey, a fellow Massachusetts Democrat whose service with Frank dates from their days in the state house before either was elected to Congress, called him a "legislative giant."
"He combines the incredible commitment to progressive causes with a mastery of the legislative process," Markey said today in a statement. "With a rapier wit and unparalleled command of legislation, Barney Frank is a phenomenal member of Congress."
Frank's departure may pose problems for the banking industry, with Representative Maxine Waters of California in line to succeed him as top Democrat on the Financial Services Committee, according to Jaret Seiberg, a senior policy analyst with the Washington research group at Guggenheim Partners.
"Waters at times is very hostile to the banks so this is a situation worth watching," Seiberg wrote today in a note to clients. Representatives Carolyn Maloney of New York and Mel Watt of North Carolina may also be contenders, Seiberg wrote.
Forefront of Fights
The retirement will mark the end of a three decade-long career where Frank has been at the forefront of fights on affordable housing, gay rights and defense spending.
His congressional career survived a 1990 House reprimand for using his office to help a male prostitute. The House voted against more severe punishments, including expulsion, after Frank was accused of using his influence to fix parking tickets that the man had accumulated. Frank, at the time, said he "should have known better."
Minority Role
After serving as chairman of the Financial Services panel from 2007 through 2010, Frank was swept into the minority as Republicans took control of the House in last year's elections. Frank himself faced a tougher-than-usual race, at one point loaning his campaign $200,000 in his contest against Marine reservist and businessman Sean Bielat, the Republican challenger.
Bielat attacked the lawmaker for failing to identify problems with Fannie Mae and Freddie Mac, the government-backed mortgage finance firms operating under U.S. conservatorship after being seized during the credit crisis.
Frank, who defended himself by noting that Democrats were not in the majority for much of the run-up to the economic collapse, won re-election with 54 percent of the vote. He won his 2008 race with 68 percent of the vote against a Republican rival who raised just $40,000. In 2006 no one ran against him. Frank has almost $390,000 cash on hand for the 2012 campaign, according to federal filings.
His support for Fannie Mae and Freddie Mac, as well as his push for affordable housing, made him a target for Republican attacks like those Bielat deployed in the 2010 campaign.
Newt Gingrich, the former House speaker seeking the Republican presidential nomination, said during an Oct. 11 debate sponsored by Bloomberg News and the Washington Post that Frank and Dodd belonged in jail for their relationships with the mortgage firms, which have been sustained by U.S. Treasury aid since they were seized in September 2008.
Frank, in response to the comments in an interview with the Boston Globe, said Gingrich is a "man with no ethical core whatsoever."
To contact the reporter on this story: Phil Mattingly in Washington at pmattingly@bloomberg.net
To contact the editor responsible for this story: Lawrence Roberts at lroberts13@bloomberg.net