GM Offers Loaner Vehicles to Volt Buyers After Battery Fires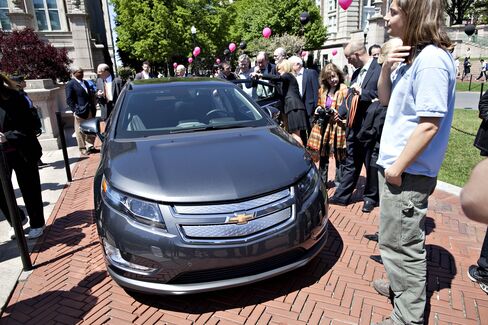 General Motors Co., taking steps to head off a potential backlash against the Chevrolet Volt, offered free loaner vehicles to buyers of the plug-in hybrid while it works with U.S. regulators to prevent battery fires.
The Volt is the subject of a probe by the National Highway Traffic Safety Administration after its batteries, supplied by LG Chem Ltd., caught fire in three crash tests conducted by the agency. GM will give any Volt owners a free loaner until the end of investigation, which was announced Nov. 25.
"GM and Chevrolet believe in the safety of the Volt," Mark Reuss, president of the automaker's North American operations, said on a conference call today with reporters. "We will take every precaution to ensure the driving public of the safety of the Volt."
The Volt is one of GM's most-promoted models in the U.S. and one key to its push to meet tightening U.S. fuel-efficiency standards. The Volt has been on the market for a year and went on sale in all 50 U.S. states last month. In January, the world's largest automaker plans to boost production to 60,000 a year from a rate of 10,000 annually.
GM is sending a letter to all Volt owners and dealers. If any owners have concerns, GM will give them another car as a loaner to drive until the probe has been resolved, Reuss said.
The Detroit-based automaker has engineers working with NHTSA to establish the cause of the fires and no conclusions have been reached, Mary Barra, senior vice president of global product development, said on the call.
'Not Good News'
GM needs to protect the Volt and show that it's safe, said Jeremy Anwyl, chief executive officer of Edmunds.com, an auto research website based in Santa Monica, California. The investigation may cause some car buyers to question the safety of the Volt and electric vehicles such as Nissan Motor Co.'s Leaf, Anwyl said in a telephone interview.
"It's not good news for GM," he said. "It raises uncomfortable questions about EVs in general. People tend to paint things with a broad brush."
The best outcome for GM, Anwyl said, would be that NHTSA finds a minor problem with an easy fix that prompts the company to make a small, precautionary recall. If there are more fires, or if a motorist is injured, then the Volt will have much more serious marketing problems, he said.
The company is using the Volt, which costs about $40,000, heavily in Chevrolet advertising, promoting it as a breakthrough technology. The plug-in hybrid car can go about 40 miles on electricity before its gasoline engine is activated. The Volt battery is recharged by a generator powered by the gasoline engine or by plugging into an electrical outlet.
Toyota's Prius
A standard hybrid, such as Toyota Motor Corp.'s $26,000 Prius, runs on electricity at low speeds before its gasoline engine kicks in. Toyota has also developed a $32,000 plug-in version of the Prius that travels about 15 miles before starting its gasoline engine.
GM has boasted that drivers with a short commute would rarely use gasoline.
GM has no plans to stop sales of the car or lower its profile in Chevrolet advertising, Joel Ewanick, GM's chief marketing officer, said on the conference call.
GM rose 2 percent to $20.74 at the close in New York. They have slid 44 percent this year.
The company is also developing a procedure for drawing down the power in the battery after an accident so that fires will not occur in the days after a collision, Barra said.
Depowering Process
"We developed a process to depower the battery after a crash," Barra said. "The battery assemblies were not depowered. We believe that if they were depowered the fire would not have occurred."
GM is sending engineers to examine every Volt involved in an accident. GM didn't have a procedure in place before selling the car because the company is still learning how to manage the technology, Reuss said.
"When something is as innovative and groundbreaking and transformational as the Volt, we are going to keep learning," Reuss said. "We don't believe there is a fire risk."
A Volt caught fire three weeks after a side-impact crash test May 12 while parked at a NHTSA testing center in Wisconsin, leading regulators to conduct more tests. Volt battery packs were damaged in three more tests last week, causing two fires, NHTSA said in a statement on its website.
The agency said last week it doesn't know of any crashes outside of testing that have led to battery-related fires in Volts or other cars powered by lithium-ion batteries. Chevy Volt owners whose vehicles have not been in a serious crash don't need to be concerned, NHTSA said.
NHTSA's Involvement
NHTSA, which said it's working with the U.S. Defense and Energy departments to analyze the fires, conducted its first new test on Nov. 16 without a fire. The second test on Nov. 17 saw an initial temporary increase in battery temperature after the crash, and the battery pack caught fire at the test facility on Nov. 24. In a third test on Nov. 18, the battery was rotated hours after the crash and "began to smoke and emit sparks shortly after," NHTSA said.
GM sold 5,003 Volts this year through October, according to Autodata Corp., a research firm in Woodcliff Lake, New Jersey.
Before it's here, it's on the Bloomberg Terminal.
LEARN MORE