Fee Drought Triggers 'Bloodletting' for Stock Traders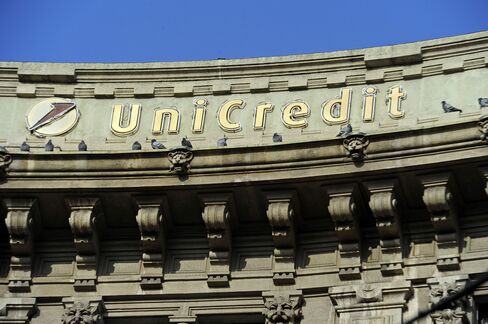 Securities firms are being forced to scale back and even close divisions that trade equities in Europe as the region's debt crisis worsens a decline in profitability.
UniCredit SpA, Italy's largest bank, shuttered its western European equities unit this month, joining at least five other firms including Nomura Holdings Inc. that eliminated equities staff in Europe in recent weeks. Barclays Plc, which hasn't followed peers in cutting equities jobs, is suffering from "particularly weak" returns, Deutsche Bank AG analysts said.
The average value of European stocks traded daily this year tumbled by about 58 percent from the peak of 2007, according to data compiled by Bloomberg. That fall in revenue exacerbated a squeeze on commissions caused by increasing competition among brokers and electronic alternatives. Banks are becoming more reluctant to bear the fixed costs of broking, said David Quinn, head of sales and trading at GFI-CSC, part of GFI Group Inc.
"This is a structural change," said Eli Lederman, a former director of sales and trading at Morgan Stanley in London. "When firms see the real profitability, they will find these businesses are very expensive to operate and with low returns. I see a continuation of the consolidation and more bloodletting in the industry."
Banks expanded in equities trading over the last decade in Europe, lured by the stable revenue provided by trading stocks for money managers, according to an August report by Stamford, Connecticut-based Greenwich Associates. The region's economic growth also spurred companies to seek capital in share sales, while investors increased bets on stocks as governments pushed individuals to take out pension plans that would buy securities.
UBS, Bank of America
Credit Suisse Group AG, UBS AG, Bank of America Corp., Morgan Stanley and Deutsche Bank, with market shares of 11 percent to 8 percent each, were the region's top equity traders in 2010, according to the most recent ranking by Greenwich Associates.
Europe generated about 35 percent of securities firms' revenue from sales and trading in 2010, making it the second most lucrative region after the U.S., which generates about 55 percent of the total, according to Christopher Wheeler, a banking analyst at Mediobanca SpA. Globally, the nine biggest investment banks had about $42.6 billion of revenue from equities, filings show.
The credit crisis prompted firms such as Barclays, Britain's second-biggest bank by assets, to exploit the collapse of rivals to expand their equities operations and seize market share. Meanwhile, brokers that dominated the industry sought to maintain their leads and build on their positions.
U.S., European Markets
About 218 firms are registered to trade the $2.1 trillion of stocks listed on the Euronext markets in Paris, Brussels, Amsterdam and Lisbon. By comparison, about 200 are authorized with the New York Stock Exchange, a market for companies valued at $11.4 trillion in total, according to data from the exchanges and Bloomberg.
That competition between banks, combined with the growth of electronic trading helped push the fees brokers charge to money managers down to an average of 7 basis points in 2009 from 9 basis points in 2006, data published by Oxera Consulting Ltd. shows. A basis point is a hundredth of a percentage point.
"The cost of using brokers has come down over time, and at the same time the transaction size has become smaller," said Reinder Van Dijk, a London-based consultant at Oxera, whose clients include the European Commission. As orders have shrunk, brokers' fixed costs have increased as a proportion of revenue.
Commissions Shrinking
Investors paid average annual commissions of 10.7 million euros ($14.4 million) in the 12 months ended in March, down from
17.5 million euros in 2008, data from Greenwich Associates show.
Added to that, the rally in Europe's benchmark Stoxx Europe 600 Index that began in March 2009 petered out less than two years later as Greece, Ireland and Portugal were bailed out and borrowing costs for countries from Spain to Italy soared. The index has dropped 21 percent since February. It recovered some of its losses today, rising 3.7 percent in late afternoon London trading.
Commissions paid to brokerages in Europe will fall to $8.9 billion in 2011 from $10.7 billion in 2008, according to data from Tabb Group, a Westborough, Massachusetts-based researcher.
As the firms that piled into the equities business face the smaller margins and plummeting volumes, they are slashing jobs and reorganizing, adding to the growing pool of unemployed bankers. Banks, insurers and asset managers in Western Europe have announced about 105,000 reductions this year, 66 percent more than losses in 2008, Bloomberg data show.
'Will Struggle'
"We looked at bull- and bear-market scenarios," Olivier Khayat, deputy head of Milan-based UniCredit's investment bank, said. "Competition is such in the cash brokerage equity business that you either get the critical mass, or you're small enough to remain flexible. Anything in between will struggle."
UniCredit slashed 130 jobs and hired Kepler Capital Markets SA to provide sales, trading and research for some stocks. Terms of the agreement weren't disclosed.
Bank of America, the second-largest U.S. lender by assets, cut part of its so-called specialist European equities division this month. The team ranks first in Thomson Extel's annual survey of European brokerages. The Charlotte, U.S.-based firm also reduced its sales and trading teams in Italy and Dubai by at least 40 percent. Zurich-based Credit Suisse has also eliminated cash equities staff in London as part of the 3,500 cuts the lender announced in July and November.
'More Layoffs'
Royal Bank of Scotland Group Plc, Britain's biggest publicly owned lender, has been reducing its equities unit since the summer, said a person familiar with the talks, who declined to be identified because the negotiations were private. Zurich-based UBS is also cutting jobs in its equivalent division, according to a person with knowledge of the bank's plans.
"Equities research talent is an expense that is getting ever harder to cover," said Peter Hahn, a professor of finance at London's Cass Business School and a former managing director at New York-based Citigroup.
The number of people employed in the industry needs to shrink by about 30 percent, according to Oliver Rolfe, a founding partner of London-based recruiter Spartan Partnership. He estimates banks have cut about half that amount so far.
"You are going to see more layoffs," said GFI-CSC's Quinn. "Unless you are offering a value-added service in this market, you've got no chance."
'Brutal Quarter'
In 2009, Barclays hired about 250 employees as it returned to European equities, 12 years after abandoning what was then a money-losing business. Nomura, which bought the Lehman Brothers Holdings Inc.'s European unit in 2008, also hired analysts and traders to boost coverage in the region to 600 stocks from the 500 covered by Lehman.
The Tokyo-based firm is now cutting jobs to reduce expenses globally by $1.2 billion. Barclays has cut 3,500 jobs across the firm this year and the trend will continue, Chief Executive Officer Robert Diamond, 60, said on Oct. 31, without giving details.
Barclays said third-quarter revenue from equities and prime services fell 40 percent from the previous three months and 6 percent from the year-earlier period. The unit isn't cutting jobs, said Howard Spooner, head of European equity trading at Barclays Capital.
"Our controlled build-out means we are appropriately sized for conditions," Spooner said by e-mail. "We're in a good position to take advantage of our momentum when volume comes back."
'Change in Strategy'
Barclays is investing in European equities, Diamond told analysts on an earnings call on Oct. 31. Equities is a business that's "going well" though it was "a pretty brutal quarter for execution," Diamond said.
Some analysts are skeptical. Jason Napier and David Lock of Deutsche Bank estimate Barclays' third-quarter equities results were worse than all of the bank's competitors they cover except Citigroup Inc.
That "may ultimately raise questions around the medium-term revenue growth planned for this business, with a cost program or change in strategy perhaps called for," the analysts said in an Oct. 31 report.
Bank of America's global equities revenue fell 12 percent to $960 million in the third quarter from the previous three months. Nomura posted a 41 percent decline in the three months ended in September from the previous quarter, without specifying a figure. Spokesmen for Nomura, Bank of America, Credit Suisse, RBS and UBS declined to comment.
Basel Rules
Deutsche Bank, Germany's biggest lender, posted a 31 percent drop in global sales and trading revenue to 384 million euros in the third quarter from the previous three months. The measure fell 23 percent at France's Societe Generale SA, which includes higher-margin equity derivatives in its total. JPMorgan Chase & Co. estimates UBS will generate 1.85 billion francs ($2 billion) this year from trading equities, less than half last year's figure, and 83 percent less than in 2007.
Still, equity trading remains one of the most attractive businesses for investment banks as rules set by the Basel Committee on Banking Supervision erode the profitability of proprietary trading and fixed-income derivatives. When UBS reviewed its operations this month, it gave equities the highest score in an assessment on potential profit and market share.
The largest, most international banks may be the only survivors, partly because investors seek to do business with brokers that also provide advice, for example, according to Greenwich Associates.
Specialized Firms
"Brokers looking to build market share must maintain a significant and diversified presence across the region," Greenwich wrote. "The sell side will only be able to maintain its current level of capacity if trading volumes recover."
Other brokers may specialize in particular industries, according to Rolfe. Italy's Mediobanca SpA, seeking to expand overseas, created a London team of analysts and sales staff in 2010 that now numbers 11, covering 50 financial stocks in 16 countries. Analyst Antonio Guglielmi is one of the world's top 20 financial stock pickers, according to data compiled by Bloomberg Markets for an annual ranking published this month.
Mediobanca has no redundancy plans for the business, a spokesman said. The lender doesn't disclose the team's profit.
Abandoning equities may not be an option for banks that want to advise clients on initial public offerings, even though European IPOs are running at the slowest pace in three years this quarter. UniCredit tapped Paris-based Kepler to write research on companies the Italian lender plans to take public. Other banks may follow this model, said Tom Kirchmaier, a fellow in financial markets group at the London School of Economics.
"I think this is an excellent idea to focus on the core business, and buy in some of the additional services," he said. "I would not be surprised if others would follow."