European Stocks Surge as Leaders Boost Efforts to Contain Crisis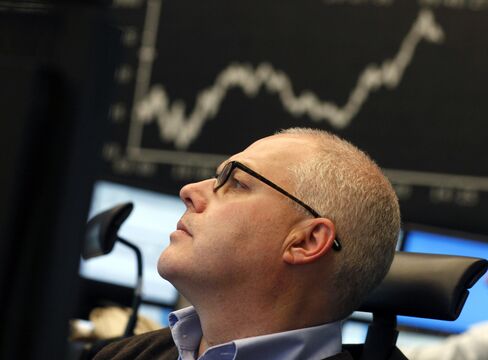 European stocks surged, rebounding from their biggest selloff in two months, amid speculation euro-area policy makers are intensifying their efforts to contain the sovereign-debt crisis.
Banks rose after draft guidelines showed Europe's rescue fund may insure as much as 30 percent of sovereign bonds. Dexia SA and KBC Groep NV gained as Belgium tapped bond markets. Mining and energy companies climbed with commodities after holiday sales rose to a record in the world's largest economy.
The benchmark Stoxx Europe 600 Index jumped 3.8 percent to
229.84 at the close, its biggest increase in two months, as all 19 industry groups advanced more than 2 percent. The Euro Stoxx 50 Index surged 5.2 percent.
"European leaders have been pushed into a position that they have to do something," said Mike Lenhoff, London-based chief strategist at Brewin Dolphin Securities Ltd., which oversees about $39 billion. "We are getting to a point where policy makers are now responding. The message from the market is clear: get your act together or we are going to destroy you."
Stocks sank around the world last week, sending benchmark indexes from the U.S. to Europe down by more than 4 percent, as borrowing costs surged in Italy amid concern that euro-area leaders are struggling to stop the debt crisis from spreading to the region's larger economies. Global equities have lost about $4.6 trillion of their value this month.
Greater Fiscal Discipline
Welt am Sonntag reported that the euro area's two biggest economies plan for member states to commit to greater fiscal discipline without waiting to change European Union treaties. The newspaper did not say where it got the information.
The euro climbed as German Finance Minister Wolfgang Schaeuble urged fast-track treaty changes to tighten budget discipline and as speculation mounted that policy makers are planning to provide more aid for Italy.
Schaeuble said in an interview with ARD television in Berlin yesterday that treaty change is necessary to give veto power over member states' budgets to the European Commission.
Separately, La Stampa reported that the International Monetary Fund is preparing a 600-billion euro ($800 billion) loan for Italy in case the sovereign-debt crisis worsens, without saying where it got the information.
An IMF official today said the Washington-based lender is not in talks with Italy about a loan program.
"There are so many rumors flying around, so many things that are being presented as a done deal, which are simply not even on the table," said Bill Blain, a strategist a Newedge Group on Bloomberg Television in London. "They leave more questions than they possibly answer. It illustrates the fervid nature of the market that is on a knife edge at the moment."
European Stock Markets
National benchmark indexes climbed in every western-European market except Iceland. France's CAC 40 Index gained 5.5 percent, the U.K.'s FTSE 100 Index rose 2.9 percent and Germany's DAX Index increased 4.6 percent.
A gauge of bank shares rallied 5.7 percent, its biggest advance in a month, as borrowing costs fell in Spain and Italy before euro-area finance ministers meet in Brussels on Nov. 29 as governments bid to regain the confidence of financial markets.
The European Financial Stability Facility may insure the bonds of debt-stricken countries with guarantees of 20 percent to 30 percent of each issue, depending on financial markets, according to EFSF guidelines that finance ministers will discuss this week.
BNP Paribas SA surged 10 percent to 28.52 euros as the Financial Times reported that France's biggest bank may plan to sell a portfolio of more than 50 private-equity fund interests for $700 million.
Commerzbank Shares Jump
Commerzbank AG advanced 4.1 percent to 1.31 euros as Financial Times Deutschland reported that Germany's second-largest lender is planning to repurchase so-called hybrid bonds and pay holders with new shares at it seeks ways to boost capital and reduce risk.
Bank of Ireland Plc surged 6.4 percent to 8.3 euro cents after the Dublin-based lender agreed to a sell a portfolio of loans to Sumitomo Mitsui Banking Corp., raising 470 million euros. The bank said it continues to make "good progress" with the sale of other loan portfolios.
Dexia and KBC, Belgium's biggest bank and insurer, soared 15 percent to 42.7 euro cents and 14 percent to 8.93 euros respectively, after Belgium sold 2 billion euros of bonds maturing between 2018 and 2041. The 10-year bond yield dropped after the auction, which followed the country's first credit downgrade in almost 13 years.
It's the first debt sale since S&P lowered the country's credit rating one step to AA with a negative outlook on Nov. 25. Coalition talks produced a budget agreement less than 24 hours later.
BHP Billiton Gains
BHP Billiton Ltd. rallied 4.4 percent to 1,836.5 pence and Total SA rose 3.7 percent to 37.01 euros, leading a rally in mining and energy companies, as copper led base metals higher in London and crude oil climbed in New York.
Commodity prices advanced after U.S. retail sales over Thanksgiving weekend increased 16 percent to a record of $52.4 billion. Oil also gained on speculation that sanctions against Syria will threaten Middle East stability.
Rio Tinto Group also rose after the world's second-largest mining company said it expects to increase capital spending 17 percent next year. The company also raised its iron-ore target to meet demand from China. The shares rallied 4.4 percent to 3,164 pence.
Elsewhere, Thomas Cook Group Plc soared 21 percent to 21.73 pence after its banks agreed to provide a 200 million-pound ($311 million) loan, giving Europe's second-largest tour operator time to reorganize its business.
Rolls-Royce, Sarasin
Rolls-Royce Holdings Plc increased 3 percent to 698.5 pence after the company signed a contract with Deutsche Bank AG to lower the risk on its 3 billion pounds in pension liabilities.
Bank Sarasin & Cie. AG dropped 18 percent to 28 Swiss francs after Safra Group agreed to buy Rabobank Groep NV's controlling stake in the Swiss firm for more than 1 billion francs ($1.1 billion) to expand private banking in Europe, the Middle East and Asia. Some investors had expected a higher offer from Julius Baer Group Ltd.
Before it's here, it's on the Bloomberg Terminal.
LEARN MORE