EU Demand for Road Map to Climate Treaty Complicates Talks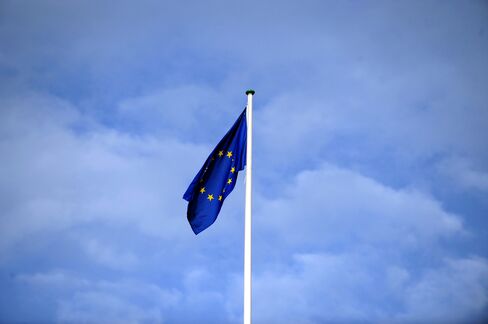 The European Union's demand for a road map leading to the next legally-binding global warming treaty raises a hurdle that may snarl negotiations at the United Nations climate conference this week.
The 27-nation bloc said it accounts for about 11 percent of global emissions and that it can't act alone on emissions blamed for damaging the environment. Limits under the Kyoto Protocol expire next year. Japan, Russia and Canada have ruled out more commitments under that pact.
"We would only be politically able to move ahead into a second commitment period of the Kyoto Protocol if there is at least a road map forward with others saying when they are going to come into the climate fight," Artur Runge-Metzger, the European Commission's lead negotiator, said yesterday at a press briefing opening the talks in Durban, South Africa.
The comments, from Kyoto's strongest supporter in the industrial world, mark the bloc's biggest set of preconditions and complicate talks to rescue the only international treaty on cutting greenhouse gases.
Developing countries oppose binding targets for themselves and view the continuation of Kyoto's goals for richer nations as the key to the fight against climate change -- even without Japan, Russia and Canada onboard. They're concerned the EU's plan, calling for a treaty coming into force by 2020, as a way of delaying action.
Islands Concerned
"After a year of record emissions growth and the hottest temperatures on record, the push by the world's biggest carbon polluters to delay flies in the face of the overwhelming evidence in support of immediate action and represents a betrayal of the people most vulnerable to climate change and the world," said Dessima Williams, an envoy from Grenada who represents the Association of Small Island States.
South African President Jacob Zuma opened the meeting today reminding delegates of the urgency of the issue, noting floods in recent weeks after violent thunderstorms battered Durban overnight. The rains killed at least six people in surrounding townships, the South African Press Agency reported.
"Durban must take us many steps forward towards a solution that saves tomorrow today," Zuma said. ''We have experienced unusual and severe flooding. Given the urgency, parties and states should try to find solutions.
UN View
The UN's diplomat leading the talks said the question of Kyoto's future is the most important one facing delegates, though she wouldn't discuss where the EU position would drive the talks.
''Governments have arrived with a very, very clear view that the second commitment period of the Kyoto Protocol is THE issue on the table, and it is intimately linked with whatever they are going to decide,'' on a broader deal, Christiana Figueres, executive secretary of the UN Framework Convention on Climate Change, said in an interview. ''It's too early to know, but I haven't see anyone shrinking away from this."
Some delegates doubt the EU will hold to its line given the bloc's determination to deepen its own emissions cuts, said Edward Cameron, director of Washington-based World Resources Institute's International Climate Initiative.
Officials in Brussels indicate they're "planning to hold out and play hard ball, but that's not something the Europeans generally do," Cameron said in an interview.
The U.S. has signaled it opposes the EU plan. Todd Stern, the State Department's climate envoy, told reporters in a Nov. 18 briefing in Arlington, Virginia that it's "premature" to make promises about the legal form of a climate agreement before seeing its contents. U.S. officials are scheduled to brief journalists in Durban today.
IEA's Warning
The EU timeline may also jar with findings by the International Energy Agency and three UN bodies this month. IEA Chief Economist Fatih Birol said Nov. 9 that with current energy policies, the door is closing to a future in which temperature gains are constrained to 2 degrees Celsius (3.6 degrees Fahrenheit) since industrialization, a goal adopted by UN envoys at last year's talks in Cancun, Mexico.
The World Meteorological Organization said the concentration of greenhouse gases in the atmosphere reached a record in 2010 since measurements began. The UN Environment Program said current pledges at their most ambitious still only cut half of the 12 gigatons of carbon dioxide needed to be slashed from projected emissions in 2020, and a report by the Intergovernmental Panel on Climate Change said hot days will become hotter and more frequent this century.
U.S., China, India
Those scientific findings, and a succession of natural disasters around the world in 2010 and 2011, should spur governments to increase the ambition of their emissions cuts, development charity Oxfam said today in an e-mailed statement.
"It is vital that Durban builds on, and does not roll back, the existing regime by securing the continuation of Kyoto and an agreement that negotiations must conclude as soon as possible in a comprehensive legally-binding agreement for all countries," Oxfam said.
The U.S., which never ratified the Kyoto Protocol, says it won't agree to a binding accord unless all emitters are included. China and India, which had no commitments under Kyoto, have become two of the world's three top polluters since the pact was agreed in 1997.
'Cornerstone'
Ministers from Brazil, South Africa, China and India, said in a joint statement in Beijing on Nov. 1 that "the Kyoto Protocol is the cornerstone of the climate regime and its second commitment period is the essential priority for the success of the Durban conference."
EU officials, who have been pushing their proposal for weeks and briefed reporters in Brussels on it Nov. 24, have stepped up pressure in recent days, ruling out an agreement on Kyoto from them without a "road map."
A Durban road map "should have all major economies and bring 100 percent of emissions under one global umbrella," said Polish envoy Tomasz Chruszczow, whose nation holds the European Union's rotating presidency. "This should be negotiated no later than 2015, and it should be operational not later than 2020."
Before it's here, it's on the Bloomberg Terminal.
LEARN MORE