Brooklyn's Most-Feted Chef Serves 30-Dish Feast in Local Store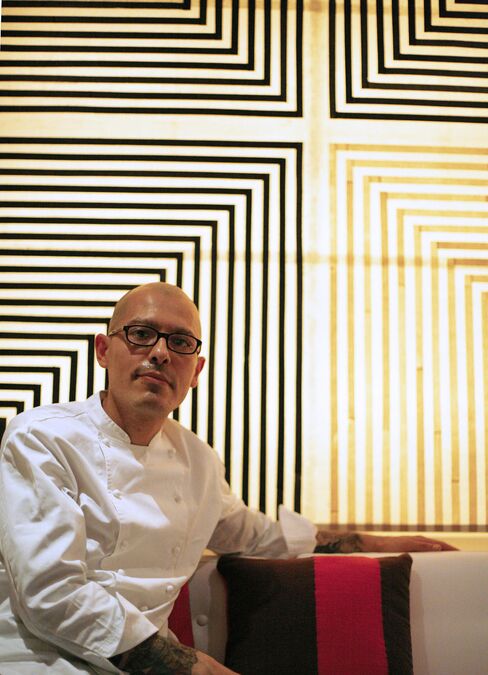 Chef's Table at Brooklyn Fare is far removed from your average three-Michelin-star restaurant.
It's housed in the annex to a neighborhood store, with a temporary frontage saying, "Cooking Classes Brooklyn Fare Kitchen." There are no waiters and no tablecloths, and you bring your own wine.
"When we got the third star it was a huge surprise because Michelin is used to giving people stars for their decor, everything," chef Cesar Ramirez said in an interview. "But I've been lucky to dine in a lot of three-Michelin-stars all over Europe and I have to be honest with you, some of the most memorable meals I ever had were at a counter in Japan.
"What we're trying to do here: You go sit in a kitchen where it's completely raw," he said. "Sure, it's a $1 million kitchen. We have all the equipment money can buy. But it's just a kitchen. When I go to eat in a restaurant, I don't go to sit in a $1,000 chair, a $10 million restaurant or to have 20 waiters around me. I like to go to a restaurant first of all for the food."
Hybrid Cuisine
Eighteen guests pay $185 each for a meal that might consist of as many as 20 canapes and 10 dishes. There's no choice. The cuisine is a French-Japanese hybrid, centered on seafood, each plate stripped down to minimum ingredients with maximum flavor.
The night I ate there, there was fluke with yuzu and daikon; caviar with crab cream; pumpkin ravioli with truffles; blowfish with saffron sauce. Oh, and about 25 other plates.
Having a good time at Chef's Table at Brooklyn Fare is more difficult than it might sound. First, the restaurant is booked weeks ahead. Second, it's hard to find.
Walking from the Bergen Street subway stop in search of this mysterious dining establishment, you may pass the Brooklyn House of Detention and various bail-bonds offices before reaching Brooklyn Fare, a neighborhood grocery store.
"Where's the restaurant?" I inquired of the first employee I encountered. "Que?" he asked. The second looked baffled and pointed to a third, who directed me to the rest room. A fourth nodded toward the exit and indicated I should try next door.
Visits to France
Ramirez, born in Zimpanan, Mexico, and raised in Chicago, married a French woman when he was 19. He still recalls his annual visits to France during the five years they were together. He was the first chef in Brooklyn to win two Michelin stars, and a few jaws dropped when he was awarded a third this year. He's intense and shy: He doesn't want to be photographed and doesn't appear to enjoy being interviewed.
He just gets on with cooking for 18 customers paying $185 a time, seated around a counter. Ramirez, 40, and his chefs serve your food, and then he watches you eat it. Photography is banned, as is note-taking. While that doesn't quite make him the Soup Nazi in terms of etiquette, nor would you want to displease him.
Ramirez worked eight years for David Bouley, a New York chef who is so enamored of Japan that he recently opened his own kaiseki-style restaurant, Brushstroke, in conjunction with the Tsuji Cooking Academy of Osaka. Whereas Bouley, in an interview, focused on the health benefits to be derived from the cuisine, Ramirez emphasized the pleasure of the dining experience.
Blending Tastes
(Bouley opened Brushstroke at lunchtime for me this month so I could eat before I met him. If you haven't tried kaiseki, it's a meal of multiple courses: each miniature dish perfectly balanced and the whole harmonious. It's the forerunner of the modern Western tasting menu, only the Japanese have had hundreds of years to get it right.)
"I made a trip to Japan -- Tokyo, Kyoto, Osaka -- I thought it would be amazing to do that," Ramirez said. "I've always loved Japanese cuisine. I take the Japanese philosophy: It's all about the ingredients, the freshness, and always very simple. I don't do molecular gastronomy: I don't do any of that. I was in Spain when all that was happening.
"I love people to come in and just relax, have a good time and enjoy what they're eating, not over-think about it. When I go to a restaurant, when I leave my kitchen, I'm no longer a chef, I no longer cook. I go and have a good time."
Chef's Table at Brooklyn Fare is at 200 Schermerhorn St., Brooklyn, New York 11201. Information: +1-718-243-0050; http://www.brooklynfare.com/chefs-table/.
(Richard Vines is the chief food critic for Muse, the arts and leisure section of Bloomberg News. He is U.K. and Ireland chairman of the World's 50 Best Restaurants awards. Opinions expressed are his own.)
Before it's here, it's on the Bloomberg Terminal.
LEARN MORE