Haut-Brion 1945 Vintage Tops $334 Million Auction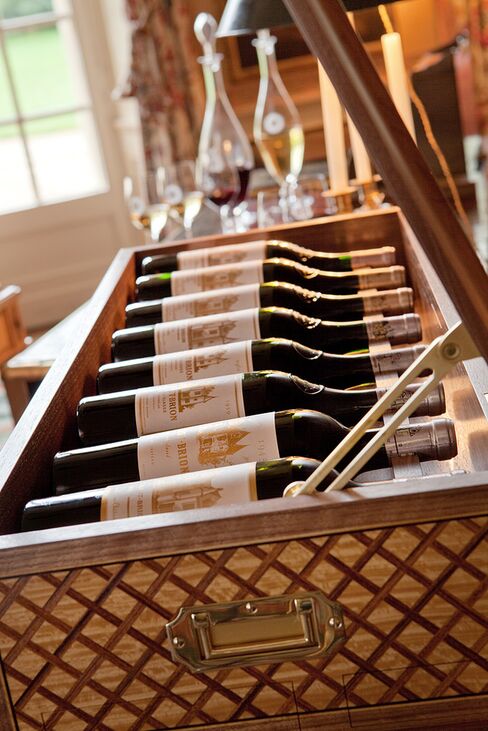 A lot containing 14 bottles of Chateau Haut-Brion together with a bespoke console by London-based furniture maker David Linley fetched HK$1.2 million ($153,984) at a Christie's International wine sale.
The package, in which all bottles were shipped direct from the cellars of the Bordeaux winemaker, included a rare 1945 vintage and bottles from 1959 and 1961. A lot also containing a Linley console and 14 bottles of Haut-Brion white sold for HK$1.1 million.
The two lots, both of which carried presale estimates of HK$1 million to HK$2 million, were welcome highlights to an otherwise lackluster two-day sale that saw many lots of Chateau Lafite Rothschild go unsold.
"The bidding wasn't as keen as I expected, so I got lucky," said Paul Dunn, a Hong Kong-based collector who bought both top lots. "Plus Haut-Brion generously donated the proceeds to the Children's Medical Fund which added a whole lot of meaning to the lots, so I decided to go for it."
The three-day wine sale that ended today raised HK$64.7 million, compared with a presale low estimate of HK$60 million. About 16 percent of the lots failed to sell.
Christie's six-day sale also includes Chinese ceramics, jewelry and watches and is estimated by the London-based auction house to raise as much as HK$2.6 billion ($334 million).
Burgundy Demand
While some Bordeaux sales flagged, demand for Burgundy remained strong. The Liv-Ex 50 Fine Wine Index, which tracks Bordeaux first growths, has fallen 18 percent since June. Less expensive Bordeaux second growths have fared better recently.
The third-most-expensive lot was a case of 12 bottles of Romanee-Conti Domaine de la Romanee Conti 1985 that sold for HK$1.2 million, almost reaching its presale high estimate of HK$1.3 million. Romanee Conti accounted for seven of the top 10 wine lots sold.
Caution was also the watchword at Christie's evening sale of Asian 20th-century and contemporary art, with works by Chinese painters Zhang Xiaogang and Zeng Fanzhi unsold. Christie's raised HK$397 million ($51 million), with just 42 out of 57 lots finding buyers.
"It's a price-aware market," said Jonathan Stone, Christie's chairman and international head of Asian art. "There were strong moments and less strong moments."
Bonhams Snuff
Across town, a world record amount of HK$25.3 million was paid for an 18th-century Qianlong era Chinese snuff bottle at a Bonhams auction today.
The decision by Christie's to combine Southeast Asian, Korean and Japanese art together with Chinese for the first time was justified by the extent of cross-cultural bidding from different regions, said Eric Chang, international director of Asian 20th-Century and Contemporary Art.
The two-day sale, which included works from a private collection on Saturday night and a day sale yesterday, raised a combined HK$704.7 million compared with a presale estimate of HK$540 million.
The top-selling lot was an oil by 20th-century abstract Chinese painter Zao Wou-ki, which sold for HK$35.38 million, more than double its presale high estimate of HK$15 million.
Pascal de Sarthe, a Hong Kong-based art dealer, said he bought the painting for a client who was prepared to pay far more.
"Buyers were more cautious," he said. "Tonight was a very lucky spot for me."
Masriadi Star
Indonesian star Nyoman Masriadi fared better than many contemporary Chinese artists. His painting showing a parody of movie hero Indiana Jones carrying a giant diamond sold for HK$3.38 million, more than its HK$3.2 million top estimate.
While London and New York events typically are headlined by paintings, a highlight of Hong Kong is the auction of Chinese antiques. On Nov. 30, this includes a 15th-century Ming dynasty blue-and-white porcelain moonflask and a Qianlong-era white jade vase and cover that both have high estimates of HK$35 million.
The day before, Christie's will offer two unmounted diamonds each weighing more than 35 carats as separate lots, carrying high estimates of HK$80 million apiece.
Christie's also is displaying a collection of jewelry at the Hong Kong Convention and Exhibition Centre venue that belonged to actress Elizabeth Taylor. The pieces will go on sale in New York on Dec. 13-14, including a necklace with a 50-carat pearl given to her in 1969 by Richard Burton that once belonged to Spain's King Phillip II.
(Christie's corrects sale prices in first and second paragraphs of story that ran on Nov. 28.)
Before it's here, it's on the Bloomberg Terminal.
LEARN MORE