U.K. Tax That Sent Nadal to Germany Yields $105 Million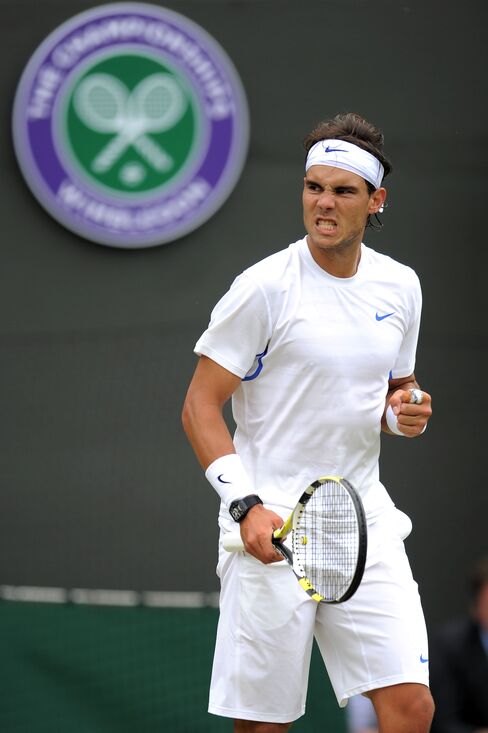 Nov. 25 (Bloomberg) -- A U.K. tax on the earnings of foreign sports and entertainment figures working in the country, including two-time Wimbledon tennis champion Rafael Nadal, yielded 68 million pounds ($105 million) in 2009-2010.
The Foreign Entertainers Unit of Her Majesty's Revenue & Customs collected 56 million pounds from the tax on endorsement income, appearance fees and revenue in 2008-2009, according to data obtained by Bloomberg News under a Freedom of Information Act request. That compared to 58 million pounds in 2007-2008.
Nadal last month said he won't prepare for Wimbledon at the grass courts of the Queen's Club in west London, instead opting to play in Halle, Germany in the same week in June. The Spaniard told reporters in Shanghai that he would "lose money" if he played Queen's, where he competed in five of the past six years.
Jamaican sprinter Usain Bolt, the winner of three Olympic gold medals, last year avoided competing in London because of U.K. tax laws, while Spanish golfer Sergio Garcia limits his appearances to the British Open for the same reason. Team sports such as soccer are exempt and athletes competing in next year's London Olympics will also avoid the duty.
According to a report by London-based accountancy and advisory firm RSM Tenon, HMRC collects about 7 million pounds a year from taxing global endorsement income of non-resident individual sports stars alone.
HMRC said it wasn't able to provide a breakdown of the total sum collected across the different groups of individual athletes, models and actors.
Hosting Risk
The U.K. may be at risk of losing future sports events including tennis's ATP World Tour Finals, held this week at the O2 arena in London, tournament organizers and tax experts said.
"It's not just about taxing players, it's actually about keeping sustainable events in this country that support the grass-roots of all the sports," Chris Kermode, tournament director at Queen's, said in an interview.
Top-ranked Novak Djokovic plays his final group match at the ATP Finals today against Davis Cup teammate Janko Tipsarevic. Spain's David Ferrer, who has already qualified for the semifinals after he beat Djokovic, faces Tomas Berdych of the Czech Republic in the evening session.
The ATP Finals may boost the U.K. economy by as much as 100 million pounds a year, according to a 2009 report commissioned by title sponsor Barclays Plc. The event is in the third year of a five-year contract in London. It has not been decided where the tournament, which brings together the top eight singles players and doubles pairs, will be held after that.
"I think the foreign entertainers unit feels that it has a job to do," Freddie Huxtable, a specialist sports tax adviser at RSM Tenon, said in an interview. "But there is a bigger picture. Should we try to preserve our events, rather than lose key stars and players from particular events?"
Tax Changes
HMRC recently changed the way it calculates tax owed on the global endorsement income for overseas athletes and performers, Huxtable said. It now bases the tax on the number of U.K. events they participate in as a proportion of total events per year.
This means that if a professional runner competed in only two events per year, including the London marathon, he would be taxed on half his global endorsement income.
Nadal, who according to Forbes makes $20.5 million a year from nine endorsement contracts with companies including Nike Inc., played 20 events this year, including three in the U.K.
That means he will owe tax in the U.K. on 15 percent of his global endorsement income. By dropping Queen's, the Spaniard lowers his tax rate to 10 percent. The top tax rate in the U.K. for high earners is 50 percent.
"It's true that the tax situation here is tough for the sport," Nadal said in a news conference at the ATP Finals this week. "If I think about ourselves, for sure the tax situation in the U.K. is too much for us."
The Spaniard was knocked out in the group stages yesterday after a loss to Jo-Wilfried Tsonga of France.
'Only Fair'
"It is only fair" that visiting sportspeople pay tax on money from sponsorship connected with their U.K. appearances, a Treasury spokesman, who declined to be identified in line with policy, said.
"Tax is charged at normal rates and any allowances and other deductions due are deducted before these rates apply," the spokesman said. "Non-resident sports people will usually be liable to tax under the normal rules of their home country and will receive relief for any U.K. tax paid so that they do not pay twice."
The ATP World Tour, the governing body of men's tennis, has held discussions with other sports leagues and events and with the U.K. government about the taxation.
"We just want our players to be treated fairly and to be able to enjoy the same considerations that team sports athletes in the U.K. are afforded," Adam Helfant, executive chairman and president of the ATP World Tour, said in an interview at the O2. "It's hard for us to understand why soccer players would be treated differently from tennis players."
Lobbying for Change
The U.K.'s Lawn Tennis Association has been lobbying Prime Minister David Cameron for a tax exemption to be included in the next budget in March, it told reporters earlier this week at the O2.
Former Wimbledon champion Andre Agassi in 2006 lost a 27,500-pound tax dispute at Britain's highest court, which blocked other sports and entertainment figures from claiming millions from British tax authorities. He had challenged the taxation of sponsorship payments made by some of his endorsers.
To contact the reporter on this story: Danielle Rossingh at the O2 arena through the London sports desk at drossingh@bloomberg.net
To contact the editor responsible for this story: Christopher Elser at celser@bloomberg.net.