Spain, Portugal Restaurants Gain Stars as They Confront Slowdown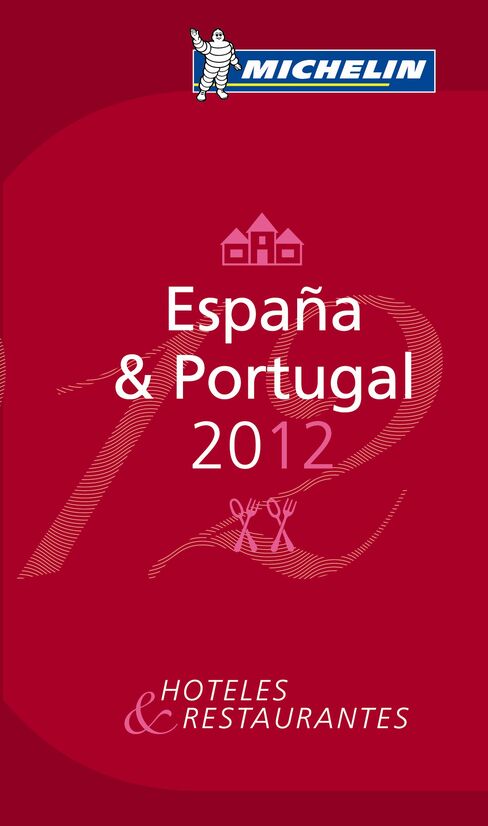 Three Spanish restaurants and one Portuguese gained second stars in the new Michelin guide to Spain and Portugal, while Can Fabes near Barcelona lost its third star following the death of chef Santi Santamaria.
The newly elevated establishments are Abac, in Barcelona; El Club Allard and Diverxo, in Madrid; and Ocean, in Faro, Portugal. El Bulli was deleted from the guide after it closed this year, reducing the number of three-star restaurants in Spain to five from seven.
"Faced with a severe economic crisis, many hotels and restaurants are working hard every day to stay in business," Michelin said in an e-mailed release. "Quality has improved and the true values of Iberian cuisine are reflected more fully than ever on restaurant menus."
Thirteen venues in Spain and two in Portugal win a first star. Spain now has 17 restaurants with two stars and 117 with one. Portugal has two with two stars and 10 with one.
Three stars mean exceptional cuisine, worth a special journey; two are for excellent cooking, worth a detour; one denotes a very good restaurant in its category.
Michelin & Cie. is the world's second-biggest tiremaker, after Bridgestone Corp. It produced its first guide in August 1900, distributed free of charge (until 1920) and intended for chauffeurs. The guide contained practical information, including street maps and tips on using and repairing tires.
Three stars:
Akelarre, San Sebastian
Arzak, San Sebastian
El Celler de Can Roca, Girona
Martin Berasategui, Lasarte-Oria
Sant Pau, Sant Pol de Mar

Two stars:
Casa Marcial, Arriondas
Abac, Barcelona (New)
Lasarte, Barcelona
Atrio, Caceres
Quique Dacosta, Denia
Mugaritz, Errenteria
Azurmendi, Larrabetzu
Miramar, Llanca
El Club Allard, Madrid (New)
Diverxo, Madrid (New)

Ramon Freixa, Madrid
Santceloni, Madrid
Sergi Arola Gastro, Madrid
La Terraza del Casino, Madrid
Calima, Malaga
Les Cols, Olot
Can Fabes, Barcelona
Vila Joya, Faro
Ocean, Faro (New)

The new one stars:
Maralba, Albacete
Solana, Cantabria
Rodrigo de la Calle, Madrid
Nerua, Bilbao
Choco, Cordoba
Marques de Riscal, Alava
Lillas Pastia, Huesca
Casamar, Llafranc
Es Fum, Mallorca
Jardin, Mallorca
Annua, San Vicente de la Barquera
Casa Marcelo, Santiago de Compostela
Silabario, Pontevedra
Feitoria, Lisbon
The Yeatman, Porto
(Richard Vines is the chief food critic for Muse, the arts and leisure section of Bloomberg News. He is U.K. and Ireland chairman of the World's 50 Best Restaurants awards. Opinions expressed are his own.)
Before it's here, it's on the Bloomberg Terminal.
LEARN MORE