New Jersey Toll-Road Revenue $45 Million Less Than Projected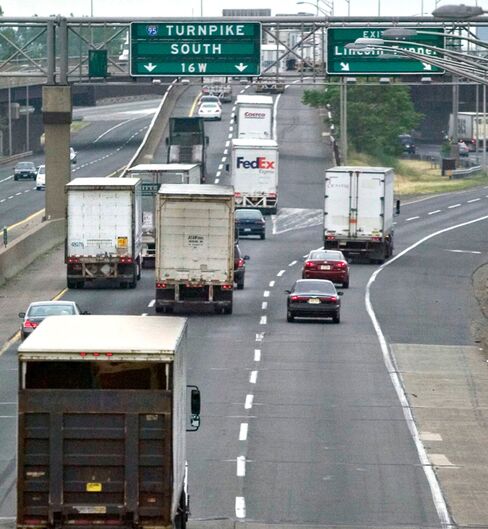 Revenue from New Jersey's toll roads fell $45 million short of projections this year through September as high gasoline prices, joblessness and storms kept drivers off the New Jersey Turnpike and Garden State Parkway.
The New Jersey Turnpike Authority collected $845 million in the first nine months of 2011, 6 percent below targets, according to a financial report. Toll revenue was $710 million, $43.4 million below projections.
The authority's forecast for average annual revenue growth of 6 percent is "optimistic given the state's currently sluggish economic recovery," Moody's Investors Service said in a Nov. 17 report. The credit-rating company maintained a negative outlook on $8.4 billion of Turnpike Authority debt, rated A3, the fourth-lowest investment grade.
"Continued slow economic recovery in New Jersey and high unemployment will contribute to lower-than-forecasted traffic and revenue," Moody's said.
The 148-mile (238-kilometer) New Jersey Turnpike and 173-mile Garden State Parkway are the main north-south routes through New Jersey, the most densely populated U.S. state. Tolls are set to rise in January by 53 percent on the Turnpike and 50 percent on the Parkway, under a plan approved in 2008.
Traffic on the Turnpike decreased by 1.1 percent through September when compared with the same period of 2010, a result of four major snowstorms in January and February of 2011 and Hurricane Irene on Aug. 27, according to the authority's report.
State of Emergency
Governor Chris Christie declared a state of emergency that kept drivers home during the hurricane. New Jersey officials attributed nine deaths to the storm, which caused record flooding and widespread wind damage and power losses. Insured losses totaled $751.4 million and economic losses were $2.1 billion, according to Kinetic Analysis Corp. a Silver Spring, Maryland-based disaster-cost forecaster.
The Turnpike lost $2.3 million of revenue as a result of Irene, while the Parkway lost $2 million, the authority's report said. The January and February storms resulted in $3 million lost on the Turnpike, and $1.4 million less on the Parkway as compared with 2010, the authority said.
The authority will have enough cash to cover payments on its bonds, the report said. Moody's lowered its outlook on the agency's debt to negative from stable in December, citing the move to spend toll money on other transportation projects in the state. Standard & Poor's rates the agency's debt A+, its fifth-highest rating, and Fitch Ratings gives it a comparable A.
Trust Fund
"Turnpike Authority revenues for 2011 are lower than they were projected to be, but they are not lower than we need them to be to sustain our capital program, pay our operating expenses and meet our obligations to bondholders," Tom Feeney, a spokesman for the authority, said in an e-mail. "There is no reason to think that the sky is falling."
The Christie administration has proposed that toll revenue further support statewide projects financed by the Transportation Trust Fund Authority. Christie wants to spend $8 billion on transportation work over five years.
The trust fund sold $1.3 billion of debt Nov. 16. The Legislature must approve a five-year transportation-spending plan by June 30, the end of the fiscal year, or the fund won't be able to issue new bonds.
Neither Kevin Roberts nor Michael Drewniak, spokesmen for the governor, responded to an e-mailed request for comment. Department of Transportation press liaisons didn't respond to a a telephone message.
News of the Turnpike Authority missing revenue projections was reported earlier by the Wall Street Journal.
Before it's here, it's on the Bloomberg Terminal.
LEARN MORE