Loyal Pooch Consoles Silent-Film Star as Talkies Triumph: Film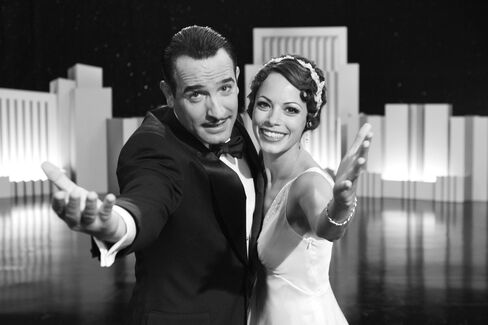 "The Artist" is an exhilarating homage to an era when movie stars were as mum as Marcel Marceau.
It's a silent film about silent films -- specifically about matinee idol George Valentin (Jean Dujardin) and ingenue Peppy Miller (Berenice Bejo), whose careers head in opposite directions as talkies arrive in the late 1920s.
Directed by French filmmaker Michel Hazanavicius, "The Artist" features inspired performances, gorgeous black-and-white cinematography and an eclectic soundtrack of classical, jazz and popular tunes. (Silent films were usually accompanied by live music.)
Hazanavicious, best known for his "OSS 117" spy parodies, takes his subject seriously here. This is no slapdash tribute to a forgotten art form. Rather it's a reminder of why the best silent films spark our imaginations more than any modern, ear-splitting extravaganza.
The film opens in 1927 when Valentin -- a leading man with a Clark Gable-moustache -- encounters the gorgeous Miller outside a theater where one of his popular silent movies is playing. After Valentin picks up the pocketbook Miller has dropped, she proceeds to ham it up for the paparazzi. The next day her picture is plastered on the front page of Variety, helping her land a job as a dancing extra in one of Valentin's films.
'Sunset Boulevard'
Fast-forward two years. Talkies are starting to take over and cigar-chomping producer Al Zimmer (John Goodman) is looking for "fresh faces" to replace silent-film legends like Valentin. Miller becomes a talking superstar and Valentin a silent has-been, comforted only by his loyal Jack Russell terrier.
He sits alone in the dark at home watching old movies a la Gloria Swanson's Norma Desmond in "Sunset Boulevard." Miller remains a friend, but Valentin sinks into a hole of despair and burns his old films before an unexpected twist revives his career.
There are many striking scenes in "The Artist," but I've got two favorites. In one, Valentin tap dances with Miller even though all he can see is her feet peeking out from behind a screen. In the other, Miller caresses Valentin's jacket as it hangs from a coat rack in his dressing room, imagining that he has his arm around her.
It's enough to make you sit there in awed silence.
"The Artist," from the Weinstein Co., is open in New York and Los Angeles. Rating: ****
What the Stars Mean:

****          Excellent
***           Good
**            Average
*             Poor
No stars      Worthless
(Rick Warner is the movie critic for Muse, the arts and leisure section of Bloomberg News. Opinions expressed are his own.)
Before it's here, it's on the Bloomberg Terminal.
LEARN MORE