Asia Stocks Fall for Third Day After Merkel Rules Out Euro Bonds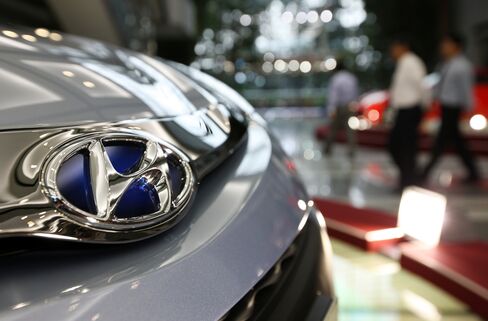 Asian stocks fell for a third day, headed for a fourth weekly loss, amid concern that Japan may soon be faced with unsustainable lending costs as Europe's debt crisis shows no sign of easing, damping the earnings outlook for Asian exporters.
HSBC Holdings Plc, Europe's biggest lender, fell to its lowest since April 2009 in Hong Kong after German Chancellor Angela Merkel ruled out common euro-area bonds and a bigger role for the European Central Bank in fighting the debt crisis. Japanese stocks gave up earlier gains as yields on the country's debt headed for the highest level in three weeks after Standard & Poor's and the International Monetary Fund warned about the nation's indebtedness. Woodside Petroleum Ltd. lost 5.8 percent after Australia's No. 2 oil producer narrowed its annual output guidance.
The MSCI Asia Pacific Index dropped 1.1 percent to 108.92 as of 7:30 p.m. in Tokyo with nine of 10 industry groups sliding. About two stocks fell for each that rose on the index. The measure has declined 4.6 percent this week, headed for a fourth weekly loss. The MSCI Asia Pacific excluding Japan Index lost 1.6 percent.
"We are likely to see investors continue to exercise caution in the market," said Stan Shamu, a strategist at IG Markets in Melbourne. "There's a feeling Germany is no longer immune to this whole situation and they may act further, which is obviously why everyone is calling for common euro bonds."
Regional Indexes
Hong Kong's Hang Seng Index fell 1.4 percent after Industrial & Commercial Bank of China Ltd.'s chairman said he expects the nation will maintain tight monetary policy. Australia's S&P/ASX 200 fell 1.5 percent, and South Korea's Kospi Index dropped 1 percent.
Japan's Nikkei 225 Stock Average fell 5.17 points, or less than 0.1 percent, closing at the lowest level since March 31, 2009. Valuations of Japanese stocks on the measure fell to 1 times the value of estimated net assets, compared with about 1.3 times at the end of 2010, data compiled by Bloomberg News showed.
"Japanese stocks are relatively cheap, and that's giving some support to the market," said Yoshinori Nagano, a senior strategist in Tokyo at Daiwa Asset Management Co., which oversees about $120 billion. "If Europe shows concrete action rather than just talk, there's a good chance the market's overly pessimistic view of the region will be corrected. There is a broad sense of pessimism in the region as a whole."
U.S. Futures
Futures on the Standard & Poor's 500 Index fell 0.8 percent today. The U.S. market was closed yesterday for Thanksgiving and trading will end at 1 p.m. today. The Stoxx Europe 600 Index slid 0.2 percent yesterday amid concern Europe's sovereign-debt crisis that began two years ago in Greece now risks spreading to Germany, the region's largest economy.
Euro bonds are "not needed and not appropriate," German Chancellor Merkel said yesterday at a press conference with Italian Prime Minister Mario Monti and French President Nicolas Sarkozy in Strasbourg, France.
Financial firms were the biggest drag on the MSCI index. HSBC Holdings dropped 1.7 percent to HK$56.10 in Hong Kong. Commonwealth Bank of Australia, the nation's biggest lender by market value, declined 2.6 percent to A$45.39, and Westpac Banking Corp., Australia's No. 2 lender by market value, declined 1.3 percent to A$19.50.
Some Asian export-related stocks fell. Cosco Pacific Ltd., which operates container facilities at Greece's Piraeus port, dropped 2.9 percent to HK$8.47. Hyundai Motor Co., South Korea's biggest carmaker by market value, lost 3.3 percent to 208,500 won.
New Zealand Election
New Zealand's NZX 50 Index fell 0.9 percent in Wellington ahead of a general election tomorrow that may not deliver a clear majority to either of the two main parties.
If the election result is uncertain, "then markets will view that, I would expect, quite negatively," said Craig Brown from Auckland-based fund manager OnePath. "In this current turbulent world we're operating in, people are very risk averse and very uncertain and you can't rule out a possibly more extreme reaction than you would normally get."
The MSCI Asia Pacific Index declined 20 percent this year through yesterday, compared with a 7.6 percent drop by the S&P 500 and a 20 percent loss by the Stoxx Europe 600 Index. Stocks in the Asian benchmark are valued at 12.1 times estimated earnings on average, compared with 11.7 times for the S&P 500 and 9.6 times for the Stoxx 600.
Olympus Corp. jumped 8.6 percent to 1,107 yen after the company said Chairman Tsuyoshi Kikukawa, Executive Vice President Hisashi Mori and auditor Hideo Yamada quit, with other managers also ready to step down once a restructuring plan is in place.
Woodside Petroleum slumped the most in more than a year after forecasting a less-than-expected increase in output in 2012. Full-year production may be 73 million barrels of oil equivalent to 81 million next year, the firm said today in a statement. The stock slid 5.8 percent to A$33.36.
Elpida Memory Inc., the world's third-largest memory-chip maker, jumped 7.9 percent to 383 yen after SMBC Nikko Securities Inc. boosted the equity rating to "outperform" from "neutral."
Before it's here, it's on the Bloomberg Terminal.
LEARN MORE