Suzuki Starts Arbitration With Volkswagen to Buy Back Shares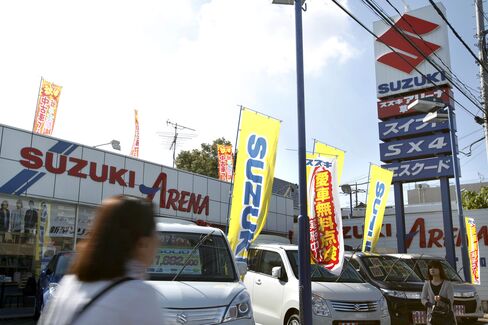 Suzuki Motor Corp. said it started arbitration procedures aimed at ending its two-year-old partnership with Volkswagen AG and forcing the German carmaker to sell back its stake.
The arbitration will take place at an international court in London, Hamamatsu-based Suzuki said today in a statement to the Tokyo Stock Exchange. Volkswagen said the process can't force it to sell its 19.9 percent stake in Suzuki.
Each company has accused the other of breaching the cooperation agreement, which was meant to supply Suzuki with technology and provide VW with access to the Indian car market. The carmakers have been at odds since VW described Suzuki as an "associate" in its 2010 annual report. Suzuki said on Nov. 18 it had terminated the partnership with the Wolfsburg, Germany-based automaker, which failed to yield a single joint project.
Suzuki's move "can be seen as a step toward reaching a conclusion on the partnership," said Satoru Takada, an auto analyst at TIW Inc. in Tokyo. "If the arbitration process takes long, it may affect the relationships Suzuki and VW have with their other business partners."
'Without Foundation'
Suzuki rose 0.9 percent to 1,533 yen in Tokyo, compared with a 1.8 percent drop in the benchmark Nikkei 225 Stock Average.
VW has rejected allegations from Suzuki that it broke the cooperation agreement and sees "no legal basis" to return its holding, Eric Felber, a VW spokesman at Wolfsburg, said today in an e-mailed statement.
"We're confident and look forward to this arbitration procedure with calm," Felber said.
Suzuki is prepared for the arbitration process to take up to two years to complete, Executive Vice President Yasuhito Harayama said Nov. 18.
"While an arbitration will be legally binding, we think our relationship with Volkswagen may resolve in a friendly manner," he said.