Portugal Braces for General Strike as Austerity Hurts Growth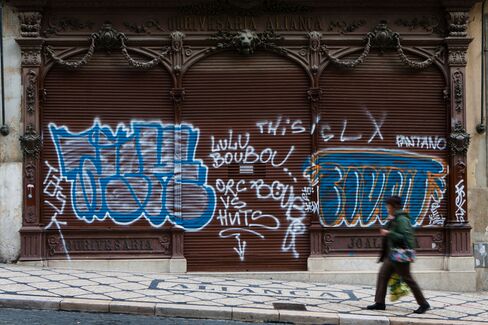 Portugal braces for its first general strike in a year today as unions disrupt travel, shipping and services to protest austerity measures agreed to by the government to gain an international bailout.
State-owned rail service operator CP-Comboios de Portugal says on its website it expects serious disruption in rail services today due to the strike. Airport operator ANA-Aeroportos de Portugal SA says passengers should contact their airlines to confirm the status of their flights.
"It will be a demonstration of displeasure, of protest," said Rui Leao Martinho, head of Portugal's Economists' Association.
The protests comes on the one-year anniversary of the country's first general strike since 1988, which was held after the previous government announced austerity measures that failed to avert the bailout in April. Prime Minister Pedro Passos Coelho is imposing more spending cuts and tax increases to meet the terms of the 78 billion-euro ($104 billion) aid plan from the European Union and the International Monetary Fund.
Oil Supplies
Galp Energia SGPS SA, Portugal's biggest oil company, has taken all the measures it can to ensure the strike has a minimum impact on customers, spokesman Pedro Marques Pereira said in a telephone interview yesterday. Galp's Oporto refinery in northern Portugal can process about 90,000 barrels of oil a day, while its refinery in Sines, on the coast south of Lisbon, can process about 220,000 barrels a day.
No liquefied natural gas shipments are scheduled to arrive at Portugal's only LNG terminal in Sines today, according to that port's website. No crude cargos were due today.
A Nov. 8 strike by Portuguese transport workers against austerity measures left commuters stuck in traffic as they tried to make their way to work. Last year's general strike shut Lisbon's metro and most flights departing from Lisbon and Oporto airports were canceled.
At the heart of the protests are austerity measures that are hurting an economy where growth has averaged less than 1 percent a year in the past decade, one of Europe's weakest rates.
The economy will shrink 3 percent next year and may then expand 1.1 percent in 2013, the European Commission forecast on Nov. 10, the only euro-zone economy to contract besides Greece, which is set to shrink 2.8 percent. The commission forecasts a euro-area expansion of 0.5 percent.
Unemployment Rising
Portugal's jobless rate rose to 12.4 percent in the three months through September as the country's economy contracted for a fourth quarter. The government predicts unemployment will reach 13.4 percent in 2012 before starting to decline in 2013.
The government aims to trim the budget deficit to 5.9 percent of gross domestic product this year and 4.5 percent in 2012, less than half last year's 9.8 percent shortfall.
To help meet the 2011 goal the government has announced a one-time Christmas income-tax surcharge. The 2012 budget would eliminate summer and Christmas salary payments for state workers earning more than 1,000 euros a month. Other measures pledged to creditors include a reduction in tax deductions and an increase in the value-added tax on some goods. Portugal will also allow private-sector working hours to increase by 30 minutes a day during the next two years.
Avoiding Violence
Greece and Ireland requested bailouts before the Portuguese government did, and so far demonstrations in Portugal have not degenerated into the kind of violence seen in Athens, where riot police have regularly had to use tear gas to quell the protests.
"In Portugal workers have never indulged in violent behavior," Manuel Carvalho da Silva, CGTP's secretary-general, said on Oct. 19 when he announced the date of today's general strike. The 1974 revolution, which ended a four-decade dictatorship, was not violent, he said.
Portugal aims to return to bond markets in 2013, even though borrowing costs have increased since the bailout was requested. The difference in yield that investors demand to hold Portugal's 10-year bonds instead of German bunds reached a euro-era record of 10.8 percentage points on July 12 and was at 9.2 percentage points yesterday, up from 5.11 when former Socialist Prime Minister Jose Socrates sought the rescue on April 6.
Debt will reach 100.8 percent of GDP this year and peak at 106.8 percent in 2013 before starting to decline, the government forecast on Aug. 31. Debt was 93.3 percent of GDP in 2010.
Before it's here, it's on the Bloomberg Terminal.
LEARN MORE