N.Z. Currency, Stocks Maintain Weekly Declines as Election Looms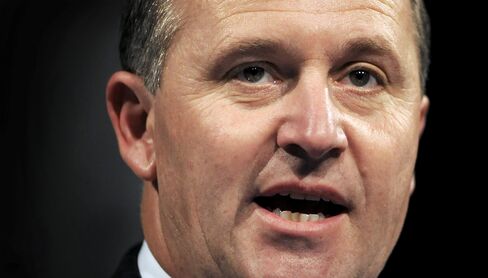 New Zealand's currency and stocks were little changed, maintaining weekly declines, before a general election tomorrow that polls show may not deliver a clear majority to either of the main two parties.
Support for Prime Minister John Key's governing National Party fell to 49.5 percent in a Roy Morgan Research poll of 959 people taken from Nov. 22-24, down from 53 percent last week. Should the latest forecast prove accurate, Key would need backing from smaller parties to form government.
Investors expect a National Party win, possibly with support from minor parties, said Craig Brown, senior investment analyst at fund manager OnePath. The latest polls suggest ACT, a party that backs the Nationals, may struggle to get a parliamentary seat. Support for Winston Peters' New Zealand First, which Key has ruled out working with, rose to 6.5 percent, enough for it to return to parliament.
"He could be the kingmaker," said Nigel Brunel at Auckland-based fund manager OM Financial, referring to Peters. "That is where the uncertainty and perhaps the reaction in the markets will come. If it does drag on, we may see the kiwi weaker, we may see our bond yields slightly rise in the face of that uncertainty."
The main opposition Labour Party dropped to 23.5 percent from 24.5 percent support, Roy Morgan said on its website. The Green Party was backed by 14.5 percent and ACT remained at 1.5 percent. New Zealand's so-called mixed member proportional electoral system includes a nationwide vote that allocates some of the seats in parliament to parties that receive above 5 percent support.
Dollar Declining
The New Zealand dollar may extend this month's 8.1 percent decline against the U.S. currency if National gets too little support to declare victory, said Mike Burrowes, a currency strategist at Bank of New Zealand Ltd. in Wellington.
"The scenario, which is probably negative for kiwi, is if ACT doesn't get in, National doesn't get a clear majority and you have the potential for a Labour-Greens coalition government," he said. "The reason that will be negative is not so much because there are huge policy differences between them, but more that there will be uncertainty for a period of a couple of weeks until a coalition government is formed."
New Zealand's benchmark stock index, the Top 50, declined 0.2 percent to 3236.11 as of 12:15 p.m. in Wellington, heading for a third weekly drop. The nation's currency fell 0.1 percent to 74.05 U.S. cents and weakened 2.1 percent since Nov. 18.
The kiwi touched 73.86 cents on Nov. 23, the least since March 23, and its slide against the greenback this month has been the largest among 16 major counterparts after Brazil's real.
Europe Crisis
The currency dropped as concerns about Europe's debt crisis spurred investors to cut bets on an interest-rate increase in New Zealand within the next 12 months. Swaps traders are wagering Reserve Bank of New Zealand Governor Alan Bollard will cut the record-low 2.5 percent benchmark by 22 basis points within a year, after speculating on an increase as recently as Nov. 9, a Credit Suisse Group AG Index shows.
Government yields fell by an average 174 basis points this year to 3.55 percent on Nov. 16, an all-time low, Bloomberg/ EFFAS indexes show. Rates dropped even as borrowings rose 28 percent to NZ$70.9 billion ($52.6 billion) as of October, partly to fund rebuilding after the nation's deadliest earthquake in 80 years.
Risk Aversion
If the election doesn't deliver a clear winner, "then markets will view that, I would expect, quite negatively," said OnePath's Brown. "In this current turbulent world we're operating in, people are very risk averse and very uncertain and you can't rule out a possibly more extreme reaction than you would normally get."
Brown wouldn't expect a "significant" drop in equities. The Top 50 index is down 2 percent this year, the best performance in the developed world.
Global uncertainty remains a bigger risk for New Zealand markets in the long term and tomorrow's election isn't being viewed as a significant market event, said Stan Shamu, a strategist at IG Markets in Melbourne.
"Regardless of who comes to power, I think they will still need some global confidence for them to do well. That's more of an issue for the moment than leadership, especially for a place like New Zealand, where traditionally politics has never been a big factor."
Before it's here, it's on the Bloomberg Terminal.
LEARN MORE