Lumley Sobers Up, Conran's Moths, $1.50 Art: London Weekend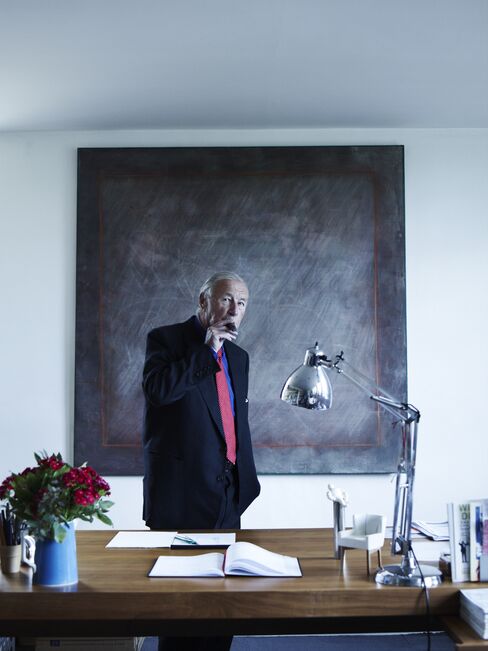 Joanna Lumley has given up champagne and chain-smoking for a stint on the throne.
The actress known for drunken rants in "Absolutely Fabulous" is on the London stage as Eleanor of Aquitaine, the scheming wife of King Henry II. Theirs is a love-hate relationship: She spends her time thwarting his succession plans; he has her thrown in jail.
Still, she fondly remembers the day they met. "We shattered the commandments on the spot," she howls.
"The Lion in Winter," directed by Trevor Nunn and written by James Goldman, is at the Theatre Royal Haymarket through Jan. 28, 2012. Information: http://www.trh.co.uk or +44-845-481-1870.
The Balcon, around the corner from the Theatre Royal, is a new brasserie serving British and French dishes in the Sofitel London St. James. It offers afternoon tea and late-night dining. Information: http://bit.ly/b1byAF or +44-20-7968-2900.
Saturday
Terence Conran got stuck in an elevator with Margaret Thatcher on the day in 1989 that they were inaugurating London's Design Museum.
Today, the museum pays tribute to its 80-year-old co-founder, whose flat-packed furniture, continental-style kitchenware and big brasseries revolutionized British life.
Conran, we discover, is a keen collector of moths, butterflies, and jars, and finds hand tools irresistible. His study (reconstituted for the show) has a long wooden desk and shelves stacked with tiny models of his designs.
The section representing his eateries -- Quaglino's, Mezzo, Pont de la Tour -- has a chair and a place setting from each.
"Terence Conran: The Way We Live Now" ends March 4, 2012. Information: http://www.designmuseum.org or +44-20-7940-8790.
The Blueprint Cafe next door is offering a two-course meal with a glass of Kir Royal and a ticket to the Conran show for 26 pounds ($40.64). The restaurant belongs to D&D London, the former Conran Restaurants. It boasts modern European cooking by Jeremy Lee and views of the Thames. Information: http://www.blueprintcafe.co.uk or +44-20-7378-7031.
Saturday Night
As every year, Jools Holland brings his boogie-woogie piano and Rhythm & Blues Orchestra to the Royal Albert Hall, hosting starry friends including singer Sandie Shaw and Chris Difford.
In two weekend concerts with his long-time soul vocalists Ruby Turner and Louise Marshall, Holland runs through classic blues songs, and parties with songwriter-musician Difford from his former good-time band Squeeze.
Royal Albert Hall, Kensington Gore, SW7 2AP. Information: +44-845-401-5045; http://www.royalalberthall.com or http://www.joolsholland.com/.
Alternatively, the New York-based Chamber Music Society of Lincoln Center makes its U.K. debut playing Russian repertoire in the second of three concerts. Performers include CMS's own artistic directors. At Wigmore Hall, 36 Wigmore Street, W1U 2BP. Information: http://www.wigmore-hall.org.uk or +44-20-7935-2141.
Sunday
Cut out the middleman and buy art from those who make it.
"The Other Art Fair" brings together 100 handpicked British artists working with everything from oil paint to spray paint. There's art for as little as 99 pence ($1.54).
The fair runs Friday through Sunday at the Bargehouse, Oxo Tower Wharf, London SE1 9QS. http://www.theotherartfair.com.
(Farah Nayeri writes for Muse, the arts and leisure section of Bloomberg News. The opinions expressed are her own.)
Before it's here, it's on the Bloomberg Terminal.
LEARN MORE