Loomis Loving N.Z. Means Record-Low Yield for Vote Winner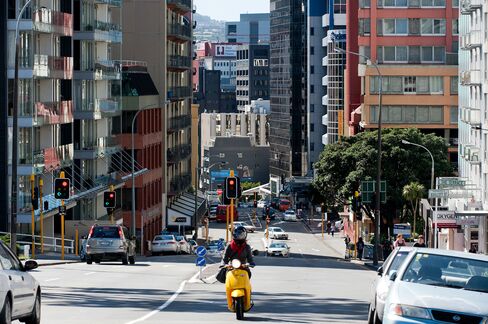 Nov. 25 (Bloomberg) -- New Zealand's next prime minister will be greeted by record-low borrowing costs as investors fleeing Europe's debt turmoil find a haven in the developed world's second-best performing bond market.
Government yields fell by an average 174 basis points this year to 3.55 percent on Nov. 16, an all-time low, Bloomberg/ EFFAS indexes show. Rates dropped even as borrowings rose 28 percent to NZ$70.9 billion ($52.6 billion) as of October, partly to fund rebuilding after the nation's deadliest earthquake in 80 years. Standard & Poor's and Fitch Ratings cut the nation's credit grades on concerns increased government and private borrowings make it more vulnerable to global shocks.
No matter who gets more votes in tomorrow's national elections, bondholders stand to gain. Prime Minister John Key, a former Merrill Lynch & Co. currency trader, and opposition leader Phil Goff have both committed to returning the budget to surplus by 2015. New Zealand debt maturing in a year or more returned 13.7 percent this year, second only to the 15.5 percent gain in U.K. securities, the Bloomberg/EFFAS data show.
"From an investor's viewpoint, New Zealand is one of the single most attractive countries in the world when it comes to government, honesty and overall well-being," said Dan Fuss, who heads a $19.6 billion bond fund at Boston-based Loomis Sayles & Co. "The reaction of the rating agencies to more recent events does not change our perception."
Yield Premium
While New Zealand's benchmark 10-year bond yield plunged to a record 3.82 percent on Nov. 17, it still offers about 2 percentage points more than the rate on similar-maturity Treasuries, according to data compiled to Bloomberg. The rate rose two basis points to 3.96 percent today.
Voters may decide Key is better equipped to steer the economy through the consequences of the euro-area debt crisis better than Labour Party leader Goff, 58.
Support for the governing National Party fell to 49.5 percent in a Roy Morgan Research poll of 959 people taken from Nov. 22-24, down from 53 percent last week. Should the forecast prove accurate, Key would need backing from smaller parties to form government.
The main opposition Labour Party dropped to 23.5 percent from 24.5 percent support, Roy Morgan said on its website, without giving a margin of error for the specific poll.
New Zealand's economy probably will expand 4 percent in 2012, the fastest pace in eight years, according to the International Monetary Fund.
Quake Rebuilding
Rebuilding in the South Island city of Christchurch, where two powerful quakes struck about six months apart, with the last one in February killing 181 people and devastating the central business district, may spur growth. That's paired against a possible slowdown in exports and tourism as Europe's debt crisis curbs global demand. Cleaning up after the disaster requires NZ$13.5 billion in extra government spending, according to Treasury estimates.
The country's currency, also known as the kiwi for the flightless bird that features on its dollar coin, has gained 28 percent against the greenback since the end of 2008, on prospects China's growing economy will bolster demand for New Zealand's milk, meat and wool exports.
The kiwi is the best performer in the period after the Australian dollar among more than 150 currencies tracked by Bloomberg. It reached 88.43 U.S. cents on Aug. 1, the strongest since exchange controls were ended in 1985, and bought 74.26 cents as of 8:08 p.m. in Wellington.
The nation's shares haven't fared as well as its currency and bonds, with the NZX 50 index set for a 2.9 percent decline in 2011 as of today, the first drop in three years. That's still better than the 21 percent plunge for the MSCI Asia Pacific Index this year.
Stable Government
Investor interest in New Zealand debt has increased as Europe's sovereign-debt crisis intensifies, according to Imre Speizer, a strategist in Auckland at Westpac Banking Corp., Australia's second-largest lender.
"What most investors like to see is stable government and New Zealand's had that, it's had that for a long, long time," Speizer said yesterday in a phone interview. "New Zealand's fiscal health is pretty good at the moment. The net debt is very, very low here."
Europe's Crisis
Spanish 10-year yields closed at 6.63 percent yesterday while rates on equivalent Italian notes surged to 7.11 percent, above the 7 percent level that risks making it too expensive for the countries to borrow in the market. Ireland began talks to receive aid in November last year, three weeks after its 10-year yield breached 7 percent. Greek yields also exceeded 7 percent before it gained aid in April 2010.
"The New Zealand bond market remains a beneficiary of risk off, where yields rally when investors are de-risking," said Robert Mead, head of money management in Sydney for Pacific Investment Management Co., which runs the world's biggest bond fund. "The quality of the New Zealand sovereign is extremely high, relative to what else is going on in the sovereign universe."
New Zealand's government is forecasting its record budget deficit will vanish within four years, returning to a NZ$1.45 billion surplus in the year ending June 30, 2014. That compares with a record NZ$18.4 billion deficit in the year ending June 30, 2011, of which about half was costs and estimated insurance liabilities from the Christchurch quakes.
Vanishing Deficit
Labour has pledged a capital gains tax and income tax increases for the highest earners to help pay for spending plans, and rejected a government plan to sell as much as 49 percent of four state-owned energy companies.
If re-elected, Key plans to carry into a second three-year term his agenda of selling state assets to help end budget deficits and create 150,000 jobs.
"Both parties feel very strongly about fiscal consolidation," said Darcie Sunnerberg, a senior sovereign analyst at Loomis, the second-largest investor in New Zealand government bonds among companies that publicly list stakes. "There are risks to the government's targets at this point, but I think the political will to move in that direction is strong."
Ratings Cuts
That contrasts with the U.S., where the implosion of a congressional supercommittee is likely to delay major deficit-reduction agreements, and Europe, where lawmakers are clashing over how to rein in the region's debt crisis.
Both New Zealand and the U.S. have seen their bonds rally after being stripped of AAA credit ratings by S&P this year.
S&P downgraded New Zealand's long-term local-currency rating one level to AA+ and cut its foreign-currency debt grade to AA from AA+, according to a Sept. 30 statement. It reduced the U.S. government rating to AA+ on Aug. 5. Non-residents held 61.4 percent of New Zealand's bonds at the end of last month, up from a seven-year low of 60.1 percent in July.
The downgrade "follows our assessment of the likelihood that New Zealand's external position will deteriorate further at a time when the country's fiscal settings have been weakened by earthquake-related spending pressures and fiscal stimulus to support growth," S&P said in its statement.
Fitch made the same cuts to New Zealand's ratings a day before S&P acted on the nation's debt. The AA foreign-currency rating is Fitch's third-highest grade, leaving New Zealand at the same level as Japan and Kuwait, and below Australia.
'Safe Investment'
New Zealand and the companies that cut its credit ratings have a different view of the country's ability to curb government and household debt, Finance Minister Bill English said after the downgrades.
Aberdeen Asset Management Plc, which manages $288 billion worldwide, said the ratings changes didn't affect its perception of the nation's bonds.
"While we obviously continue to monitor New Zealand's debt situation, we believe it remains a safe investment, particularly compared with a number of other developed market sovereigns," said Luke Bartholomew, a London-based fixed income strategist with Aberdeen. Investors are seeking "safe havens in response to the risks to the global economy, in particular the European sovereign debt crisis. New Zealand has very much benefited from these flows."
To contact the reporter on this story: Sarah McDonald in Sydney at smcdonald23@bloomberg.net; Kristine Aquino in Singapore at kaquino1@bloomberg.net.
To contact the editor responsible for this story: Shelley Smith at ssmith118@bloomberg.net; Rocky Swift at rswift5@bloomberg.net.