Japan Cites Europe Crisis as Risk to Its Rebound in Report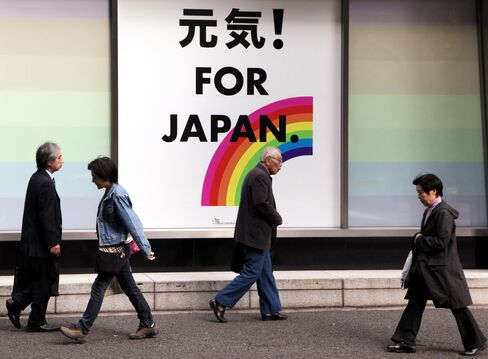 Japan's government said European debt woes may depress the nation's recovery from the March earthquake, citing the turmoil as a risk for the first time as the crisis deepens.
"Further slowing down of less resilient overseas economies and volatile fluctuations in exchange rates and stock prices due to the eurozone debt crisis" are among risks for the outlook, the Cabinet Office said in a monthly report in Tokyo today. Japan's economy is picking up "slowly," the government said, leaving its assessment unchanged from the previous month.
Distress in Europe has kept the yen near record-highs against the dollar, even after the Bank of Japan unveiled additional monetary stimulus last month and the Finance Ministry intervened in currency markets for the third time this year on Oct. 31. A stronger currency threatens to erode exporters' profits and make Japanese goods less competitive overseas.
"Exports are the fuel for Japan's economy, but with the strengthening yen and an expected slowdown in Europe, the headwinds are getting stronger," said Noriaki Matsuoka, an economist at Daiwa Asset Management Co. In Tokyo. "We're highly dependent on the health of the overseas economies. Without these economies coming back, Japan lacks its driver of growth."
Germany's Auction
Bank of Japan Governor Masaaki Shirakawa said this month that the European debt crisis was the biggest danger facing the world's third-largest economy. Germany failed to attract bids for all the bonds it wanted to sell yesterday, suggesting that investors are growing wary of lending to even the region's most creditworthy nation.
The Thai floods are also among the risks to the outlook, the report said. The Cabinet Office downgraded its evaluation of capital spending and upgraded its assessment of bankruptcies.
Japan's economy grew at an annualized 6 percent in the third quarter, ending a nine-month-long contraction, as exports and output rebounded from the March temblor, a report this month showed.
Before it's here, it's on the Bloomberg Terminal.
LEARN MORE