EU Should Toughen High-Frequency Trade Plans, Jouyet Says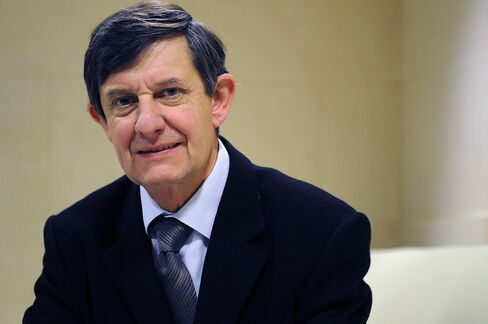 Jean-Pierre Jouyet, chairman of France's financial market regulator, today attacked high-frequency trading and "opaque" markets, as part of a call for the European Union to toughen a planned overhaul of financial rules.
"The excessive development of high-frequency trading has imperilled the functioning of markets," Jouyet, of the Autorite des Marches Financiers, said. The European Securities and Markets Authority should be empowered to set "precise rules" for such trades, he said in a Paris speech.
Existing EU market rules from 2007 had proved "a complete failure" at pushing traders to use regulated venues, Jouyet said. Proposals presented last month by the European Commission, the 27-nation EU's executive arm, may lead to further market opacity, and should be amended.
High-frequency traders came under increased regulatory scrutiny following the so-called flash crash in May of last year, during which the Dow Jones Industrial Average briefly lost almost 1,000 points.
Measures contained in the EU proposals include requiring firms that offer high-frequency or algorithmic-trading services to prove they have sufficient risk controls and ensure clients with direct access to the markets are properly qualified.
High-frequency trades "reduced the depth of the market, and also therefore sapped the confidence of investors in quoted prices," Jouyet told a conference in Paris, according to a copy of his prepared remarks.
Speed Regulation
Governments and lawmakers at the European Parliament must agree on the final version of the EU proposals before they can take effect.
ESMA's powers should include the ability to regulate the speed at which systems used by high frequency traders can take account of developments on the market and react to them by placing orders, Jouyet said.
ESMA should be able to set "precise rules" for this so-called latency time, as well as for the trading fees charged by venues, he said. "It's in this way that the commission's proposal should be enhanced."
Jouyet also questioned whether so-called fair value accounting rules should be applied to credit-default swaps on sovereign debt.
"On sovereign CDS, do we even have a market when we examine the opacity, illiquidity and lack of depth?" he said.