Air India Said to Get Approval for 180 Billion Rupee Debt Plan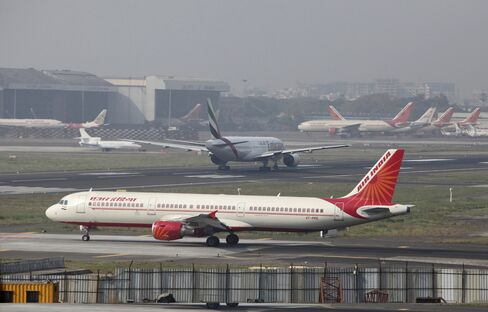 Air India Ltd., the state-run carrier rescued by the government, received central bank approval to restructure 180 billion rupees ($3.46 billion) of debt, two people familiar with the matter said.
The Reserve Bank of India approved a plan submitted in October to convert short-term working capital loans into long-term debt and preferred shares, said the people, who declined to be identified before a formal announcement. The conversion will be completed within 120 days, they said.
The former monopoly carrier is seeking to cut annual interest payments by 13 billion rupees, three people familiar with the debt revamp said in October. The government has given the carrier 32 billion rupees in bailouts since April 1, 2009, to cover losses, even as Jet Airways (India) Ltd. and Kingfisher Airlines Ltd. struggle to turn surging travel demand into profits because of high fuel costs and price wars.
K. Swaminathan, a spokesman at Air India, said yesterday he couldn't immediately confirm the approval. Alpana Killawala, spokeswoman at the Reserve Bank of India, didn't respond to two calls to her mobile phone after office hours.
Air India's annual interest costs will fall to about 21 billion rupees from 34 billion rupees, under the plan, which includes converting about 110 billion rupees of short-term loans into 15-year debt at an interest rate of 11.5 percent per year, the people said in October. About 70 billion rupees of loans will be swapped for cumulative preferred shares, redeemable in 15 years and carrying an 8.5 percent interest rate, they said.
Before it's here, it's on the Bloomberg Terminal.
LEARN MORE