Revolt, Knee Drops, Sick Tenor Disrupt Verdi's 'Forza': Review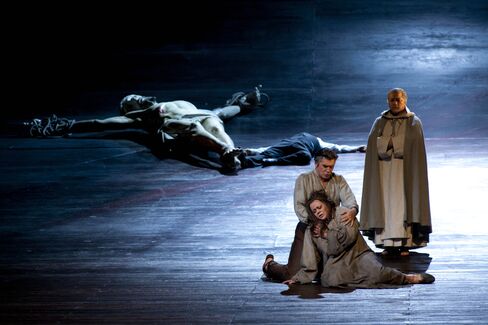 The autumn season at the Paris Opera is off to a bad start.
A strike by stagehands turned the premiere of Gounod's "Faust," the first new staging, into a concert without sets. The premiere of "La Forza del Destino," the second new production, had to make do without the star, Marcelo Alvarez, who left center stage to his stand-in, the seriously overtaxed Serbian tenor Zoran Todorovich. The audience reaction was more polite than boisterous.
"Forza" has had only a short career at the Paris Opera -- Verdi's 1862 work had its premiere here in 1975.
There are understandable reasons for the neglect. Although "Forza" has glorious moments, it also has dreadful longueurs. Unlike "Il Trovatore," another Verdi melodrama of tenorial love and baritonal revenge, it's a sprawling panorama of loosely related episodes in which the protagonists disappear for entire acts.
Jean-Claude Auvray, the director, and Alain Chambon, the set designer, have updated the action from 18th-century Spain to the Risorgimento, Italy's struggle for unification in the 19th century.
After Act III, the audience is showered with "Viva V.E.R.D.I." leaflets, the battle cry of the nationalists who concealed their message -- "Vittorio Emanuele Re d'Italia" (King of Italy) -- under the name of the composer.
The medical orderlies on the battlefield appear in Red Cross uniforms, another reference to the Italian war: The humanitarian agency was founded after thousands of wounded men died at Solferino under horrible circumstances.
Lost on Stage
Auvray has ideas. Most of the time, though, he seems lost on the huge stage of the Bastille Opera, often slipping into cliches: When in doubt, the characters fall on their knees.
Todorovich, the hapless stand-in, is a raucous Alvaro. To get through his showpiece, the romanza "Oh tu che in seno agli angeli," he has to resort to falsetto. (The management has announced that Alvarez is recovering and will sing the role on Nov. 26 and 29 and on Dec. 2, 8 and 11.)
Vladimir Stoyanov isn't much better. His dry Carlo, Alvaro's mortal enemy, is a reminder that genuine Verdi baritones are an endangered species.
Violeta Urmana has a lovely voice yet she lacks the heft required for one of Verdi's most dramatic soprano parts. Kwangchul Youn, though not the most imposing Padre Guardiano, is suitably mellifluous in their great duet in Act II, the highlight of the evening.
The orchestra doesn't seethe with Italian passion. That said, Philippe Jordan conducts an energetic, clearly shaped performance. Rating: **.
"La Forza del Destino" is in repertory through Dec. 17. Information: http://www.operadeparis.fr or +33-1-7125-2524. The production is supported by Groupama SA.
(Jorg von Uthmann is a critic for Muse, the arts and leisure section of Bloomberg News. The opinions expressed are his own.)
What the Stars Mean:
****                Outstanding
***                 Good
**                  Average
*                   Poor
(No stars)          Worthless