Photographer Quits Job for 10,000-Hour Quest to Become Golfer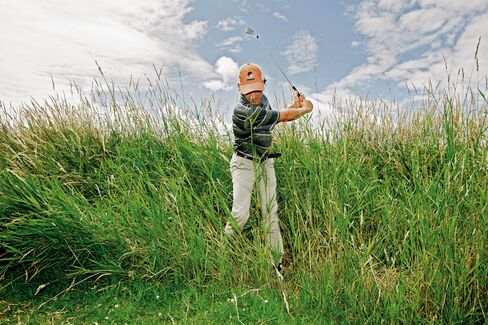 Dan McLaughlin is investing 10,000 hours to become one of the world's top golfers. The quest started three feet from the hole.
McLaughlin decided to become a professional after reading Malcolm Gladwell's "Outliers," which examines K. Anders Ericsson's study that says it takes 10,000 hours of deliberate practice to master any skill.
Turning 30 last year, McLaughlin quit his job as a photographer for a marketing company, built a website, hired a coach and decided to live off the $100,000 he had saved, Bloomberg Businessweek reports in its Nov. 28 issue. Never having played the sport, he launched the "Dan Plan" to golf for 10,000 hours and eventually earn a spot on the U.S. PGA Tour.
"People don't bat an eye," McLaughlin said of the reaction he gets in his hometown of Portland, Oregon, when he explains his quest. "And because I picked golf, it deters some people from being interested. If I decided to cook vegan hot dogs on a double-decker unicycle while home brewing beer with pedal power, there would have been a lot more excitement."
Christopher Smith, his coach, started McLaughlin with three weeks of nothing but 3-foot putts and wouldn't let him progress to bigger clubs until he'd mastered the small ones.
McLaughlin's plan is to get his PGA card by joining a local mini-tour and going to Q-School, where hundreds of golfers compete for a tiny number of spots on the world's richest circuit. After he wins his first PGA tournament, he said, he plans on quitting and mastering something else for another 10,000 hours. He said he wants to become an inspirational story, told through a documentary for which he's been shooting footage.
Short Effort
McLaughlin's not the first to try this route to golf glory. Jon Fitzgerald decided at age 40 to put 10,000 hours into his game and made a documentary about it, "The Back Nine." He lasted three months.
So when McLaughlin called Ericsson at Florida State University, where he teaches psychology, the creator of the 10,000-hour rule figured McLaughlin also would quit soon.
"Nobody has done it, which means nobody knows how it's going to wind up," Ericsson said. "He's like Columbus."
Smith said he gets "a couple of these a year where somebody is like, 'I'm going to stop everything and play on the PGA Tour.' Most of them are wealthy. They fizzle out."
The coach said he thinks McLaughlin's chances of making his goal of playing on the Tour are "borderline astronomically small. He's going to be playing against guys with 30 years of tournament experience. My goal is that he does the 10,000 hours before he shoots himself in the head."
Supporter Donations
The only person more sure than McLaughlin that he will succeed is Richie Gallagher, a sales training specialist in Phoenix who has donated $400 to McLaughlin and intends to give more. He says he'll be stunned if McLaughlin doesn't make the Tour.
"People who engage in deliberate practice -- I'm going to guess they have a passion for life in general," Gallagher said.
McLaughlin played his first round in August. This month he got his final club, a driver. After getting one lesson with the club, he drove five hours to meet Steven Levitt, the co-author of "Freakonomics" and a fan of McLaughlin's blog, who invited him to play at Bandon Dunes Golf Resort on the Oregon coast. McLaughlin shot in the mid-90s, twice.
On Ericsson's recommendation, he's added a mental coach to make sure he's doing deliberate practice. He's adding 10 pounds of muscle to improve his swing speed. After having never seen a tournament live or on television, he went to the PGA Championship in August to watch.
"Since then, I've been talked into getting cable and the Golf Channel," McLaughlin says. "Well, I don't have it. My girlfriend got cable."