Mistry to Succeed Tata as Chairman of India's Biggest Group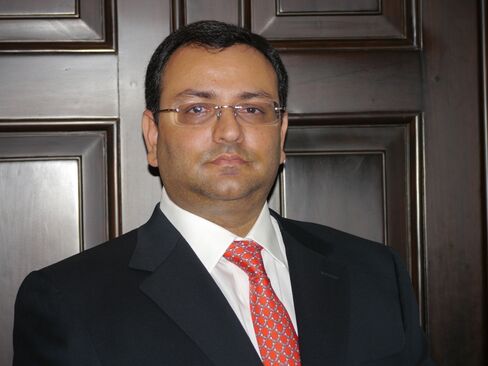 Tata Sons Ltd. said board member Cyrus P. Mistry will succeed Ratan Tata as chairman next year, a surprise choice that ends more than a year of speculation over who would run India's biggest business group.
Mistry, 43, whose family is the single biggest shareholder of the group will assume the role of deputy chairman and take over as head of the group in December 2012, according to an e-mailed statement from the company yesterday. Tata in August 2010 set up a five-member panel to find a successor to Ratan, who will retire after two decades running the Mumbai-based company.
In Mistry, Tata has picked an insider who belongs to the same Parsi community as the founders and whose family owns 18 percent of the group holding company. Mistry, largely unknown outside his father's construction business, will have a year to raise his profile under the guidance of Ratan Tata, the architect of the group's emergence as a global company through his acquisitions of Corus Group and Jaguar Land Rover.
"He's sort of an enigma," said U.R. Bhat, managing director of Dalton Capital Advisors India Pvt. in Mumbai. "He has phenomenally big shoes to fill. We don't know whether he has the right credentials."
Mistry, who was part of the search panel, withdrew himself when he became a candidate, said group spokesman Debasis Ray.
Billionaire Father
Mistry, an engineer from the Imperial College of Science, Technology and Medicine in London, began working for the company Shapoorji Pallonji & Co., controlled by his father, billionaire Shapoorji Pallonji Mistry, in 1991. Cyrus, an Irish national, did his masters in management from the London Business School.
"I am aware that an enormous responsibility, with a great legacy, has been entrusted to me," Mistry said in an e-mailed statement yesterday. "I will undertake to legally dissociate myself from the management of my family businesses to avoid any issue of conflict of interest."
Mistry declined to comment for this report, according to spokesman Ray.
Tata makes cars from the $73,700 Jaguar XJ to the $2,800 Nano, produces steel, salt and grows tea served at the Tata-owned Boston Ritz Carlton. The group accounts for almost 5 percent of India's gross domestic product.
Tata Steel Ltd., which acquired Corus Steel for $12.8 billion in India's biggest overseas acquisition in 2007, added 0.8 percent to 385.60 rupees at the close of trading in Mumbai. Tata Consultancy Services Ltd., the group's biggest unit by market value, advanced 2.8 percent, the most since Oct. 24, to 1,091.80 rupees. Tata Motors Ltd., which owns the Jaguar and Land Rover brands, rose 2.8 percent.
Shapoorji Pallonji Shares
Forbes & Co., part of the Shapoorji Pallonji group, gained 6.7 percent, the most since August 2010, to 426.40 rupees at the close of trading in Mumbai. Gokak Textiles Ltd., a yarn maker also controlled by the group, surged 16 percent, its biggest gain since November 2010, to 56.3 rupees. India's benchmark Sensitive Index advanced 1 percent.
"One of the main decisions they will have to communicate to the market is if they want to keep growing by buying other businesses," said Walter Rossini, who helps manage 200 million euros ($267 million) in Indian equities at Aletti Gestielle SGR SpA. "I think they will focus more on efficiency and productivity."
The Tata group has more than 100 operating companies with 31 listed on the Indian stock exchanges and total revenue of $83.3 billion in the year ended March 31, 2011, according to its website. Overseas revenue accounted for 58 percent of the total, or $48.3 billion. The group companies together employ more than 425,000 people.
'Astute Observations'
"I have been impressed with the quality and caliber of his participation, his astute observations and his humility," Ratan Tata said about Mistry in the statement. "I will be committed to working with him over the next year to give him the exposure, the involvement and the operating experience to equip him to undertake the full responsibility of the group on my retirement."
Ratan Tata's step-brother Noel was among the likely candidates to take over as chairman, the Economic Times reported on Nov. 11.
'Jury Still Out'
"Obviously the jury is still very much out," on Mistry's abilities, said Andrea Goldstein, who studied the Tata Group as a senior economist at the Organization of Economic Cooperation and Development in Paris. "He's very young, which could be very good - so he's being groomed to take this position. Let's see if he's ready to do that."
Mistry and the Tatas follow the Zoroastrian religion and belong to the small Parsi community, which originated in Persia and found sanctuary centuries ago in India. The Tata group was founded by Ratan's great grandfather Jamsetji Nusserwanji Tata, who started a textile-trading business in 1868 and then built the country's first steel mill and hydroelectric plant. He also built The Taj Mahal Palace & Tower hotel in Mumbai, which was damaged in the November 2008 terrorist attacks.
Ratan made his first purchase overseas in February 2000 when he paid $407 million for U.K.-based Tetley Group -- the biggest by an Indian company at that time. He followed with 65 more mergers or purchases in India and abroad, totaling more than $20 billion, the most by any Indian group, according to the group's website.
Mistry will be the second person outside the Tatas to lead the group, according to the company's website.
"I have known him since he was a baby," Parmeshwar Godrej, a board member of Godrej Properties Ltd. and wife of billionaire Adi Godrej, said in a phone interview yesterday. "The whole family is very shy and reserved. I'm sure he will do a great job."
Before it's here, it's on the Bloomberg Terminal.
LEARN MORE