London Banks Seen Rigging Rates Losing Credibility With Markets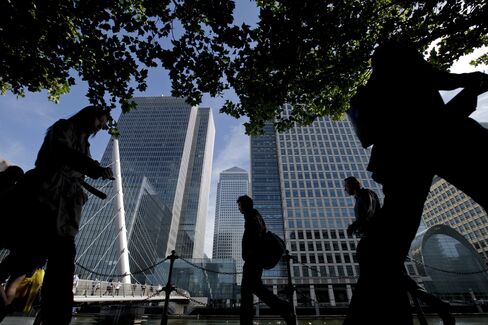 Every workday morning in London, at about 10 o'clock, representatives from 19 banks make a series of decisions that affect financial transactions around the world, from what homeowners pay on their mortgages to the underlying value of credit-default swaps and corporate bonds.
The bankers' power is unsettling, says Tim Price, who helps oversee more than $1.5 billion as director of investment at PFP Group LLP, an asset-management firm in London.
"It's a kind of Wizard of Oz surrealist nightmare," he says.
It could hardly be more real, Bloomberg Markets magazine reports in its January issue. What the bankers are deciding on is Libor, the London interbank offered rate. Libor is based on what each participating bank says it would have to pay to borrow money from another bank.
The rate, produced under the auspices of the century-old British Bankers' Association, represents the average of the collected figures, minus several of the highest and lowest quotes.
The resulting benchmark determines interest rates on an estimated $360 trillion of financial instruments around the world, according to the Bank for International Settlements.
Unelected and lightly regulated, the Libor panelists have come under increasing scrutiny from money managers such as Price who say Libor is biased in favor of the bankers who submit the quotes.
"The whole system is rigged," Price says. "The banks are able to say, 'Let's just collude and set rates, and we have the sanction of the authorities to do it.'"
Market Manipulation
In a series of lawsuits filed in 2011 and now winding their way through courts in Europe and the U.S., investors have accused a number of banks represented on the Libor panel of distorting market prices by hiding the banks' true borrowing costs since as early as 2007.
In August, for example, Charles Schwab Corp., a San Francisco-based brokerage firm and investment manager, sued 11 major banks, including Bank of America Corp., Citigroup Inc. and JPMorgan Chase & Co., claiming they conspired to manipulate Libor, depriving investors of fair returns.
The banks conspired to depress Libor by understating their borrowing costs, thereby lowering their interest expenses on products tied to the rates, according to the lawsuit. The banks "reaped hundreds of millions, if not billions, of dollars in ill-gotten gains," Schwab said.
"We believe the suit is without merit," Danielle Romero-Apsilos, a spokeswoman for New York-based Citigroup, told Bloomberg News at the time.
Concealing Distress
In addition, regulators and prosecutors in the European Union, Japan, the U.K. and the U.S. have been investigating whether banks manipulated Libor to conceal the extent of their financial distress from lenders and shareholders.
Edinburgh-based Royal Bank of Scotland Group Plc disclosed in August, for example, that it had received requests for documents from EU and U.S. regulators.
Barclays Plc, Credit Suisse Group AG, HSBC Holdings Plc, Bank of America, JPMorgan Chase and RBS all declined to comment about the lawsuits and inquiries in which they were defendants or targets.
Misgivings about Libor have been gathering momentum since the early days of the financial crisis in 2008. Analysis of Libor over time shows that the spread between low and high rates submitted by bank panelists widens most at times of greatest financial distress.
Widening Spreads
That was the case in the immediate aftermath of the Sept. 15, 2008, collapse of Lehman Brothers Holdings Inc., when the difference in the rates submitted by Libor panelists on three-month loans in dollars increased from 7 basis points to 115 basis points by the end of the month. (A basis point is 0.01 percentage point.)
It was also the case more recently as the European sovereign-debt crisis deepened and concerns mounted about banks exposed to economically fragile debtor nations such as Greece and Italy.
In November, the spread between the lowest and highest rates being submitted for three-month dollar loans was at its widest in more than two years.
The difference reached 30 basis points on Nov. 8 with Credit Agricole SA saying it could pay 0.575 percent to borrow funds, while HSBC said it could pay just 0.275 percent. The Nov. 8 spread was the widest since a bout of market volatility in May 2009.
Parking Cash
While the BBA says it's willing to consider changes to Libor, its response to criticism has been muted so far. Just days before Lehman's bankruptcy, BBA Chief Executive Officer Angela Knight said the trade association was moving at a "good, steady pace" to improve the scrutiny of the rate-setting process.
In March 2011, the BBA said in a statement, "We are committed to retaining the reputation and integrity of BBA Libor, which continues to be the authoritative benchmark of the wholesale money market."
Libor, inaugurated in 1986, arose out of a need for a dollar rate to be set outside the U.S., says Christopher Wheeler, a banking analyst at Mediobanca SpA in London. In the 1970s, London was growing as a center for financial transactions. That was partly because, during the oil crises, Arab and Soviet producers were looking to park proceeds from their dollar-denominated sales of crude with London banks to shelter revenue from confiscation by U.S. authorities.
Big Bang
Several early versions of benchmark rates evolved into BBA Libor, set in dollars and pounds, in 1986. The birth of Libor coincided with then-British Prime Minister Margaret Thatcher's Big Bang financial deregulation program and the consequent growth of bond and syndicated-loan markets in London. Thomson Reuters Corp., which competes with Bloomberg LP, the parent of Bloomberg News, in selling financial and legal information and trading systems, calculates the rate.
While the suite of currencies has since expanded to 10 and the collection process is now electronic, Libor has changed very little in the past quarter century.
The banking industry, on the other hand, has been transformed by the proliferation of new financial instruments and by the vanishing separation between commercial and investment banks.
In March 2008, after the sub-prime mess began spreading beyond the U.S., the Bank for International Settlements, known as the central bank for central bankers, questioned the accuracy of Libor quotes, suggesting some could be biased.
Threat of Expulsion
"If there is uncertainty about the liquidity position of a contributing bank, the bank will be wary of revealing any information that might add to this uncertainty for fear of increasing its borrowing costs," the BIS said in its quarterly review. "Banks' quotes are determined by strategic behavior as well as credit quality and funding needs."
Responding to such criticism, the BBA decided in June 2008 to review the system for setting Libor. It subsequently increased the number of banks on the dollar Libor panel to 20 from 16. (German bank WestLB AG has since stopped contributing quotes.)
The BBA also added three noncontributing members to the Foreign Exchange and Money Markets Committee, the independent group that oversees Libor. And the BBA said it would expel any firm that was found to be deliberately misstating its borrowing costs.
The attacks on Libor continued unabated. The U.K. Financial Services Authority, the U.S. Commodity Futures Trading Commission, the U.S. Department of Justice, the U.S. Federal Trade Commission and the U.S. Securities and Exchange Commission have all launched investigations.
Distorting Value
"The complaints are substantially similar and allege, through various means, that certain members of RBS Group and other panel banks individually and collectively violated U.S. commodities and antitrust laws and state common law by manipulating Libor and prices of Libor-based derivatives in various markets," RBS said in a note on its Aug. 26 financial statement.
In April, a European asset-management firm and two related funds accused 12 banks, including Bank of America, Barclays, Citigroup, Credit Suisse, HSBC and JPMorgan Chase, of conspiring to manipulate Libor.
FTC Capital GmbH of Vienna, FTC Futures Fund PCC Ltd. of Gibraltar and FTC Futures Fund SICAV of Luxembourg alleged in U.S. District Court in New York that the banks had distorted the value of futures contracts used by traders and investors to speculate on the direction of interest rates.
'Not Fairly Priced'
"My client's trading of eurodollar futures was harmed as Libor was not fairly priced," says David Kovel, a partner at the law firm Kirby McInerney LLP in New York who represents FTC Capital.
Kovel didn't identify specific trades that resulted in losses nor did he reveal how much FTC Capital is seeking from the banks.
Marco Bianchetti, who holds a Ph.D. in theoretical condensed-matter physics from the University of Milan and works on the market risk management team at Intesa Sanpaolo SpA in Milan, says quantitative analysts who engineer financial transactions need a reliable benchmark to do their work.
He says a rate based on actual transactions would be more trustworthy than Libor. U.K. Debt Management Office Chief Executive Officer Robert Stheeman agrees.
'The Real issue'
While he says he doesn't question the integrity of Libor, Stheeman says he's concerned about its authority as a benchmark.
"That, to me, is the real issue," he says.
In that spirit, the search is on for Libor alternatives. In the U.K. in June, the Wholesale Markets Brokers' Association launched a new reference rate called the Repurchase overnight index average, or Ronia. It's based on actual money-market deals struck from noon to 4:15 p.m. London time.
Roberto Verrillo, a managing director of U.K. interest-rate products at Nomura International Plc in London, helped to develop Ronia. He says Ronia's advantage over Libor is that it's based on real deals.
"That's why Ronia is going to be an appropriate benchmark in the market," he says.
Eila Kreivi, head of capital markets at the European Investment Bank in Luxembourg, which manages investments for the EU, says she's seen a gradual increase in demand for reference rates outside of Libor.
'Less Relevant'
"It's not a huge trend yet, but it's there," Kreivi says. "As an issuer, we don't tend to analyze the usefulness of Libor. But it seems that Libor has come a long way from its original intrinsic purpose. One hears once in a while from the market that Libor has lost its relevance."
BBA Director John Ewan says Libor doesn't need an overhaul.
"We're not dogmatic," he says. However, he adds that the BBA has a duty to borrowers who have taken out long-term loans based on Libor.
"If we suddenly switched the benchmark radically, that may give them problems," he says. "We do have to think about that."
As influential as Libor is today in determining interest rates around the world, Peter Hahn, a professor of finance at Cass Business School in London and a former managing director at Citigroup, says its authority may slowly ebb away.
"As it becomes less relevant, it becomes even more unreliable," Hahn says. "It's up to the market to come up with alternatives that have a lot more integrity and aren't as influenced by the conflicted interests of their participants. The battle is on for a new, more credible alternative to Libor."
Before it's here, it's on the Bloomberg Terminal.
LEARN MORE