German Bonds Drop as Bids at 10-Year Auction Miss Target by 35%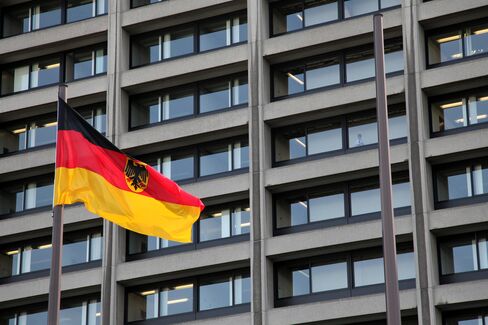 German government bonds dropped after the nation missed its maximum sales target at a bund auction by 35 percent, sending the euro lower and 10-year yields higher than comparable U.S. Treasuries.
"This auction is nothing short of a disaster for Germany," Mark Grant, a managing director at Southwest Securities Inc. in Fort Lauderdale, Florida, said by e-mail. "If the strongest nation in Europe has this kind of difficulty raising capital one shudders concerning the upcoming auctions in other European nations."
The yield on the 30-year German bond climbed to a two-week high. Total bids at the auction of securities due in January 2022 amounted to 3.889 billion euros ($5.21 billion), out of a maximum target for the sale of 6 billion euros, according to Bundesbank data. The securities were sold at a yield of 1.98 percent. French and Belgian bonds fell for a third day after De Standaard newspaper said Belgium is seeking to renegotiate the break-up plan for lender Dexia SA.
The yield on 2.25 percent securities maturing in September 2021 climbed four basis points to 1.96 percent at 10:49 a.m. London time. The price of the bonds slid 0.39, or 3.90 euros per 1,000-euro face amount, to 102.530. Ten-year Treasury yields were at 1.93 percent.
The rate on 30-year debt climbed as much as seven basis points to 2.68 percent, the highest since Nov. 9.
The yield on 10-year French debt increased 10 basis points to 3.63 percent, while the rate on similar-maturity Belgian securities was 13 basis points higher at 5.21 percent.
The euro weakened 0.9 percent to $1.3387.
Before it's here, it's on the Bloomberg Terminal.
LEARN MORE