Esprit Shares Gain in Hong Kong as CFO Increases Stake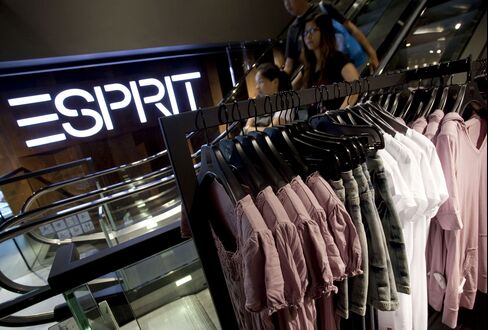 Esprit Holdings Ltd., the biggest clothing retailer listed in Hong Kong, rose the most in almost a month on the city's stock exchange after its chief financial officer increased his stake.
The stock climbed 6.3 percent, the most since Oct. 27, to HK$8.91 at the close in Hong Kong trading. Esprit was the biggest gainer on the benchmark Hang Seng Index, which fell 2.1 percent.
Chief Financial Officer Chew Fook Aun bought 100,000 shares in the maker and retailer of casual clothing that has seen its stock plunge 93 percent from its peak in October 2007 as European rivals Hennes & Mauritz AB and Inditex SA's Zara lured customers away. The company, which two months ago said its brand had "lost its soul," also published on its website a presentation from a meeting with investors yesterday.
"Senior management are buying shares with their own money, which is always heartening to see," said Matthew Marsden, head of Hong Kong and China consumer research at Daiwa Securities Capital Markets Co. "The presentation shows that management has a clear road map of how they intend to revitalize the brand in the next three years."
Esprit posted a 98 percent drop in net income in the last fiscal year because of the cost of closing stores in Europe and selling its U.S. and Canada operations. Sales in the year through June increased less than 1 percent after declining in the previous two years, according to data compiled by Bloomberg.
Chief Executive Officer Ronald Van der Vis plans to turn the Hong Kong-based company around by improving fashion designs and doubling China sales in four years. Esprit is expanding in China to offset declining revenue in Europe, where it made 79 percent of sales in the fiscal year through June.
Chew purchased the shares at an average price of HK$9.18, increasing his holding to 4.2 million shares, according to data on the website of Hong Kong Exchanges & Clearing Ltd. On Nov. 11, Van der Vis had purchased 300,000 shares at an average price of HK$10.632, according to the website.