Consumer Comfort in U.S. Stagnates, Spending Outlook Sinks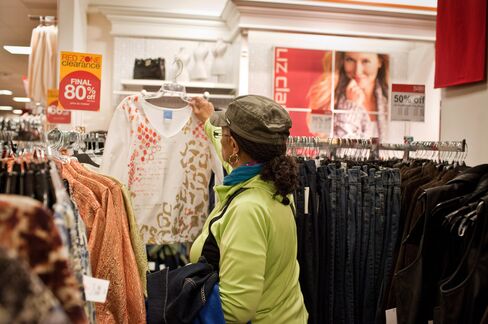 Consumer sentiment in the U.S. stagnated last week at levels previously reached only at depths of recessions, and a record share of households said it is a bad time to spend, a sign holiday shopping may disappoint.
The Bloomberg Consumer Comfort Index was minus 50.1 in the week ended Nov. 20 compared with minus 50 a week earlier. The measure has been at minus 50 or less for nine of the past 10 weeks, a performance unprecedented in its 26-year history.
Confidence heading into the post-Thanksgiving Black Friday, the unofficial start of the holiday shopping season, has been lower only once before, during the 2008 recession. Concern over unemployment, the gridlock in U.S. budget talks and the European debt crisis may be among reasons retailers like J.C. Penney Co. Inc. are saying they'll need to entice shoppers with discounts.
"Nothing can be more disheartening than having such poor attitudes about the economic climate around the critical holiday shopping season," said Richard Yamarone, a senior economist at Bloomberg LP in New York. "Basically, the consumer is running on empty. An economic recovery cannot be expected amid such poor income growth and sunken attitudes."
Thirty-five percent of those surveyed last week said it was a bad time to buy needed goods and services, tying the record set in January 1991. Twenty-three percent said their own finances were in "poor" shape, matching a record set three times in the past three years.
Spending Cools
Other reports today showed consumer spending rose less than forecast in October, demand for business equipment dropped last month and the number of claims for jobless benefits rose last week from a seven-month low.
Stocks fell following the reports as the cost of insuring European government debt against default rose to a record on concern the region's crisis is worsening. The Standard & Poor's 500 Index dropped 1.5 percent to 1,170.41 at 10:12 a.m. in New York. Treasury securities also decreased, sending the yield on the benchmark 10-year note up to 1.94 percent from 1.92 percent late yesterday.
The Thomson Reuters/University of Michigan final index of consumer sentiment for November rose to 64.1, the highest since June, from 60.9 the prior month. The median estimate of economists surveyed by Bloomberg called for a reading of 64.5. The index averaged 89 in the five years leading up to the recession that began in December 2007 and ended in June 2009. It averaged 64.2 during the 18-month economic slump.
Comfort Breakdown
Two of three comfort index components improved last week. The measure of Americans' views on the current state of the economy was minus 87.2 compared with minus 88 in the prior period. The gauge of personal finance was minus 14.3 compared with minus 14.6. The buying climate index fell to minus 48.8 from minus 47.4.
The Comfort Index, which began in December 1985, is heading for its second worst year ever, averaging minus 46.6 so far in 2011 compared with minus 45.7 last year and minus 47.9 in 2009, the year the recession ended, the report showed.
The pre-Thanksgiving Comfort Index has a 0.54 correlation with December retail sales, a "substantial" relationship that suggests "significant challenges for retailers in the season ahead," Gary Langer, president of Langer Research Associates LLC in New York, which compiles the index for Bloomberg, said in a statement. A correlation of 1 means components move precisely in tandem, while a reading of minus 1 means they move in the opposite direction all the time.
Republican Pessimism
Among groups, confidence among Republicans dropped to a record low last week, while that for people living in the South decreased to the second-lowest in data going back to 1990.
J.C. Penney last week forecast fourth-quarter sales at stores open at least a year would be flat to "slightly" positive, with total sales shrinking as much as 3 percent. The retailer reported a third quarter loss compared with a profit a year earlier.
"It's a highly promotional environment," Myron Ullman, the retailer's outgoing chief executive officer, said on a Nov. 14 conference call.
The Bloomberg Consumer Comfort Index is based on responses to telephone interviews with a random sample of 1,000 consumers aged 18 and over. Each week, 250 respondents are asked for their views on the economy, personal finances and buying climate; the percentage of negative responses is subtracted from the share of positive views and divided by three.
The comfort index can range from 100, indicating every participant in the survey had a positive response to all three components, to minus 100, signaling all views were negative. The margin of error for the headline reading is 3 percentage points.
Field work for the index is done by SSRS/Social Science Research Solutions in Media, Pennsylvania.
Before it's here, it's on the Bloomberg Terminal.
LEARN MORE