China's Manufacturing May Contract By Most Since March 2009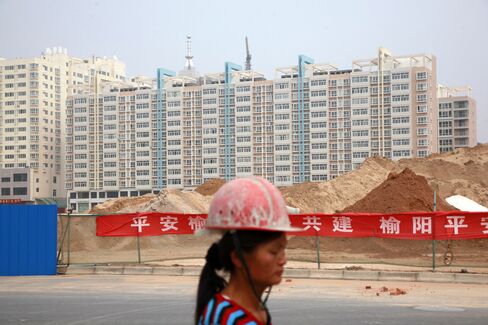 China's manufacturing may contract this month by the most since March 2009 as home sales slide, adding to evidence the world's second-biggest economy is slowing, a preliminary purchasing managers' index shows.
The reading of 48 reported by HSBC Holdings Plc and Markit Economics today compares with a final number of 51 last month. A number below 50 indicates a contraction.
Europe's sovereign-debt crisis threatens to cut export demand just as small businesses complain of a credit squeeze, and Premier Wen Jiabao's campaign to cool home prices triggered a 25 percent slump in sales last month. Today's Chinese data indicated easing inflation pressures that leave more room for measures to boost growth after the U.S. yesterday reported a weaker-than-estimated expansion.
"Growth is set to overtake inflation as Beijing policy makers' top policy concern," said Qu Hongbin, a Hong Kong-based economist for HSBC. "Should growth and inflation both slow faster than expected, there is an increasing likelihood that Beijing will shift its monetary policy towards an across-the-board easing."
The Shanghai Composite Index fell 0.4 percent as of 1:11 p.m. local time after HSBC said the survey also indicated the sharpest fall in factory production since March 2009. Indexes of prices slid. The central bank may begin cutting lenders' reserve requirements in January, Bank of America Merrill Lynch said today.
Easing Steps
Inflation which cooled to 5.5 percent last month may remain enough of a concern for the government to forego interest-rate cuts through next year, instead relying on other easing tools, a Bloomberg News survey of economists showed this month. Lending rebounded in October, indicating that quotas may have been loosened, and Market News International reported yesterday that reserve requirements have been lowered for some small lenders in Zhejiang province.
Shanghai's benchmark stock index has tumbled 14 percent this year on concerns that monetary tightening and weakness in the global economy will hit profits. Some investors are also concerned at corporate governance after allegations raised by short seller Carson Block.
Today's data "should be interpreted cautiously because it has a short history, and is not highly correlated with actual industrial output," said Dariusz Kowalczyk, Hong Kong-based senior strategist at Credit Agricole CIB. At the same time, it "increases the odds of a sharper slowdown in China, Asia and globally" and investors will be worried that recession risks are rising, he said.
Construction Slowdown
The property market is cooling after a government crackdown to rein in speculation, limit the risk of asset bubbles and keep housing affordable. In October, home prices fell in 33 of 70 cities, official data shows.
"Demand for construction machinery has shrunk drastically and growth will no doubt continue to slow next year," Zhan Chunxin, chairman of Zoomlion Heavy Industry Science & Technology Co. said in a Nov. 15 interview in Hong Kong.
The World Bank said yesterday that China has the scope for fiscal stimulus and is heading for an economic "soft landing."
Today's figure may indicate that a manufacturing PMI backed by the government will also fall below 50, said Li Wei, an economist at Standard Chartered Plc in Shanghai. The nation's economic growth may dip to 7.5 percent during the first half of next year, compared to the 9.1 percent pace in the third quarter, he said.
Export-Order Surprise
HSBC's preliminary index, called the Flash PMI, is based on 85 percent to 90 percent of responses to a survey sent to executives at more than 400 companies. The final reading is usually released on the first day of the month.
HSBC's Qu said export orders were "surprisingly resilient," indicating that China's November shipments may be better than expected as the full impact of a slowdown in trade takes time to hit.
The World Bank predicts China's gross domestic product will rise 8.4 percent next year after a 9.1 percent expansion in 2011. Bank of America Merrill Lynch said in an e-mail today that it has cut a forecast for gains in consumer prices next year to 3.5 percent from 4.5 percent.