Asian Stocks Drop on U.S, Chinese Data, Australian Mining Tax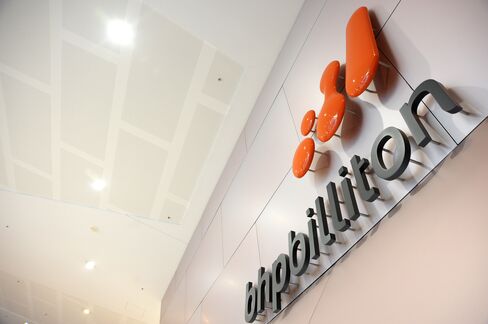 Asian stocks fell, with a regional gauge heading for its lowest close in a month, as a mining tax was approved in Australia and reports showed the U.S. economy grew slower than expected and China's manufacturing may have contracted.
Samsung Electronics Co., South Korea's biggest exporter of consumer electronics, slid 2.9 percent in Seoul on speculation exports will drop as growth in the world's biggest economy slows. BHP Billiton Ltd., the world's No. 1 mining company, declined 3.1 percent in Sydney after Australia's House of Representatives passed a law taxing mining profits. Industrial & Commercial Bank of China Ltd., the nation's largest lender, fell 2.8 percent after the report showing China's manufacturing may have shrunk.
"Companies in the U.S. are quite cautious given the European situation," said Ng Soo Nam, the Singapore-based chief investment officer at Nikko Asset Management Asia Ltd., which oversees about $165 billion. "Some countries in Europe will probably go into recession. Europe cannot drag its feet anymore. Chinese data suggest small and medium-sized manufacturers are already feeling the effects of the liquidity crunch."
The MSCI Asia Pacific excluding Japan Index fell 2.6 percent to 378.62 as of 6:37 p.m. in Hong Kong, poised for its lowest close since Oct. 6. Stocks retreated this month as surging bond yields in Italy and Spain added to evidence Europe's sovereign-debt crisis is spreading to major economies.
Australia's S&P/ASX 200 sank 2 percent, while South Korea's Kospi Index declined 2.4 percent. Hong Kong's Hang Seng Index dropped 2.1 percent and China's Shanghai Composite Index fell 0.7 percent, erasing gains of as much as 0.3 percent. Japanese markets are closed today for a holiday.
U.S. Futures
Futures on the Standard & Poor's 500 Index dropped 0.9 percent today. The measure fell 0.4 percent in New York yesterday, extending its longest slump in almost four months, as slower-than-estimated economic growth overshadowed signs the Federal Reserve may provide more stimulus.
Exporters fell after a revised Commerce Department report showed that U.S. gross domestic product climbed at a 2 percent annual rate from July through September, less than a 2.5 percent prior estimate. Some Fed officials said the central bank should consider easing monetary policy further, according to minutes of their Nov. 1-2 meeting.
"Europe is probably already in recession and that's going to hurt demand for U.S. exports and put downward pressure on U.S. growth," Alan Gayle, a senior strategist at RidgeWorth Capital Management in Richmond, Virginia, which oversees about $44 billion, said in a Bloomberg Television interview.
Mining Tax
Samsung Electronics fell 2.9 percent to 935,000 won in Seoul. Li & Fung Ltd., a toy and clothing supplier that counts the U.S. as its largest market, slid 2.9 percent to HK$14.30 in Hong Kong. James Hardie Industries SE, a building materials supplier that gets about 68 percent of sales from the U.S., slipped 1.9 percent to A$6.38 in Sydney.
Australian raw material producers dropped as BHP Billiton, Rio Tinto Group and other iron-ore and coal suppliers face paying about A$11 billion ($10.8 billion) in extra charges in the first three years of the mining tax passed by the lower house of Australia's parliament yesterday.
BHP Billiton dropped 3.1 percent to A$34.51. Rio Tinto, the world's second-largest mining company by sales, fell 3.4 percent to A$62.30. OneSteel Ltd., Australia's second-biggest producer of the metal, sank 7.2 percent to 77 Australian cents.
The MSCI Asia Pacific excluding Japan Index declined 18 percent this year through yesterday, compared with a 5.5 percent loss by the S&P 500 and a 19 percent drop by the Stoxx Europe 600 Index. Stocks in the Asian benchmark are valued at 11.2 times estimated earnings on average, compared with 12 times for the S&P 500 and 9.8 times for the Stoxx 600.
Chinese Manufacturing
Chinese lenders declined after HSBC Holdings Plc and Markit Economics said a preliminary survey showed a Chinese manufacturing index may fall to 48 in November from 51 last month. A reading below 50 indicates a contraction.
ICBC dropped 2.8 percent to HK$4.19 in Hong Kong. China Construction Bank Corp., the country's second-largest lender, lost 1.7 percent to HK$5.20.
AirAsia Bhd. slipped 4.1 percent to 3.52 ringgit in Kuala Lumpur after the budget carrier posted a 53 percent drop in third-quarter profit on higher fuels costs.
Of the 312 companies on the MSCI Asia Pacific Excluding Japan Index that reported results since Oct. 11, 154 missed analysts' estimates, while 114 exceeded expectations, according to data compiled by Bloomberg.
Huabao International Holdings Ltd. slumped 10 percent to HK$4.19 after the supplier of flavors and fragrances said food safety issues and the ongoing consolidation in the tobacco industry in China will have an adverse impact on the company's earnings.